In a wild end to 2020, many teams will be looking to solidify either their present or their future. After the recent trades that occurred, it seems that some teams are just a player or two away from making some noise this upcoming season. With all of the craziness surrounding the NBA, draft day trades are inevitable. For the sake of it being almost impossible to predict trades, the projections in this NBA mock draft 2020 article will be based off of the team that is currently slated to draft in a particular spot. 
NBA Mock Draft 2020
1. Minnesota Timberwolves
Draft Selection: Anthony Edwards, SG/SF (Georgia)
Ht/Wt: 6-5, 225
Class: Freshman
If Minnesota doesn't trade out of this pick to get a star, Anthony Edwards is the easy pick here. Edward's 19.1 points per game prove that he is a wing scorer that Minnesota could use. With his slashing ability and athletic ability to finish at the rim, many scouts have been comparing him to Donovan Mitchell and Dwyane Wade. This bodes well as Minnesota will get an elite wing scorer and continue to build a culture of youth with D'Angelo Russell, Karl-Anthony Towns and Jarrett Culver.
2. Golden State Warriors
Draft Selection: James Wiseman, PF/C (Memphis)
Ht/Wt: 7-1, 240
Class: Freshman
It seems that in an era where Golden State dominated the NBA with Steph Curry, Klay Thompson, Kevin Durant and Draymond Green, they always lacked a consistent center. Golden State should be able to find their franchise center here. With his great defensive ability, he should be able to bail out Curry in pick and roll situations. Wiseman should start immediately for Golden State and provide a strong defensive and rebounding presence for Curry, Thompson and company.
3. Charlotte Hornets
Draft Selection: LaMelo Ball, PG/SG (Illawarra – NBL)
Ht/Wt: 6-7, 180
Class: N/A
Charlotte is in desperate need of a face of the franchise. They can get that here as many people think that LaMelo ball is the best prospect in the draft. The upside to Ball is that he already has professional basketball experience, playing overseas. Ball has elite size at the guard position, paired with an elite shooting ability and court vision, he should be the immediate star of Charlotte. Look for Charlotte to trade for some more picks in this draft to partner Ball with another rookie.

4. Chicago Bulls
Draft Selection: Obi Toppin, SF/PF (Dayton)
Ht/Wt: 6-9, 220
Class: Sophomore
As the winner of the Naismith award last year, Obi Toppin should be drafted top five. Toppin is a big forward who can easily make an impact for the Chicago Bulls. Averaging 20 points per game at Dayton last season, he should make an immediate impact as a wing scorer for the Bulls. With this selection, the Bulls feature a starting lineup of Coby White, Zach LaVine, Obi Toppin, Lauri Markkanen and Wendell Carter. This lineup looks dangerous and may be ready to compete in three to five years.

5. Cleveland Cavaliers
Draft Selection: Deni Avdija, PF (Maccabi Tel Aviv – Isreal)
Ht/Wt: 6-9, 215
Class: N/A
Looking to be this draft's Luka Doncic, Deni Avdija rounds out the "big five" in this draft. Ever since LeBron James left for Los Angeles, the Cavaliers have been in shambles. Colin Sexton and Darius Garland look to be a good "one-two punch" at the guard position, but Cleveland needs more to compete in the East. It is likely that Cleveland moves on from Kevin Love, resulting in Avdija being put into a scoring role. Avdija can play that stretch four position. With Andre Drummond at center, Avdija won't need to worry about banging down low for rebounds, rather finding open shots on the outside. This is a pick that can determine the Cavaliers future and the endless potential surrounding Avdija seems to be worth the question marks.

6. Atlanta Hawks
Draft Selection: Tyrese Haliburton, PG/SG (Iowa State)
Ht/Wt: 6-5, 185
Class: Sophomore
Atlanta very well could trade this pick as they look for a player who can help them make a playoff run. If they do stay at six, Tyrese Haliburton seems like the best option. With his seven foot wingspan, Halliburton looks like the perfect compliment guard to Trae Young. If Haliburton can recreate his college three point shooting percentage (42%), he should be the best three and D player in the draft. With quick hands and a long wingspan, Halliburton should be a key piece to an up and coming Hawks team, as he can start at the two or run the one off of the bench.

7. Detroit Pistons
Draft Selection: Onyeka Okongwu, PF/C (USC)
Ht/Wt: 6-9, 245
Class: Freshman
The Pistons are in a transition year. This coming season will be their first season without long time center, Andre Drummond. The Pistons have been reported to have major interest in Fred VanVleet With the uncertainty surrounding Blake Griffin, the Pistons will need to draft a young big man to pair with VanVleet if they do land him in free agency. Onyeka Okongwu has been compared to Miami's Bam Adebayo. This bodes well for Detroit as Okongwu has shown a prowess to attack the paint, rebound and in essence play bigger than he actually is. Detroit could feel safe here as they have ran with Drummond who posses many of these same qualities for many years.

8. New York Knicks
Draft Selection: Killian Hayes, PG/SG (Ratiopharm Ulm – Germany)
Ht/Wt: 6-5, 176
Class: N/A
The New York Knicks need an upgrade at every position. At this point in the draft they should take the best player available. If Hayes can add a little bit of muscle, he will be an incredible match up problem for opposing point guards. With his great height, he is very efficient at finishing in the paint against taller forwards and centers. Hayes can also play a vital role in switching on to taller players in the pick and roll on defense. Hayes should be an immediate spark on both sides of the ball for the Knicks in their quest to return to relevancy. 

9. Washington Wizards
Draft Selection: Patrick Williams, SF/PF (Florida State)
Ht/Wt: 6-8, 225
Class: Freshman
Patrick Williams oozes athleticism. The Wizards should get John Wall back next season, meaning that Williams will not need to be a strong scorer. The role that Williams will play is as an athletic, defensive forward. Williams strength will be crashing the offensive board and getting kick outs back to Bradley Beal. Williams should be able to excel at the four when Washington roles out a small ball package. Williams is a major boom or bust prospect and could be a key player in getting the Wizards to the playoffs in the upcoming season.

10. Phoenix Suns
Draft Selection: Devin Vassell, SG/SF (Florida State)
Ht/Wt: 6-6, 180
Class: Sophomore
After the Chris Paul trade, it seems likely that the Suns will be able to keep their franchise player, Devin Booker. With Paul at point guard, Booker as their primary scorer and DeAndre Ayton as a strong inside presence, the Suns should look to add a complimentary wing player to their starting lineup. Devin Vassell fits this complimentary role perfectly as he can provide tremendous shooting for this team, proved by how he finished his college career as a 41% three point shooter. This can greatly create space for Deandre Ayton to work inside. Vassell could be this years' Tyler Herro.

11. San Antonio Spurs
Draft Selection: Isaac Okoro, SF/SG (Auburn)
Ht/Wt: 6-6, 225
Class: Freshman
In classic San Antonio Spurs fashion they will look to add a fundamentally sound wing player. Isaac Okoro showed promise as a player who can defend multiple positions at his one year in Auburn. Okoro seems like he is a younger version of Spurs' star DeMar DeRozan. Equipped with elite defending and a flurry of athleticism, he should be able to guard the opposing teams best bench player. Okoro fits Gregg Popovich's style as he plays to his strengths and doesn't do more than he is capable of. If Okoro can develop and maintain a consistent three point jump shot, he could find himself into the Spurs' starting lineup towards the end of the season.

12. Sacramento Kings
Draft Selection: Saddiq Bey, SF/PF (Villanova)
Ht/Wt: 6-9, 216
Class: Sophomore
The Kings are currently sitting at two solid guards, a position less player in Harrison Barnes and a power forward/center hybrid in Marvin Bagley. With Milwaukee trading for Bogdan Bogdanovic, Sacramento should look to draft someone who can play both forward positions. Saddiq Bey might be the most NBA ready prospect in the draft. After a stellar season at Villanova, Bey could provide Sacramento with grit and high volume shooting. Shooting 45% from the three point line, Bey should be able to create enough space for De'Aaron Fox to expose lanes and have a reliable kick out man. At 21 years old, Bey has enough confidence and experience to act as a veteran on this young Kings team.

13. New Orleans Pelicans
Draft Selection: Cole Anthony, PG/SG (North Carolina)
Ht/Wt: 6-3, 190
Class: Freshman
Cole Anthony saw his draft stock drop after a disappointing year for the North Carolina Tarheels. Anthony could realistically go anywhere in the draft between 10 and 25. This seems like a risk that New Orleans needs to take. Anthony has an elite ability to make shots all over the court. Anthony also has great court vision and can run well in transition. With quick hands on defense, he can get a steal or two as well. Anthony should immediately be the sixth man for New Orleans. He will be able to run the second team well and spell Lonzo Ball when needed.

14. Boston Celtics (from Memphis)
Draft Selection: Tyrese Maxey, PG/SG (Kentucky)
Ht/Wt: 6-3, 198
Class: Freshman
At this point in the draft, Boston should just look add depth to their roster. As one of the favorites to make the NBA finals, Boston should just draft the best player available. Maxey should be able to bring instant offense off of the bench. Like Cole Anthony will do with New Orleans, Maxey will be able to run the bench offense and provide 10-15 points a game. Maxey should thrive in a role where all he will have to do is score and create shots for others. This could be a championship winning draft pick as Boston seems to be one of the teams that are one player away from winning.
15. Orlando Magic
Draft Selection: Aaron Nesmith, SG/SF (Vanderbilt)
Ht/Wt: 6-6, 213
Class: Sophomore
Aaron Nesmith is thought of as the best shooter in the draft. With Orlando finishing in the bottom six in three point percentage, they will look to add some shooting to their roster. Nesmith showed that he can make threes from all over the court, including from NBA range. Due to a foot injury, Nesmith may drop right into the Magic's hands at 15. With his elite height and long arms, Nesmith should be able to shoot over smaller defenders and be able to adjust his shot, midair, if needed to. His length can also cause trouble for opposing teams to pass around him. If Nesmith can stay healthy, we may be talking about him as the steal of the draft.

16.Houston Rockets
Draft Selection: Jaden McDaniels, PF/SF (Washington)
Ht/Wt: 6-9, 200
Class: Freshman
Jaden McDaniels is the player in this draft that has otherworldly potential (think Bol Bol and Thon Maker). McDaniels is the classic "positionless" player, as due to his height, length, and scoring ability he can play the two through the five. Many people want to compare McDaniels to Kevin Durant, but think more like Jonathan Isaac. Houston is dominating the NBA trade rumors, with them reportedly hearing trade offers for James Harden and Russell Westbrook. If Houston loses both of these players, they will be in rebuilding mode and should try to take a chance on McDaniels, who could pay off big for them in the future.

17. Minnesota Timberwolves (from BKN via ATL)
Draft Selection: Precious Achiuwa, PF/SF (Memphis)
Ht/Wt: 6-9, 225
Class: Freshman
Precious Achiuwa is a hyper athletic forward with a 7-2 wingspan. The Timberwolves will think that this a steal after needing some size off of the bench. Achiuwa plays with high energy, as displayed at Memphis after James Wiseman left the school. He should be able to take slower forwards off of the dribble and finish strong at the rim. The energy that he brings will be welcome in a young locker room and bench. Look for Minnesota to finish the first round of the draft with two players who will be able to play instantly.

18. Dallas Mavericks
Draft Selection: Aleksej Pokusevski, C/PF (Olympiacos – Greece)
Ht/Wt: 7-0, 201
Class: N/A
Just like Jaden McDaniels, Aleksej Pokusevski will be a major developmental project. He shouldn't be projected to play right away. Pokusevski is a very fluid big man, who can move like a forward. If Pokusevski wants to thrive in the NBA, he will need to put more muscle on and become wider to grab boards. A plus for Dallas, is that a chemistry can be developed between Pokusevski and fellow European Luka Doncic. Like I said, Pokusevski won't play right away, but if he can develop and experience some NBA action, he may be a solid role player in the future for Dallas.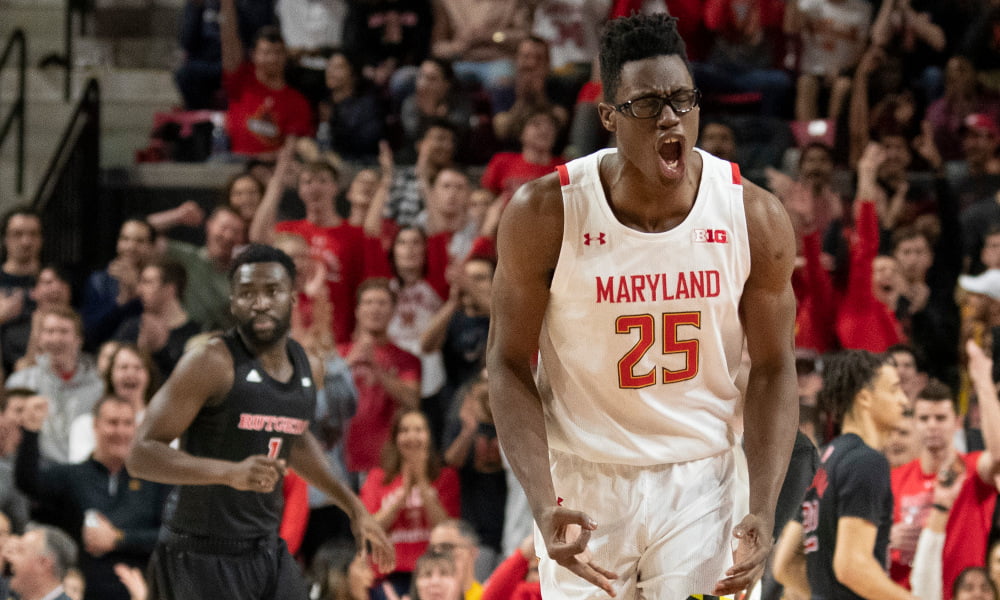 19. Brooklyn Nets (from PHI via LAC)
Draft Selection: Jalen Smith, PF/C (Maryland)
Ht/Wt: 6-10, 225
Class: Junior
The Nets can go a number of ways with their pick here. They can look to trade it for a player to help them now, they can add some more scoring off the bench or they can add some big man depth. Jalen Smith is a high energy big man who can work down low in the post as well as hit mid range jump shots. Smith could be the perfect compliment to DeAndre Jordan and Jarrett Allen, as he will be a Montrezl Harrell type player coming off the bench. With the Nets looking to contend, Smith will be a perfect addition to an already energized bench.

20. Miami Heat
Draft Selection: Josh Green, SG/PG (Arizona)
Ht/Wt: 6-6, 210
Class: Freshman
Miami was the surprise team in the playoffs last season. What could a team that is loaded with shooters and defensive players add? How about another great three and d player. Josh Green was a decent shooter in college, finishing at 36%. Green really makes his money on defense as he was one of the best on ball defenders in college basketball last season. This is a spot where Miami can just add more depth to the things that worked best for them last season. This is also a player that Milwaukee might have on their radar, putting Miami in a position to steal him.

21. Philadelphia 76ers (from OKC via ORL and PHI)
Draft Selection: Tyrell Terry, PG/SG (Stanford)
Ht/Wt: 6-1, 160
Class: Freshman
It became glaringly obvious that Philadelphia lacked three point shooting last season. With the NBA being such a three point dominant league, it is no secret that you need someone on your team willing to take and make threes. Tyrell Terry is a very interesting prospect who some people have projected going as high as ten. Armed with a lethal jump shot, Terry should be able to some what help the shooting inconsistencies of Philadelphia. Terry should make an immediate impact as he is able to run an offense and could even start for Philadelphia. If he can develop into a starting point guard, he will be able to take some of the burden off of Ben Simmons.

22. Denver Nuggets (from HOU)
Draft Selection: RJ Hampton, PG/SG (NZ Breakers – NBL)
Ht/Wt: 6-5, 185
Class: N/A
When fully healthy, Denver looks like one of the best teams in the NBA. With the emergence of Jamal Murray in the playoffs, Denver will need to get some depth at point guard to avoid over using Murray. RJ Hampton is very capable of running an offense. With professional basketball experience, Hampton should feel a comfortable transition to the NBA. With Monte Morris playing more of an off guard, Hampton should be able to create open shots for him as well as excel in the pick and roll. Hampton should be a key bench piece for the Nuggets as they make a run to the finals next season.

23. Utah Jazz
Draft Selection: Theo Maledon, PG/SG (ASVEL – France)
Ht/Wt: 6-4, 198
Class: N/A
Utah needs depth at point guard and should be ecstatic if Theo Maledon falls to them. Maledon has shown incredible court vision and has shown he has the ability to be a court general off of the bench. Maledon won't be thrown into a scoring role, due to Jordan Clarkson accompanying him off the bench. This will greatly help Maledon's transition into the NBA. With incredible size for the point guard position, Maledon will have the chance to develop on a playoff bound team.

24. New Orleans Pelicans (from Milwaukee via Indiana)
Draft Selection: Jahmi'us Ramsey, SG/PG (Texas Tech)
Ht/Wt: 6-4, 195
Class: Freshman
New Orleans traded into this pick after dealing Jrue Holiday to the Milwaukee Bucks. With the loss of Holiday, a spot opens up at the guard position for the Pelicans. New Orleans took on two pretty big contracts in Eric Bledsoe and George Hill, so it makes sense that they won't be featured in their long term plans. New Orleans can look to add some young depth here at the guard position. Jahmi'us Ramsey provides incredible shooting from the arc, proved by his 43% three point percentage. Ramsey should provide much needed scoring off of the bench. Ramsey could have the opportunity to develop into three and D player as New Orleans will have to find a replacement for Holiday at some point. Ramsey also has a long enough wingspan to disrupt opposing teams bench offenses.

25. Oklahoma City Thunder (from DEN)
Draft Selection: Nico Mannion, PG/SG (Arizona)
Ht/Wt: 6-3, 190
Class: Freshman
If the Thunder do move on from Chris Paul, they are going to need someone to fill his role. The Thunder have found success with running a three guard set and will need someone to run the floor general position. Nico Mannion has shown that he can control an offense while playing as a pass first player at Arizona. If Oklahoma City does keep Paul, there is not a better mentor for younger players than Paul. Look for Mannion to be a steal and the new floor general for the Thunder for years to come.

26. Boston Celtics
Draft Selection: Vernon Carey, PF/C (Duke)
Ht/Wt: 6-10, 270
Class: Freshman
Just like their selection with Tyrese Maxey, Boston should take the best player available here. Vernon Carey is a big bodied forward who can also play the center position. Carey should add size and energy to a Boston team who will look to compete. Carey's ability to step outside of the paint and hit a couple mid range jumpers, provides an interesting player for Brad Stevens to use. We may not see Carey this coming season, but after a year or two of development, he may be able to handle himself and spell Jayson Tatum when needed.

27. New York Knicks (from LA Clippers)
Draft Selection: Tyler Bey, PF/SF (Colorado)
Ht/Wt: 6-7, 220
Class: Junior
Tyler Bey is a player who can play offense and defense at multiple positions. What he lacks in offensive talent, he makes up for in defensive talent. Bey should be able to guard players from the two position all the way to the five position. Bey is a very active player who can use his size to get shooters open, as well as crash the offensive glass. Bey can be seen some what as a developmental project, and on the Knicks he may get some valuable minutes that he can use to turn into a role player for New York.

28. Los Angeles Lakers
Draft Selection: Malachi Flynn, PG/SG (San Diego State)
Ht/Wt: 6-1, 185
Class: Junior
The reigning champions should look to add depth at any position here. A team that was filled with veterans, will need to add some young talent to their roster to take over when the vets leave. Malachi Flynn is a very interesting prospect as he has climbed the draft boards as of recently. Flynn offers tremendous shooting that greatly compliments the Lakers style of play. Flynn plays well under control and is patient to find his shot. Look for Flynn to bring some decent shooting off of the bench as the Lakers look to make a run at a repeat.

29. Toronto Raptors
Draft Selection: Kira Lewis, PG/SG (Alabama)
Ht/Wt: 6-3, 165
Class: Sophomore
Toronto is in an interesting spot here, as they are seemingly transitioning from a veteran team into a younger team while still contending. If this is the case, they will need to look for a younger point guard that will be able to run the offense. Kira Lewis is an ultra quick point guard who should be able to create his own shot and work a two man game with Pascal Siakam. I could see Toronto drafting Lewis and immediately giving him playing time, even starter minutes to see if he can take over when Kyle Lowry inevitably leaves. His shooting abilities is what should interest Toronto. He is very good at finding open shots off of the ball. This could provide a valuable piece around Siakam.
30. Boston Celtics (from MIL via PHX)
Draft Selection: Desmond Bane, SG/SF (TCU)
Ht/Wt: 6-5, 219
Class: Senior
Desmond Bane is a long guard/forward hybrid who can play both guard positions and the three. Boston can look to take a gamble on Bane here, due to the current state of their team. Bane was a solid scorer at TCU. He is able to take and make shots from mid-range and three-point distance. His mechanics may need a little work, but if it can be fixed quick, he could be the biggest steal of the draft. Due to his size, Bane is not only a matchup nightmare on offense, but also on defense. 
---
More Articles
The Daily Leadoff | FlurrySports' Daily Email Newsletter
Top-25 College Basketball Rankings