Team Penske came into 2021 after a NASCAR Cup Series season in which two of the organization's three drivers made the Championship 4. Unfortunately for "The Captain," neither was able to get the job done in the final race a year ago and Penske's championship hopes faded to black. Team Penske was hoping to resurface as a top-tier team in 2021 and achieve a better season in terms of final results. Perhaps the veteran trio of drivers could capture Roger Penske that elusive NASCAR championship. The season certainly started out with promise. However, the catastrophic end for the Penske group in the Daytona 500 foreshadowed what would ultimately turn out to be a rather difficult season.
The following article continues a FlurrySports series that looks back on the 2021 NASCAR Cup Series season from the perspective of drivers and race teams. Read on for season reviews of the three Team Penske drivers, Joey Logano, Ryan Blaney and Brad Keselowski.
NASCAR Cup Series 2021 Season Reviews | Team Penske
Joey Logano — No. 22
Coming off of a Championship 4 appearance last season, Joey Logano brought plenty of hope and high expectations into 2021. Things were on the verge of starting out great as Logano led the field to the white flag at the Daytona 500. What looked like a win in the "Super Bowl of Stock Car Racing" went awry as Brad Keselowski pulled out of line and Logano went for a late block. The move ended up taking out the two Team Penske teammates and they started a big wreck into Turn 3. In reality, the near-miss at Daytona foreshadowed a season of underwhelming results for the No. 22 team.
Win on Bristol Dirt Highlights Steady Spring for Joey Logano
The following week Joey Logano was again leading late in the race until Christopher Bell passed him with two to go. Logano went on to finish second. After a below-average Homestead race, Logano got back to his top-10 ways with a ninth-place run at Las Vegas and another runner-up at Phoenix. Two weeks later, he was able to get to the front and get his first win of the season in surprising fashion on the dirt at Bristol. After another top-10 at Martinsville, he was battling for the win with Denny Hamlin at Richmond before a late caution came out. He finished third in the end.
Top-10 Finishes Fail to Breed Wins
Over the next three races, Joey Logano wrecked out at Talladega and had two more sub-top-10 finishes at Kansas and Darlington. The No. 22 team then turned it around a bit and scored top-10 results in six of the next seven races. However, aside from finishing fourth at New Hampshire, he did not have any really strong runs. He fell from fourth in the NASCAR Cup Series points standings all the way down to ninth for the start of the playoffs.
Bad Luck at Texas Stalls Logano's Championship Hopes
Finishes of eighth at Darlington, fifth at Richmond and 11th at Bristol were enough to move Joey Logano 22 into the Round of 12. He maintained his consistency with finishes of 11th at Las Vegas, third at Talladega and seventh at the Charlotte ROVAL to advance through to the Round of 8.
In the next race at Texas, Logano's engine expired. He finished 30th and fell behind the eight ball in the standings. While he rebounded to finish ninth at Kansas, the No. 22 team knew they would need to make something happen at Martinsville in order to get back to the Championship 4. Unfortunately, Logano simply did not have the speed to keep up with the leaders. However, a savvy pit strategy saw him take over the lead in the latter portion of the race. Logano failed to make it stick, leading all of nine laps before falling back and finishing tenth. After being eliminated from the NASCAR Cup Series Playoffs, Logano ended his season with an 11th-place run at Phoenix.
Joey Logano Set to Move Forward as Veteran Team Penske Driver
Joey Logano had a down year by his standards. His final numbers included only one win, ten top-5s, 19 top-10s, and an average finish of 12.6. He wound up eighth in the final points standings. Next year, Logano will be the veteran in the Team Penske garage as the entire organization looks for a bounceback season.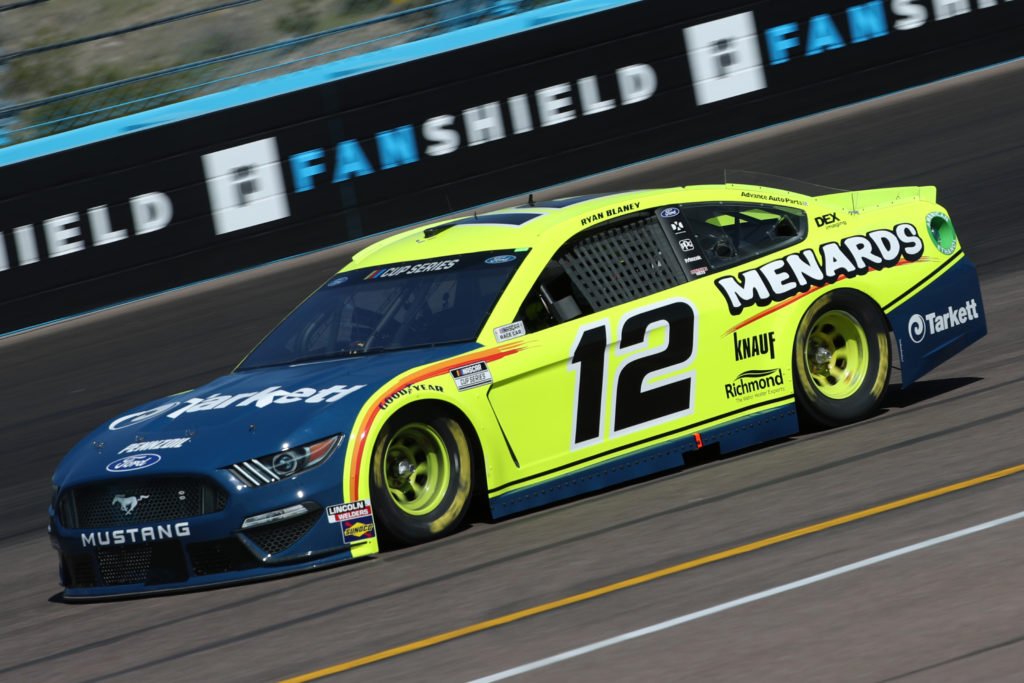 Ryan Blaney — No. 12
2021 marked Ryan Blaney's fourth season driving the No. 12 Ford Mustang for Team Penske. It sure started out poorly as Blaney was taken out in the "Big One" that happened on Lap 14 of the Daytona 500. Unfortunately, it was more of the same in the early portion of the season.
Blaney Builds Momentum After Early-Season Struggles
Ryan Blaney failed to crack the top-10 in any of the first three races. When NASCAR got out of Florida, Blaney was finally able to throw down some quality finishes, starting with a top-5 at Las Vegas. He followed that up with a tenth-place run at Phoenix and the No. 12 suddenly had the momentum it needed. At Atlanta, Blaney was able to track down a dominant Kyle Larson late and pass him. He led the final eight laps to win his first race of the season in stunning fashion.
After a couple of 11th-place finishes, Blaney lost some ground in the standings, falling from fifth to ninth after the Nashville race. Finishes of fifth and sixth in the two Pocono races helped to steady the ship. Blaney went on to score consecutive top-5s at Atlanta and New Hampshire heading into the Olympic break.
Ryan Blaney Caps Off Regular Season in Style
After a 14th-place finish at Watkins Glen, Ryan Blaney ended the regular season with a flourish. He wound up second at the Indianapolis Road Course before earning back-to-back wins at Michigan and Daytona. The end of the regular season propelled Blaney all the way up to the two-seed going into the NASCAR Cup Series Playoffs.
Unfortunate Mishap Costs Ryan Blaney a Shot at the Championship
The playoffs did not start as well as the regular season ended for Ryan Blaney. He struggled to a finish of 22nd at Darlington but then rebounded with a top-10 at Richmond and a fourth-place run at Bristol. That would be enough to move the No. 12 Team Penske group into the Round of 12. The second round went a bit smoother for Blaney overall. He earned finishes of fifth at Las Vegas, 15th at Talladega and ninth at the Charlotte ROVAL to advance on to the Round of 8.
At Texas, he finished sixth putting him in great standing to move on. That was derailed after Austin Dillon got loose and put Blaney into the wall at Kansas ending his day. The No. 12 team fell below the cutline heading into the penultimate race at Martinsville. While he earned a solid 11th-place finish, it was not enough for him to make the Championship 4. Blaney ended his season with one more top-5 as he finished fourth at Phoenix.
Future is Bright After Career-Year
Ryan Blaney had a career year with three wins, 11 top-5s, 20 top-10s, an average finish of 11.9 and a seventh-place points finish. He will no longer be the young man on Team Penske starting next year. The goal will be to build off of his best NASCAR Cup Series campaign in 2022.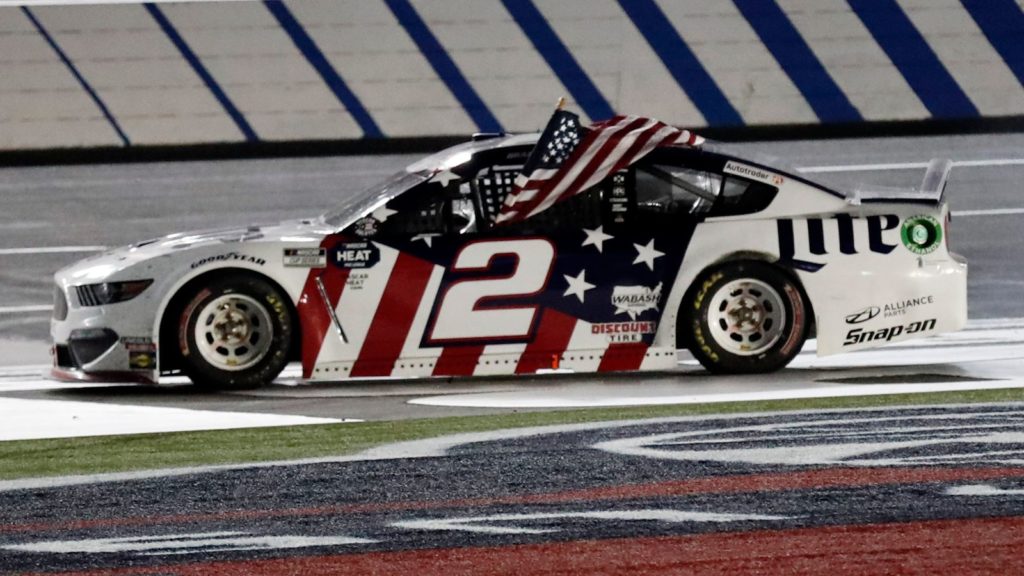 Brad Keselowski — No. 2
Brad Keselowski aimed to win his second career NASCAR Cup Series Championship in what turned out to be his final season driving for Team Penske. He started the year off with a shot at his first Daytona 500 win. That chance went away when Joey Logano sent a late block and wrecked the majority of the field on the final lap. Keselowski was not very happy with his 13th-place finish.
Win at Talladega Highlights Inconsistent Spring
In the second race of the season, Brad Keselowski scored a top-5 at the Daytona Road Course. After a not-so-great finish at Homestead, Keselowski went and had two very strong runs in the early-season west coast swing. However, in the next four races that followed, the No. 2 team struggled mightily. Keselowski did not have a top-10 result at Atlanta, Bristol Dirt, Martinsville, or Richmond.
At Talladega, he turned his fortunes around. A last-lap pass on Matt DiBenedetto proved to be the race-winner as Keselowski continued his remarkable success on the superspeedways. He followed up his win with a top-3 run at Kansas. Another rough stretch followed as Keselowski finished outside of the top-10 in each of the next six races.
Summer Brings Sporadic Results for No. 2 Team
The doubleheader at Pocono is where Brad Keselowski got back on the horse with finishes of 10th and third in the two races. After a 13th-place run at Road America, he would then again get a 10th and third-place finish at Atlanta and New Hampshire, respectively. Keselowski would only add one more top-10 before the NASCAR Playoffs and went in as the 10-seed.
Brad Keselowski Overcomes Poor Seeding Early but Falls Short of Championship 4
Brad Keselowski did enough to extend his playoff stay with finishes of seventh, 13th and sixth in the Round of 16. He then scored impressive results of seventh and second at Las Vegas and Talladega which put him in a great spot to move on to the Round of 8. That was derailed a bit with a spin at the Charlotte ROVAL, but Keselowski still advanced after other drivers had problems as well.
Unfortunately, his lack of playoff points caught up with him. Finishes of fourth, 17th, and third in the Round of 8 were not enough to get him into the Championship 4. Keselowski's final year with Team Penske ended in a disappointing fashion.
Keselowski Buys Stake in RFK Racing
Brad Keselowski ended his Team Penske tenure with one win, 10 top-5s, 17 top-10s, a 13.0 average finish in 2021. He wound up sixth in the final points finish. Keselowski now leaves the No. 2 car behind and moves over to the newly-named Roush Fenway Keselowski Racing (RFK Racing) next year. He will drive the No. 6 car as an owner-driver.