No sport has a longer offseason than football. That being said, the biggest event of the NFL offseason is just around the corner. The 2021 NFL Draft is scheduled to take place from April 29th-May 1st in Cleveland, Ohio. For the incoming draft class and many NFL teams, it is a weekend of fresh starts and newfound hope for the future. Among the highly touted members of this year's draft class is running back Najee Harris out of Alabama.
The following is a complete NFL Draft profile for Najee Harris including stats, highlights and a mock projection.
Najee Harris NFL Draft Profile, Stats, Highlights and Projection
Najee Harris
Position: Running Back
Height: 6'2″
Weight: 230 lbs
Age: 23
College: Alabama Crimson Tide
Najee Harris 2020 Stats
Rushing
Attempts: 251
Yards: 1466
Average Yards per Carry: 5.8
Touchdowns: 26
Receiving
Receptions: 43
Yards: 425
Average Yards per Reception: 9.9
Touchdowns: 4
Najee Harris Highlights
Najee Harris Draft Profile
Strengths
Najee Harris played a key role in Alabama's run to the College Football Playoff National Championship. He was electric in both postseason games, something that Crimson Tide fans were used to seeing on a weekly basis in Tuscaloosa. At 6'6″, 230 lbs, Harris is no easy running back to tackle. He complements his physical attributes with a determined running style. He is good at leaning forward and finishing carries through contact as opposed to running on his heels. Harris also worked hard to improve his pass-catching abilities during his four years at Alabama. A physical runner with the ability to pop out of the backfield as a receiver can be a matchup nightmare for opposing defenses.
Weaknesses
When it comes to Harris' tendencies as a runner, he wasn't always great about displaying patience. Failure to wait for his offensive linemen to create lanes led to a number of plays being shut down in the act. Speaking of carries, Harris had a whole lot of them at Alabama. His 251 totes as a senior this past season brought his collegiate total to 638. Keep in mind that all of those were in the SEC too, which is as close to pro football as it gets. With the lifespan of NFL running backs being shorter than that of any other position, such a heavy college workload could give some teams pause. Harris was not afraid to take on opposing defenders in college. While that's fine for creating highlights, he may stand well to scoot out of bounds and preserve his body a little more at the NFL level.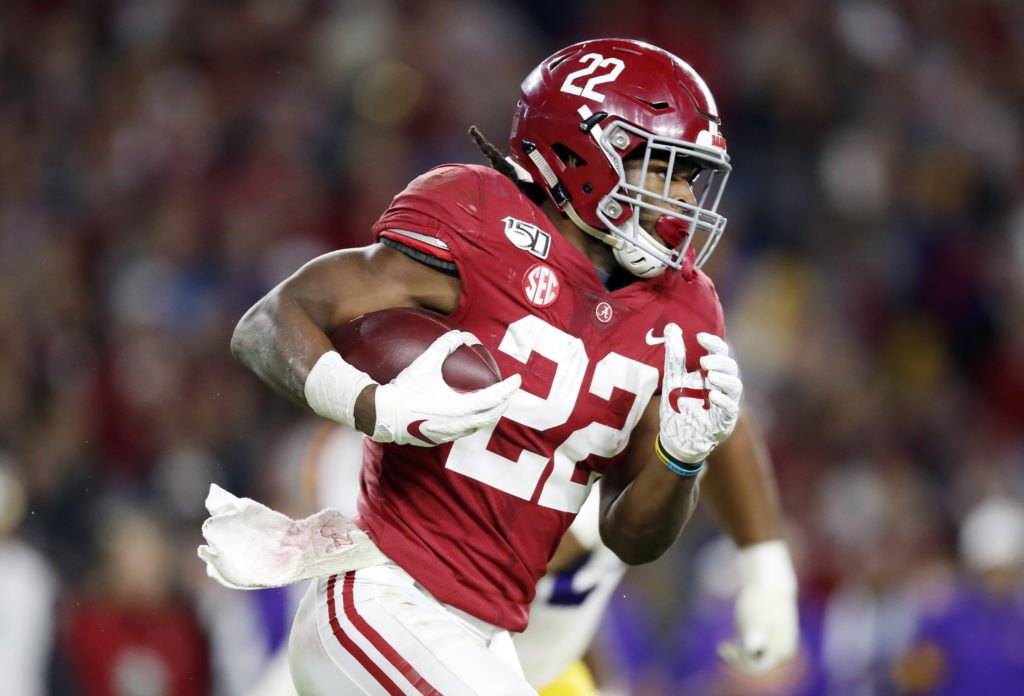 Najee Harris Draft Projection
All 2021 NFL Draft Projections are taken from the latest CBS NFL Mock Draft by Ryan Wilson.
Najee Harris is currently projected to be drafted by the Arizona Cardinals at No. 49 overall. He is the third running back selected in this mock draft.
---
For more 2021 NFL Draft coverage and player profiles, check out the our NFL Draft page.