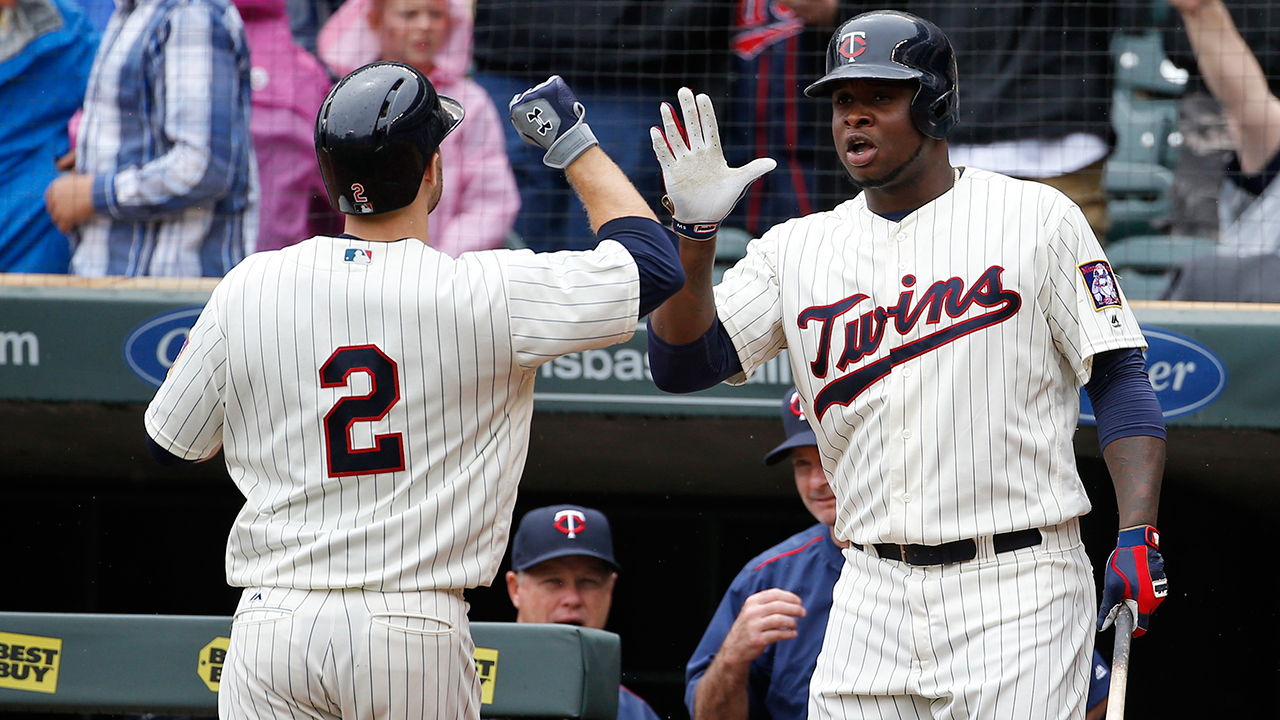 MLB Power Rankings: August 23, 2017
The end of August is close at hand. Now is the time that the MLB playoff picture begins to take shape.
In the American League, Boston and Houston are heavily-favored to win their division races. In the National League, the Dodgers and Nationals have more than comfortable leads in their respective divisions. That means that both Central Divisions have yet to really be decided. Five and a half games separate the first place Indians from the Twins in the AL Central. The Brewers only Trail Chicago in the NL Central by 2.5 games. The Cubs and Brewers have a total of seven games remaining against each other this season, all of them being in September. The final series between Cleveland and Minnesota will take place towards the end of September. Add these division races to the close Wild Card races in each league, MLB fans are poised for some competitive baseball heading into the last month of the season.
Here are this week's MLB Power Rankings presented by FlurrySports. (All records and stats updated through 8/21/2017)
Last week's rankings (8/16/2017)
Teams 30-11
30.) Philadelphia Phillies (Last week: 30)(45-77) 29.) Chicago White Sox (29)(48-75) 28.) San Francisco Giants (28)(51-76) 27.) Cincinnati Reds (27)(53-72) 26.) Oakland Athletics (26)(54-71) 25.) Detroit Tigers (24)(54-69) 24.) New York Mets (23)(54-69) 23.) San Diego Padres (25)(55-69) 22.) Atlanta Braves (22)(55-68) 21.) Toronto Blue Jays (21)(59-65) 20.) Pittsburgh Pirates (19)(60-65) 19.) Tampa Bay Rays (15)(61-65) 18.) Baltimore Orioles (17)(61-64) 17.) Miami Marlins (20)(60-62) 16.) Texas Rangers (18)(62-62) 15.) Kansas City Royals (14)(62-61) 14.) Seattle Mariners (16)(64-62) 13.) St. Louis Cardinals (10)(63-61) 12.) Los Angeles Angels (12)(64-61) 11.) Milwaukee Brewers (11)(65-61)
The Top Ten
10.) Arizona Diamondbacks (7)(68-57)
Don't let the 11 games above 0.500 record fool you. The Diamondbacks are struggling. Since July 1st, Arizona has posted a record of 18-26. They have lost six out of their last ten games, including being swept in a three game series at Minnesota in which the Diamondbacks were outscored 27-8. This gradual slide has allowed Milwaukee to pull within 3.5 games of Arizona's Wild Card spot, as well as putting St. Louis 4.5 games out of that same spot. With upcoming series against the Mets and Giants, the Diamondbacks will look to turn their fortunes around.
9.)  Minnesota Twins (13)(64-60)
Since the beginning of August, the Twins have been hot. So far this month, Minnesota has posted a 14-7 record and they currently hold the second Wild Card spot in the American League. For the second year in a row, second baseman Brian Dozier has been on a tear since the All-Star Break. Since July 14th, Dozier has posted a line of 0.313/0.392/0.646 with 13 homeruns, 30 runs batted in, and 21 total extra-base hits. Hot bats in the second half are a key ingredient for any team looking to make it to the postseason, and the Twins have no shortage of those. Noteworthy: DH Robbie Grossman and 3B Miguel Sano have each landed on the 10-day Disabled List. The Twins hope that their lineup, which has outscored their opponents 102-41 in all of their wins this month, can fill the void that Sano and Grossman's absence creates.
8.) New York Yankees (8)(66-57)
Aaron Judge has cooled off significantly since the All-Star Break and so have the Yankees. The Yankees have gone 9-10 in the month of August. Since July 14th, Judge is batting 0.169 with only seven homeruns and 14 runs batted in. Judge has also struck out in 37 consecutive games, an MLB record. What's more, the Yankees have failed to make up much of the ground they have lost to Boston in the AL East. Not to mention they now only lead in the AL Wild Card by 2.5 games. The Yankees started the first half of the season racing towards the World Series. Now the Bronx Bombers are hoping to stay in postseason contention. One thing is for certain: they will need better performances from players like Judge to make it happen.
7.) Chicago Cubs (9)(66-57)
Winners of seven out of their last ten games, the Cubs have maintained a lead in the NL Central since the All-Star Break. Unfortunately for Chicago, the Brewers have been able to keep pace with them as they only trail by 2.5 games. The Cubs have a chance to put some distance between themselves and Milwaukee as they finish August with series against the Reds, Phillies, Pirates, and Braves. The Cubs will have a chance to finish off the Brewers once and for all in September, as they have seven games left to play versus their division rival. If current trends continue for both clubs, it should be an entertaining pair of series.
6.) Colorado Rockies (6)(68-56)
The Rockies, much like their fellow NL Wild Card holder (Arizona), have hit a bit of a snag recently. Colorado has lost seven out of its last ten games as their lead in the Wild Card race has shrunk to only half of a game ahead of the aforementioned Diamondbacks. Luckily enough for the Rockies, they only have four more series against teams that currently hold a playoff spot. It is worth noting that two of those series are against the Dodgers. Even still, that means there are a lot of games left against teams that aren't quite playoff-caliber.
5.) Cleveland Indians (5)(69-54)
The Indians have been on a roll lately, winning nine out of their last eleven games. In their last 30 games, the Tribe has logged 21 wins. Also during that span, their starting pitchers have a collective ERA that scores under 3.00. Another bright spot for Cleveland is newly-acquired outfielder Jay Bruce. In 11 games at the plate, Bruce has collected eight extra-base hits and 12 runs batted in. Despite their recent run of success, the Indians have yet to put a lot of space between themselves and Minnesota who trails by 5.5 games. If Cleveland can build on the momentum they've created for themselves, they will repeat as champions of the AL Central.
4.) Washington Nationals (4)(74-48)
Despite injuries to key players like Bryce Harper, the Nationals have not been suffering much in the win-loss column. Washington still maintains a strong hold on first place in the NL East, leading the second place Marlins by 14 games. In addition, the Nats have won seven out of their last ten games, posting an 11-7 record overall in the month of August. Recently their newly-bolstered bullpen won the Bullpen of the Week Award as they collectively only allowed 3 earned runs over 16 innings pitched (1.69 ERA).
3.) Houston Astros (3)(76-48)
Good news for the Astros: ace Dallas Keuchel has logged two wins in his last two starts while only allowing one earned run. In addition, the Astros have won five out of their last eight games. All of this is welcome news for a team that has struggled since the end of a hot first half of the season. The Astros lost nine of their first eleven games to start the month of August. It was somewhat understandable, considering the recent rash of injuries to star players. With several of their injured major contributors set to return before the start of the postseason, it will be important for the Astros to continue to turn things around in order to maintain the number one seed in the American League.
2.) Boston Red Sox (2)(71-53)
The next hottest team, behind the Dodgers, is indeed the Boston Red Sox. In fact, the Red Sox have posted the same record in the month of August as the Dodgers (13-4). Major contributors like second baseman Dustin Pedroia and starting pitcher David Price are set to return from the Disabled List at some point before the beginning of the postseason. Boston has benefited from valuable contributions from some lesser known players. For example, in his last 16 games outfielder Andrew Benintendi has 24 hits in his last 64 at-bats (0.375 average) in addition to six homeruns and 16 runs batted in.
1.) Los Angeles Dodgers (1)(88-35)
The Dodgers have won eight out of their last ten. In addition, they have opened up the month of August with a 13-4 record. Los Angeles has the best record in baseball, has won over seventy percent of their games, and is currently 50 games above 0.500. You're not surprised that they're number one, yet again. More good news for the Dodgers: Bellinger, Darvish, and Kershaw are set to return from injury within the next week. It's going to take something catastrophic in order for this team to not finish well above the 100-win mark.