It has already been an eventful offseason for the Minnesota Vikings, between the coaching and front office changes. To start this new regime off on the right foot, there will be some tough Minnesota Vikings free agency decisions.
Below, we will look at the Vikings' cap space to see how much they have to spend. However, teams can now manipulate the cap to sign nearly any player they would like. We will also go over other Minnesota Vikings free agency information, including their own 2022 free agents and define what each type of free agent is.
---
---
Minnesota Vikings Cap Space | NFL Free Agency
As of March 8th, the Minnesota Vikings cap space doesn't look good. They are currently $15 million over the cap, which ranks 28th in the NFL.
There are a few obvious contracts the Vikings can re-work to free up some cap space to spend on free agents. There are also a couple they need to cut altogether. The fact that Minnesota owes tight end Kyle Rudolph nearly $3M despite not being on the team doesn't make matters any easier.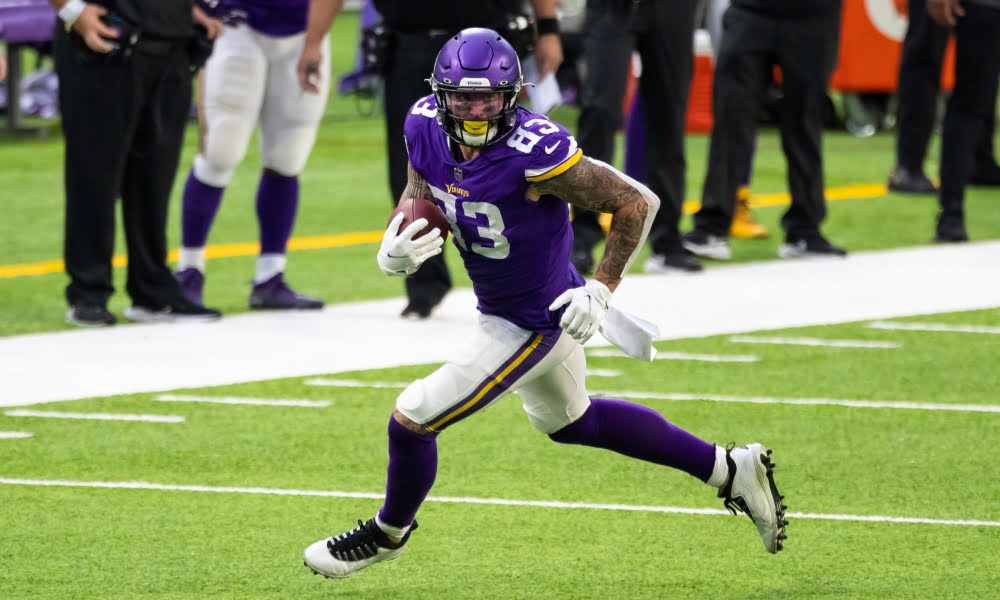 Minnesota Vikings Free Agents 2022
The following are the 2022 Minnesota Vikings free agents as of March 8th.
| | | | |
| --- | --- | --- | --- |
| Player | Pos | Type | Snaps |
| Xavier Woods | S | UFA | 100.00% |
| Tyler Conklin | TE | UFA | 81.00% |
| Patrick Peterson | CB | UFA | 73.30% |
| Anthony Barr | LB | UFA | 64.90% |
| Nick Vigil | LB | UFA | 59.50% |
| Mackensie Alexander | CB | UFA | 57.10% |
| Sheldon Richardson | IDL | UFA | 57.00% |
| Mason Cole | C | UFA | 41.40% |
| Everson Griffen | EDGE | UFA | 37.80% |
| Greg Joseph | K | RFA | 35.20% |
| Jordan Berry | P | UFA | 32.70% |
| Rashod Hill | LT | UFA | 30.00% |
| Dede Westbrook | WR | UFA | 18.50% |
| Christopher Herndon IV | TE | UFA | 16.10% |
| Luke Stocker | TE | UFA | 13.50% |
| Sean Mannion | QB | UFA | 4.50% |
| Wayne Gallman | RB | UFA | 4.40% |
| Tashawn Bower | EDGE | UFA | 4.20% |
| Dakota Dozier | LG | UFA | 0.00% |
| Chad Beebe | WR | UFA | 0.00% |
Defining the Type of NFL Free Agents
Unrestricted Free Agents
An unrestricted free agent (UFA) can freely talk to or sign with any team after the start of the new league year. Any player with four or more accrued seasons in the NFL can be a UFA.
The net loss and gain of UFAs for a team are used to calculate the next season's compensatory draft picks, but no other compensation is available to a team that sees a player leave as a UFA.
Restricted Free Agents
A player must have three accrued NFL seasons to be a restricted free agent (RFA). Before the new league year begins, a team can place one of three tenders on a restricted free agent (first, second or original-round tender). Essentially, this gives the player the option to return to the team on a one-year deal.
The RFA is allowed to seek deals with other teams, but the tendering team (original team) has the opportunity to match the offer and keep them. If the tendering team doesn't match the offer, the signing team may need to give a draft pick according to the level of tender used on the player.
Exclusive-Rights Free Agents
Exclusive-rights free agency (ERFA) is only eligible to players who have two or fewer NFL seasons accrued. Teams can use an ERFA tender to any of these players before the start of the new league year, and it stops the player from negotiating contracts with other teams. The player can sign the tender, which is a one-year deal at their position's minimum salary, or thegy can negotiate for a longer extension.
Finally, RFAs or ERFAs who do not receive a tender before the league year begins become "street free agents." Street free agents have the same rights as UFAs, but they are not counted in the compensatory pick formula.