The 2020 season devastated the Minnesota Vikings defense. What looked promising at the start of the season limped across the finish line. Injuries played a large part in this. To get back to the playoffs, the Vikings free agency focus should be on fixing the defense.
Minnesota Vikings Free Agency Targets: Defense
Vikings Defensive Line
Defensive end Danielle Hunter missed the year recovering from neck surgery. Defensive tackle Michael Pierce opted out of the season due to COVID-19. Losing a starting defensive end and tackle hurts, especially since Pierce was just brought in to fill a hole and never played a down.
Before missing 2020, Hunter started in 78 games for Minnesota and amassed 276 combined tackles, 193 solo stops, 67 tackles for loss, 54.5 sacks and one safety.
Pierce, the 340-pound, 6-foot run stuffer signed with the Vikings last offseason. But, he opted out from an abundance of caution. He spent his first four seasons in Baltimore, playing 60 games, contributing 151 combined stops, 90 solo tackles, 13 tackles for loss, 13 QB hits and 3.5 sacks.
Removing those guys is a huge loss.
And, getting them back is a huge gain.
I think those two would help for sure. That's almost like adding two free agents to this year's class.

Rick Spielman, Vikings general manager
Adding a player like former Baltimore Raven Derek Wolfe in NFL Free Agency would go a long way to add situational/rotational help in the trenches.
After that, the Viking still need to address the linebacker corps and secondary.
Vikings Linebackers
Having Anthony Barr on your defense is an immediate upgrade. Adding Eric Kendricks and Eric Wilson makes it one of the most fearsome linebacker trios in the league. Unfortunately, Wilson is a free agent this year and chances are the cap-strapped Vikings can't afford to keep him.
Sitting behind Wilson on the bench is last year's fourth-round draft pick Troy Dye. Perhaps the second-year player can earn a starting spot. If not, the Vikings can take a look at Kyler Fackrell and/or find a way to bring Wilson back on a deal that spreads his cap hit out over several seasons.
The Vikings could also kick the tires on former New Orleans Saints 'backer Alex Anzalone. The guy even looks like a real Viking…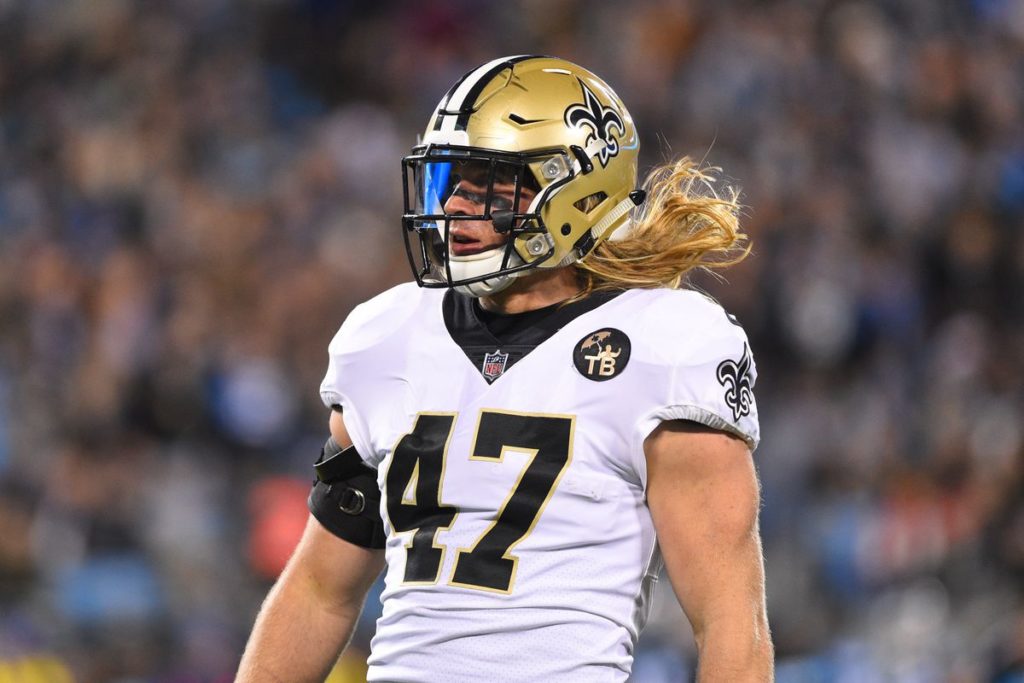 Vikings Defensive Backs
Jeff Gladney, Cameron Dantzler and Harrison Smith are part of a 2020 re-worked Vikings secondary. All-Pro Smith is the only holdout from days gone.
If the Vikings bolster their defensive line, solidify their linebacking corps and avoid roster devastation by injury, a good secondary will feast in 2021.
Spielman and the Vikings could choose to go wily veteran this offseason. If they do, they could bring in a player like the Arizona Cardinals' Patrick Peterson, the Denver Broncos' A.J. Bouye, or even former Seattle Seahawk and San Francisco 49er Richard Sherman. However, they're more likely to take a look at a lower-priced players. Former Dallas Cowboy Xavier Wood and Denver Bronco Justin Simmons fit that bill. Either could bring some much-needed versatility and authority to the position the Vikings will lose if/when Anthony Harris leaves the building.
Luckily, the Vikings have free agency and the draft to build from. If they draft a starting defender and sign one in free agency, the rest should sort itself out. Having a solid core of returning veterans and some fresh new talent will go a long way.