Coming into Thursday's college basketball matchup, both Minnesota and Ohio State needed a big win to get their Big Ten basketball seasons back on track. Ohio State had lost two straight while Minnesota had lost four straight and was looking for their first Big Ten basketball win of the season.
Not many gave the Gophers a solid chance coming into this game in Columbus, but a career game from Dawson Garcia and a few key plays down the stretch were enough to secure Minnesota basketball their first Big ten victory.
The Ohio State Buckeyes were 14-point favorites but struggled to get anything going offensively from the field. The Buckeyes shot just 37.5% from the field and could only muster up 67 points. The performance was startling for a team that has been among the best in the country offensively.
With the win, the Golden Gophers get their first Big Ten win ahead of a big home matchup with Illinois at home on Monday. Ohio State will have to quickly regroup as they next face Rutgers on the road where they will look to break their three-game losing streak.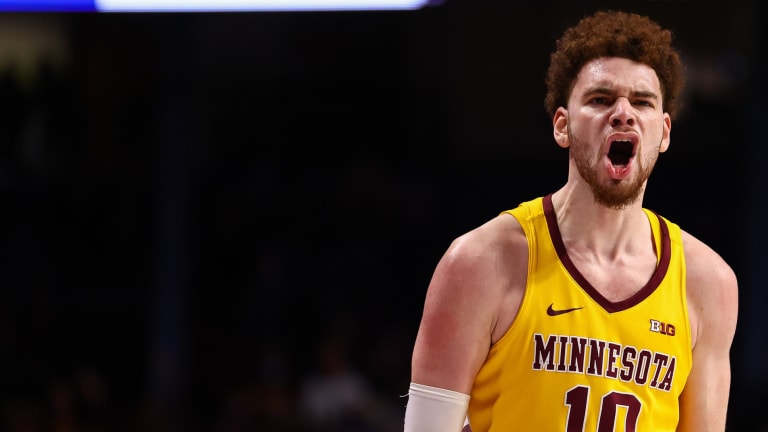 Minnesota Basketball Take Down Ohio State, 70-67
Dawson Garcia Steps Up
It's no secret to anyone that Minnesota's success hinges on the play of forwards Dawson Garcia and Jamison Battle. Already averaging 14.6 points per game this season, Garcia was even better on Thursday. Garcia finished with a career-high 28 points along with nine rebounds on 9/15 (60%) shooting.
While the duo of Garcia and Battle have been good to this point, they haven't quite been able to do enough to get Minnesota over the finish line. Even with an "off night" from Battle, Minnesota was able to weather the storm thanks to a sensational performance from Garcia.
Free Throw Woes Continue for Minnesota
One of the main reasons this game came down to the wire was due to Minnesota's poor free throw shooting. The Golden Gophers were just 9/16 (56.3%) from the free throw line in regulation. Minnesota came into the game ranked 360th in the NCAA in free throw percentage with just a 59.4% conversion rate.
With under two seconds left in regulation, Bruce Thornton was whistled for a controversial foul call on what looked to be a clean block. Although Ta'Lon Cooper came into Thursday shooting just over 51% from the line, he was able to hit the second of two free throws to put Minnesota ahead for good. For as good as Garcia and Battle can be on any given night, their inability to convert at the line will make it tough for them to do much this season in the Big Ten.