The Los Angeles Rams had a decisive 34-14 victory over the Chicago Bears Sunday night during their Week 1 debut. Of course, all eyes were on the Rams' shiny new offseason addition — Matthew Stafford. In his new yellow and blue digs, the former Detroit Lions quarterback more than delivered.
Matthew Stafford Highlights From SNF
Against the Bears, Stafford wasted absolutely no time confirming exactly why the Rams' front office were so eager to nab a strong-armed quarterback of his caliber. On his first pass attempt, Stafford completed a seven-yard pass to tight end Tyler Higbee. But on his very next throw, he launched an absolute bomb to receiver Van Jefferson that ended up going for 67 yards and a touchdown. He followed that near-perfect debut drive with an 18-yard completion to veteran receiver DeSean Jackson in the Rams' second drive.
Despite a stout Chicago Bears effort led by cornerback Roquan Smith, Stafford had virtually no problems racking up passing yardage and spreading the ball around to his new offensive counterpoints. During the Rams' first possession of the second half, the quarterback went for 19 yards on a completion to receiver Robert Woods. Similar to how he started the game, Stafford followed up that deep-ball teaser with a 56-yard touchdown to receiver Cooper Kupp. Later in the game, he hooked up with Higbee once again for a 37-yard completion.
Stafford would finish the game 20-26 with 321 yards and three touchdowns to no interceptions. It's worth noting that 26 passes is the least amount of times it has taken for Stafford to reach 20 completions in his entire career. What may be most impressive is that he finished 5-7 on deep throws (which the NFL defines as 15+ yards). Throughout all of Stafford's tenure in Detroit, his highest passer rating was 148.1. In his debut game with the Rams, Stafford posted a rating of 156.1.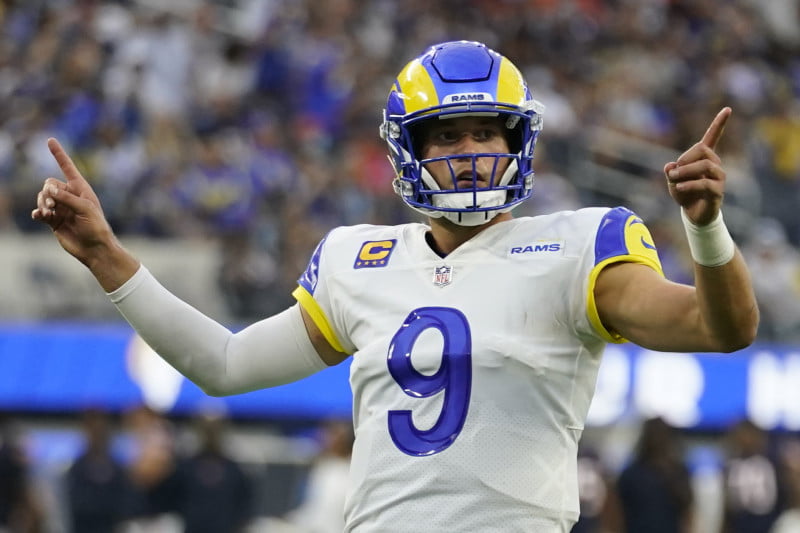 Addressing the Matthew Stafford Naysayers
There still remains a horde of dissenters (albeit dwindling) stating that the praise surrounding the 33-year-old passer is unfounded. The narrative that for the first time in his career Stafford is properly equipped with both quantity and quality in terms of the offensive help he has around him is not palatable to many. After all, Stafford had explosive weapons during various phases during his Detroit tenure. Of course, one of those is receiver Calvin Johnson. However, one game-changing receiver paired with surrounding mediocre talent is not a recipe for success. Johnson was recently even on record stating that he would have played longer in his career if he could somehow get out of his contract with the Lions, characterizing the franchise as inept.
Stafford also played with a pair of stout receivers in Detroit in Kenny Golladay and Marvin Jones Jr., but not much else. With the Rams, Stafford has the first options of Robert Woods and Cooper Kupp — two of the most dynamic receivers currently in the league. He also has deep-ball aficionado DeSean Jackson, Van Jefferson and Tyler Higbee as possible options. Not to mention the Rams offensive line performed admirably in pass-blocking scenarios, giving Stafford plenty of time to scan the field and hit the right target.
And while there wasn't much of a run game established in the Bears matchup, running back Darrell Henderson performed well against a stout Chicago front. He rushed 16 times for 70 yards and caught a lone pass from Stafford for 17 yards. Henderson should only improve on his already solid performance in his new starting role, and having him in the backfield will just be one more weapon Stafford will be able to utilize in future matchups.
Going Forward
While it is early, fan excitement over Stafford's debut performance should continue to blossom with each passing week. But the Rams play in arguably the toughest division in the NFL, and the rest of the NFC West passers are not far behind him. San Francisco 49ers quarterback Jimmy Garoppolo was just a hair short with 314 yards. But while his division rival quarterbacks are offering some stiff competition, Stafford should gain the upper hand with the many weapons at his disposal. With the Seattle Seahawks' Russell Wilson notching four touchdowns against the Indianapolis Colts secondary, all bets are on Stafford to have a big game against them when they meet up in Week 2.
The Rams still have a long road ahead. The defense looked rusty at times and the linebacker corps should be a concern going forward in run defense scenarios. Hopefully, Raheem Morris has bigger plans for the unit other than a "bend not break" sort of playstyle. But although quarterback Jared Goff had a respectable performance against the 49ers, hardly anyone is doubting that the Rams made the right move in trading for Stafford in the offseason.