A drive down Interstate 35 south from downtown Oklahoma City eventually leads to Norman, home of one of college football's powerhouses.
But the "power house" along that highway comes as you cross into the north sides of Norman from the suburban city of Moore. A literal mansion, rising up from the plains to the west side of the interstate, has for years housed the family of one Bob Stoops, head coach of that aforementioned powerhouse, the University of Oklahoma.
That is until June 7, when Stoops announced he was retiring after 18 seasons and 190 wins at the Sooner helm. Within hours, the Sooners had his replacement, a familiar face in Offensive Coordinator Lincoln Riley.
It's a time of change in Norman. How will it work out?
How Did This Happen?
Stoops was announced as the new OU coach to replace John Blake on Dec. 1, 1998. On that very day, Riley was a 15-year-old high school defensive end in Muleshoe, Texas. He'd later move to the quarterback position for his high school and was a walk-on QB for former Sooner assistant coach Mike Leach at Texas Tech.
Who could have even imagined that this teenager would someday be the man taking over for Stoops and the Sooners?
"When you get into it, I mean, you either get the job done or you don't at the end of the day," Riley said shortly after his hiring. "So I don't think I or anybody in this program is going to be judged by age. I think we'll be judged by the same thing we're always judged on, so I kind of shrug my shoulders and move on."
Riley's coaching pedigree started at Tech as a student and graduate assistant and eventually a position coach. He moved to East Carolina in 2010 and spent five years there as offensive coordinator before Stoops hired him to replace Josh Heupel in the same role for the Sooners prior to the 2015 season.
Riley has immediately impressed on a national level. In that first season, after guiding a powerhouse Sooner offense on a team that eventually wound up in the College Football Playoff, Riley won the Broyles Award, given annually to college football's top assistant coach.
From that day on, he's been a hot commodity. And the time seemed right for OU to pull the trigger to give him the reins before another big-name job came calling.
"[Coach Stoops] is one of the greatest coaches in the history of the game, at any level," Riley said. "I'm absolutely thankful for our friendship and for the mentorship he has provided."
And Stoops still plans to be close by if needed.
"I will be available to Coach Riley and the athletic department in any manner," Stoops said in his retirement statement.
An Experienced Offense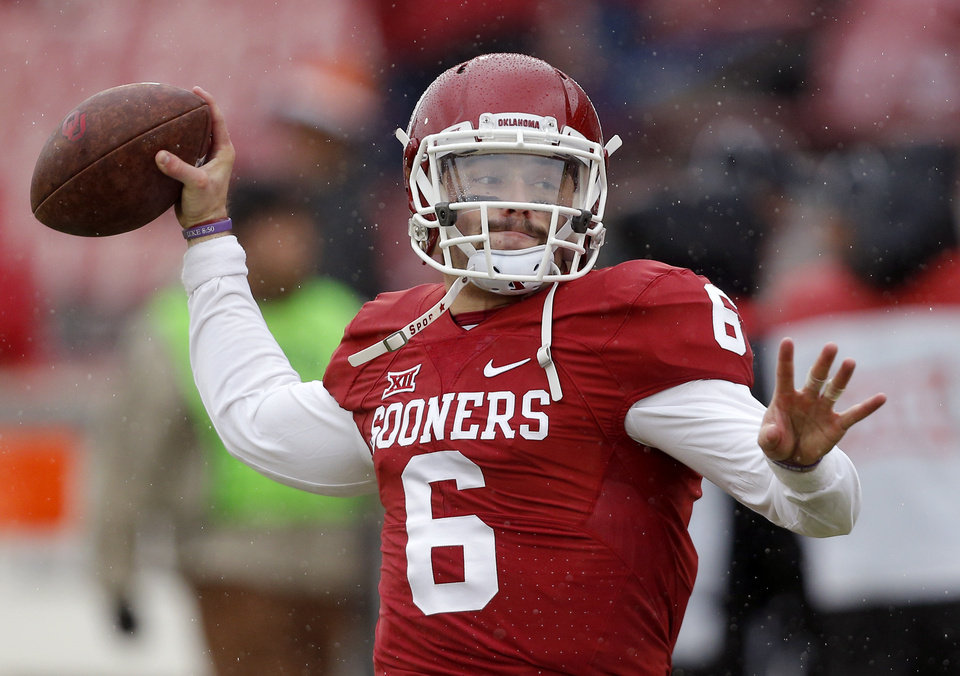 The cupboard is far from bare, as often can be the case for a new coach. Riley returns a Heisman contender and multi-year starter at quarterback in Baker Mayfield, a great place to start for any team. He has a stud left tackle in future pro Orlando Brown and several other offensive linemen who have seen extensive time.
The bad news – his top two running backs were part of last year's NFL Draft, as was his top pass catcher.
But at a place like OU, the expectation is the same no matter what the circumstances.
Win. And win a lot.
"Whether I coached after Bob Stoops or some guy nobody's ever heard of, the same expectations for this program are to continue to win championships," Riley said. "Those aren't going anywhere."
A Fast Start
Riley hasn't sat around in his first few weeks on the job. He's hit the recruiting trail hard, landing several commitments, including two in-state prospects that had been looking elsewhere.
But in mid-July, the stakes are quite different for any football program. And things haven't all been sunny. Will Sunderland, likely to be a starter in the secondary, was arrested shortly after Riley became head coach and remains on an indefinite suspension.
And Mayfield had a much-publicized run-in with police officers in Arkansas after a late-night incident in February. He's doing community service time, no doubt counting the stadium steps numerous times at OU's Memorial Stadium and promising to walk the straight-and-narrow, and as of now, not facing any sort of in-game punishment.
Riley has experience on his coaching staff, retaining all of the previous group and adding veteran Ruffin McNeal – the former head coach at ECU who actually hired Riley to that job. Even so, there still will be questions about whether his experience level as the man making the calls is there.
But he has all the resources, including a new athletic training center and locker room setup that's completing a major renovation of the Sooners' stadium.
"That's part of being at a place like this," Riley said. "There's always the setup to succeed here."
Rivalries Will Be Big
Adding some spice to this season is that perhaps the Sooners' biggest challenge for a Big 12 title comes from their in-state neighbors, Oklahoma State. The Cowboys also have a veteran quarterback in Mason Rudolph but OSU returns most of its offensive skills players.
Where Texas always has been the biggest rival – and be sure the Texas game, going against their own new head coach in Tom Herman will still be massive – the Cowboys may be the biggest challenge for Riley and his troops.
It doesn't sit well in Norman to fall short against OSU. OU fans are well-versed in quoting the Sooners' all-time record in the series (86-18-7) and the more relevant recent number, Cowboy coach Mike Gundy's 2-10 mark against the Sooners.