It is officially mock draft season! The 2022 NFL Draft is quickly approaching, with the first round kicking off on Thursday, April 28th. Of course, draft analysis, projections and rumors will be dominating the headlines until then. Among the players hoping to hear his name called early in the draft is wide receiver Khalil Shakir out of Boise State.
The following is a complete Khalil Shakir NFL Draft profile, including stats, highlights and a mock projection.
Khalil Shakir NFL Draft Profile, Stats, Highlights and Projection
Khalil Shakir
Position: Wide Receiver
Height: 6'0″
Weight: 190 lbs
Age: 22
College: Boise State Broncos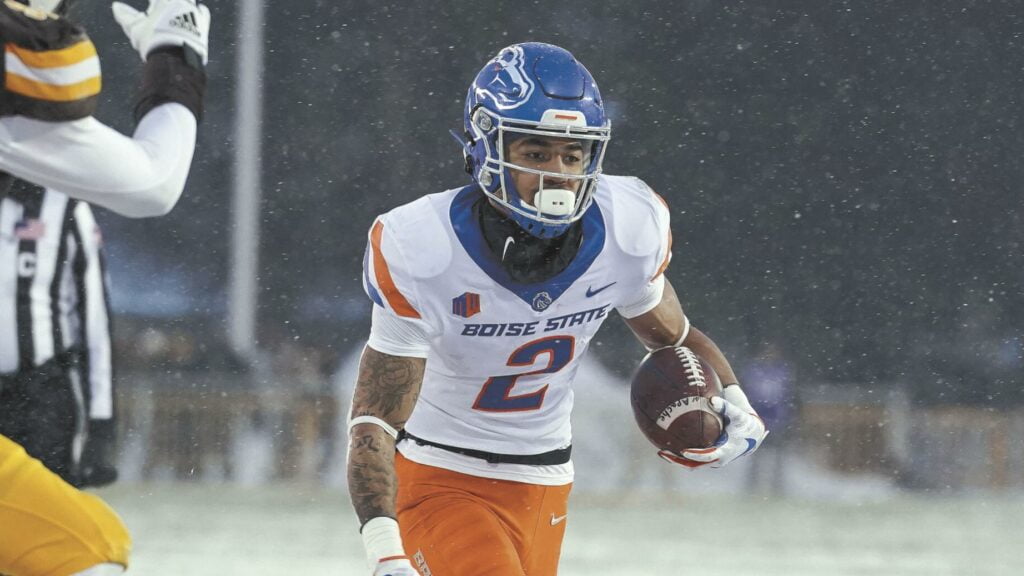 Khalil Shakir Stats 2021 | Boise State
| | | | | |
| --- | --- | --- | --- | --- |
| G | REC | YDs | TDs | AVG |
| 12 | 77 | 1117 | 7 | 14.5 |
Khalil Shakir Draft Profile
Strengths
Khalil Shakir enters the 2022 NFL Draft off of three very solid and consistent years. His production and numbers did not waiver despite playing just seven games in 2020. He possesses the ability to make the flashy, nearly impossible catches, and he has done so multiple times in the same game before. Shakir also has a keen sense of awareness in the open field, allowing him to avoid big hits without giving up efficiency. You know the exact football player you are getting with Shakir. He will neither shock nor disappoint you.
Weaknesses
Shakir is not particularly big or fast. He can be a frustrating asset to have at times, with all the potential and ability in the world that is often overcome by a lack of focus. Dropped passes have been a flaw in his game the entirety of his career, with 10 concentration drops in 2021 alone.
Khalil Shakir Highlights
Khalil Shakir Draft Projection
All 2022 NFL Draft Projections are taken from the latest Sporting News NFL Mock Draft by Vinnie Iyer.
Khalil Shakir is currently projected to be drafted by the Buffalo Bills at No. 89.
---
For more 2022 NFL Draft coverage and player profiles, check out our NFL Draft page.