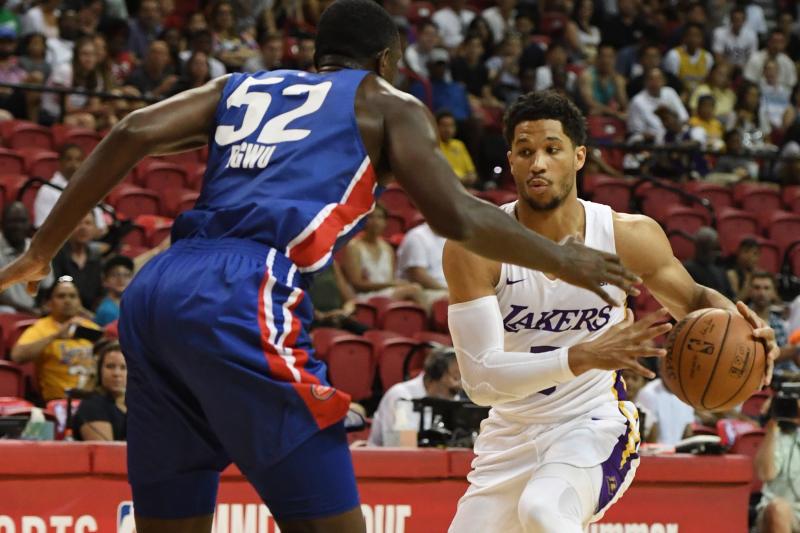 Josh Hart and the Lakers Were Hot
Josh Hart is looking more and more like he has a place on the Los Angeles Lakers in a significant role. On one play from the game, Hart made a diving save to keep the ball in play and then hustled down the court for a sweet transition finish. Hart ended the game with 18 points, but shot just 1-5 from the field. Hart tacked on 2 rebounds and 4 assists to his performance.
LeBron showed up, and Josh Hart immediately started putting on a show for his new teammate.

– Spot-up 3.
– Filthy Eurostep.
– Jump passing lane > save loose ball > overpower Ellenson for the layup.

Bron clapped in approval from his seat on the baseline. pic.twitter.com/YAUBA7kUu5

— Joey Ramirez (@JoeyARamirez) July 15, 2018
The leading scorer for the Lakers, Svi Mykhailiuk, put up 19 points on 7-15 shooting from the field. While Hart is looking like a solid backup point guard, Svi can't expect to make an NBA roster and have a significant role if he is a 'volume' scorer in Summer League.
Detroit Looked Flat
Henry Ellenson and his counterpart Lach Lofton had 21 points each, but the rest of the team did these two guys no favors. As a team, the Pistons shot 35% from the field and just 21% from three-point range. The Pistons offense just couldn't get anything going, as the team only recorded 12 total assists (the Lakers had 24 for comparison). The Pistons had a sad showing in their final Summer League game, but Khyri Thomas did not play and the Pistons had a solid Summer League overall before Sunday night.
More NBA Summer League
Jenkins and Portland Finish Off Yabusele and Boston 95-80
Jevon Carter Continues Hot Streak Against Jazz
Hawks Win Again Despite Rest for Young