The Chicago Bears ended the 2020 season with an 8-8 record and found themselves in the playoffs. They were quickly eliminated in the first round by the New Orleans Saints, 21-9. There were rumors that both Ryan Pace and Matt Nagy were on the hot seat, but they retained their jobs, for now. This was supposed to be the offseason where they tried desperately to save their jobs. Instead of going through every player/team transaction, let's take a look at the Bears offseason moves Pace and Nagy decided to make for their Bears. 
Grading Bears Offseason Moves
Bears Re-Signed Exclusive Rights for 5 Free Agents: 
OG Alex Bars, ILB Josh Woods, OLB James Vaughters, RB Ryan Nall and TE J.P. Holtz
Grade: B
Reason:
Bars served as the team's starting right guard for the last eight games of the season, and he played exceptionally well. In his time starting on the line, the Bears averaged 120.3 rushing yards per game. 
Woods served as the top backup inside linebacker behind Danny Trevathan and Roquan Smith for the entire 2020 season. He tallied 14 combined tackles on the year. 
Vaughters made the team last year and served as the backup to Khalil Mack and Robert Quinn on the outside. In 14 games played, he compiled 22 combined tackles, 2 tackles for a loss, and 1.5 sacks. 
Nall has been on the team for three years now, and he is a respected backup who can play at the fullback position as well. He never recorded a rushing yard last season, but he got involved in the passing game as he caught eight passes for 67 yards and a touchdown. 
Holtz is a great depth piece to this tight end group. Rumors have been circulating that Jimmy Graham may be cut to clear cap space. With Cole Kmet ahead of him on the depth chart, he could serve as a young and valuable backup for this team.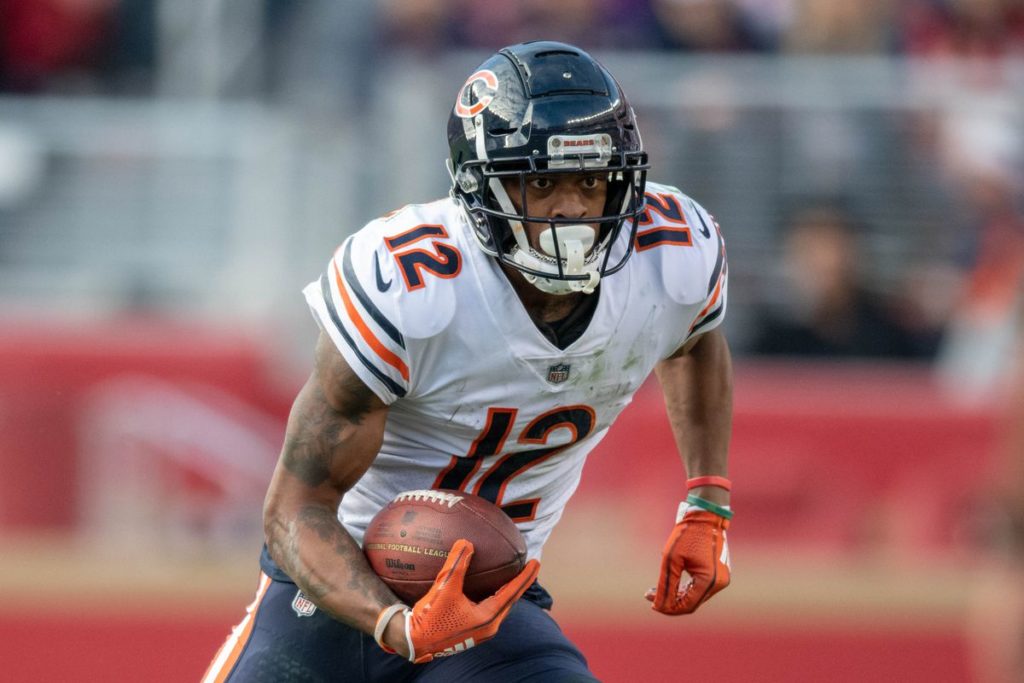 Bears Franchise Tag Allen Robinson 
Grade: B-
Reason:
Some Bears fans think this is an "A+" transaction, but the fact of the matter is that Allen Robinson is here to stay for JUST one more year. The ideal move would have been to sign him to a long-term deal worth top-10 wide receiver money. Instead, he stays on a one-year contract worth $17.88M. Robinson is coming off a season where he caught 102 (career-high) of his 151 targets for 1,250 yards and six touchdowns. 
Bears Re-Sign K Cairo Santos
Grade: A
Reason:
FINALLY. The Bears made the right move at the kicker position, just two seasons removed from the infamous "double doink" that sent Bears fans in distraught in the 2018 Playoffs. Remember how good Robbie Gould was? Cairo Santos broke his Bears record of consecutive made field goals by connecting on his last 27 attempts of the season. 
Bears Re-Sign P Pat O'Donnell
Grade: B
Reason:
Now entering his eighth season in the league, Pat O'Donnell will rejoin Santos in a good special teams unit. Last season wasn't his best, as he finished 17th in yards per punt average (45.7) amongst punters with at least 30 punted balls. But, he finished tied for third in punted balls inside the 20-yard line (28). It only made sense to bring him back.  
Bears Re-Sign DE Mario Edwards Jr.
Grade: B+
Reason:
Mario Edwards Jr. is a key rotational player on one of the best defensive lines in the league. He recorded a career-high in sacks (4) last year in Chicago. He also tallied 17 combined tackles, six tackles for loss and seven quarterback hits. This season will be his first chance to play with his former college teammate (Florida State), Eddie Goldman.  
Grade: D+
Reason:
Some might think a D+ is too high. Yes, the Bears once again missed out on better quarterbacks. Heck, it might've made more sense to bring Mitchell Trubisky back for less than half the price of Andy Dalton. BUT, this is just a one-year deal. If it doesn't work out, Pace and Nagy might be shipped out of town. Then, whoever comes in wouldn't have to worry about Dalton as their starting quarterback. You never know; Dalton could bring this team just over .500. 
Bears Re-Sign OL Germain Ifedi
Grade: C+
Reason:
The Bears could have improved the line this offseason, but they simply couldn't afford it. Bringing back Ifedi on another cheap, one-year deal makes sense. He played well for most of the second half of last season, and he has the versatility to play either guard or tackle.
Bears Re-Sign S Deon Bush
Grade: B
Reason:
Deon Bush has shown flashes that he can line up next to Eddie Jackson on a consistent basis. He simply lacks the consistency to do it. He's also played most of his five-year career as a backup. Bush is the clear-favorite to win the starting strong safety spot, but don't be surprised if Chicago signs a veteran with more experience (maybe bring Tashaun Gipson). 
Bears Sign DL Angelo Blackson
Grade: A-
Reason:
Angelo Blackson is coming off a career season with Arizona. He started nine of the 15 games he played in. He tied his career-highs in sacks (2.5) and combined tackles (24), and he recorded career-highs in tackles for loss (4) and quarterback hits (8). A defensive line with Eddie Goldman returning, Akiem Hicks, Bilal Nichols, Mario Edwards Jr. and now Blackson will be very tough to handle. 
Bears Re-Sign LS Patrick Scales
Grade: A
Reason:
The trio of special teams players (Santos, O'Donnell, and Scales) is back for the 2021 season. Scales has been the Long Snapper for the Bears since the 2015 season. It makes sense to bring a familiar face back, especially when the special teams group was a huge bright spot last season.
Bears Sign CB Desmond Trufant
Grade: D
Reason:
Chicago ultimately let Kyle Fuller walk this offseason because he was "cap hit." With one of the better corners leaving your defense, the first thing that makes sense is to sign a veteran player to replace him. Desmond Trufant came cheap, but there were better options in the free agent market (Richard Sherman, Steven Nelson, Brian Poole,  etc.). He's also coming in with his best days way behind him. Last season with Detroit, he only suited up for six games. Trufant also finished the season with a PFF overall grade of 38.4. Fuller finished with a 64.1. Yikes. Look for Chicago to be aggressive in drafting a cornerback in the NFL Draft. 
Bears Sign OLB Jeremiah Attaochu
Grade: B-
Reason:
The seven-year veteran linebacker will serve as a depth piece behind Khalil Mack and Robert Quinn. Last season, in Denver, he recorded five sacks, 31 combined tackles, six tackles for loss and a forced fumble. This move makes a lot of sense, and it helps to bring in someone who has a ton of experience both on defense and special teams. 
Bears Sign OL Elijah Wilkinson
Grade: C-
Reason:
His PFF overall grade of 52.4 doesn't scream starting caliber, but Elijah Wilkinson does bring in four years of experience. He should battle Ifedi for the right tackle position, but he isn't the answer long-term. In the end, it looks like he will be a depth piece for this offensive line. Chicago desperately needs to address this unit in the draft. 
Bears Sign LB Christian Jones
Grade: A-
Reason:
Christian Jones spent his first four seasons with Chicago before leaving for Detroit for three years. He has now reunited with the team that signed him after being undrafted in 2014. Jones has 108 games under his belt with 73 starts as an inside linebacker. He brings much needed depth behind Danny Trevathan and Roquan Smith in the middle. This is one of most underrated moves Chicago has made this offseason. 
Bears sign RB Damien Williams
Grade: B+
Reason:
The 2019 Super Bowl hero joins David Montgomery and Tarik Cohen in one of the best running back rooms in the league. He's familiar with both Matt Nagy (former Chiefs offensive coordinator) and Bill Lazor (former Dolphins offensive coordinator). The six-year veteran will serve as a backup with a ton of in-game experience. Nowadays, you need two good running backs to be successful. Why not have three?
Bears Offseason Analysis
Overall Bears Offseason Moves Grade: C+
Pros:
Chicago addressed a lot of depth needs. Because they stayed cheap, they added great positional players at the defensive line, linebacker, running back and offensive line positions. They also brought back their best offensive player in Allen Robinson. On top of that, they brought back every key special teams player (besides Cordarelle Patterson) from last year. 
Cons:
You shouldn't give a team a failing grade because they struck out at the quarterback position. Andy Dalton isn't the answer, and they also got worse in the secondary. Replacing Desmond Trufant with Kyle Fuller will noticeably affect Chicago's defense in a bad way. On top of that, they didn't add any pass-catchers on offense, and their offensive line didn't improve.
Bears Draft Needs: QB, CB, OT, WR, SS