The New York Giants and their offensive line have struggled for some time now. It could be argued that they have been the true Achilles heel of this offense and this team. Due to these struggles, they have come in last place in PFF offensive line rankings.
Let's take a look at what exactly has been the problem with this unit and why they are the last-ranked team in the PFF Offensive Line Rankings.
Giants Last in PFF Offensive Line Rankings
Inexperience on the line 
In recent years, the Giants have shown interest in improving the offensive line, but haven't spent the money to do so. They have instead used the draft to try and improve this unit. Andrew Thomas, Shane Lemiuex and Matt Peart were all selected in the 2020 NFL Draft. 
But unlike in 2020, the Giants spent zero picks on the offensive line in the 2021 NFL Draft. They have decided to go all in with players that they have on the roster. 
The lack of experience and overall talent continue to impact this team in a very negative way, unless some of the second-year players make a large jump in production. 
This offensive line has struggled in both pass and run blocking, as PFF ranks this unit in the bottom eight for both. This can be seen when looking at the offensive production of the Giants. 
Quarterback Daniel Jones played in 14 games last season, but was still sacked 45 times. The lack of protection for Jones never allowed the offense to take off and be what it could be. 
Can the Giants Offensive Line Be Fixed? 
As previously noted, the Giants have not made any massive changes to this unit since last season. The main difference will be the return of tackle Nate Solder, who opted out of last season due to COVID. He could either play at left or right tackle, but placing him on the left side would force the former fourth overall pick to either right tackle or to the bench. Putting Thomas on the bench would only hurt his growth. So, the Giants must now figure out how to deal with the return of Solder. 
The Giants also added veteran guard Zach Fulton, who has spent a majority of his career as a rotational player who fills in all over the line. Some analysts believe that he could be a starter for this line, but others believe that they should take the youth approach and continue to let the young players develop, even at the cost of the other players on this offense. 
With both the draft and free agency behind us, there is no way to fix this line just yet. The Giants don't have the money to spend on the offensive line and, even if they wanted to, many players worth signing have already found new homes. The youth must simply continue to develop and show that they can handle what is expected of them. 
A new offensive line coach has been brought in, with the addition of Rob Sale. Sale's duty will be to fix this unit. If that can be done, then this group could play to their potential. 
Being last in the PFF Offensive Line Rankings is brutal, but it is hard to argue that it is wrong. The Giants group is unproven. While they have potential, they have only shown glimpses of what they could become.
---
Follow us on all of our social channels! Check out our Twitter, Facebook and YouTube for more great FlurrySports content.
---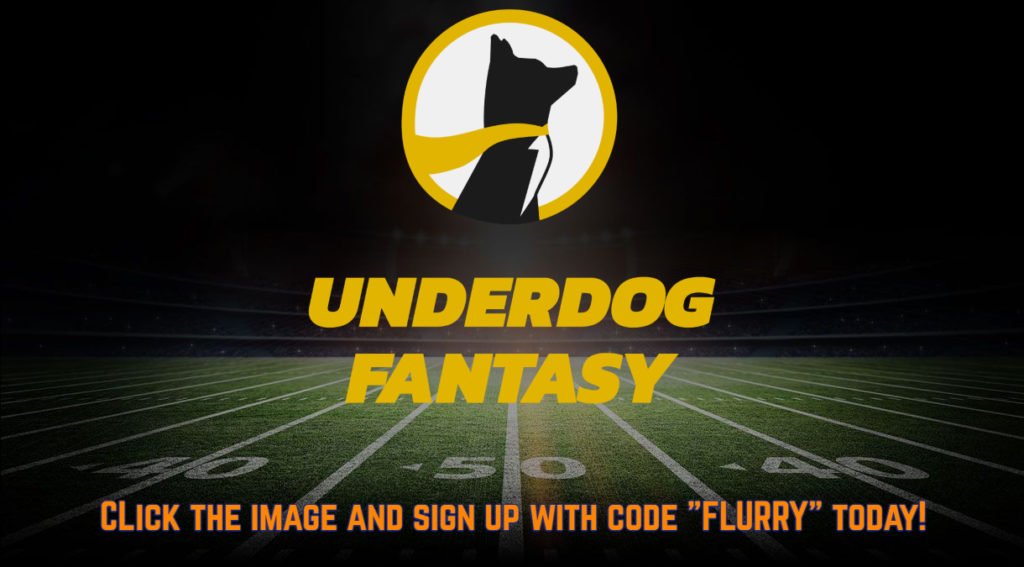 Underdog Fantasy is a new type of DFS that combines the fun of season-long drafts with daily fantasy sports. Aside from their fun, addictive draft mode, Underdog Fantasy also has pick'em player props for many different sports and athletes!
Click the image or RIGHT HERE to get signed up today, and don't forget to use the promo code FLURRY for a FREE $10 bonus on your first deposit!
---