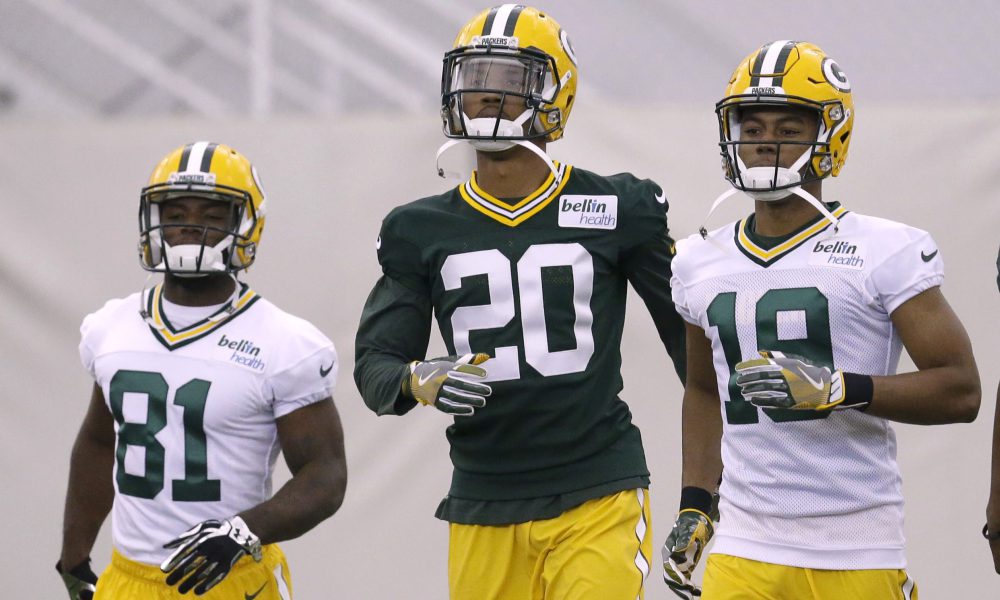 Football season is finally here, and for people in Green Bay, that means it is time for Packer season. Training Camp is only a few days old, but that does not mean we can't take anything away from what was seen. Here are some observations I made from Friday's Day 2 Packers Practice at Ray Nitschke Field that I attended.
1. Kevin King has the looks of being the real deal
The first day of practice, Kevin King took reps with the second defensive unit, but as Day 2 came around, things had already changed. As the Packers first team offense lined up against the first team defense, Kevin King was lined up as the starting cornerback opposite of Davon House. King, the Packers first pick in the draft this year, is listed at 6'3", 200 lbs. and is everything of 6'3".  King looks long, athletic, and physical at the line of scrimmage. While watching King, there's one other cornerback he reminded me of: Richard Sherman. King poses with the same body type and seems very capable of shutting down one side of the field. If King can mature and grow, the Packers will have themselves a shutdown corner for a long time.
2. Josh Jones will be a playmaker
The Packers went defense-heavy in this year's draft and selected Josh Jones, a safety from North Carolina State, with their second pick.  Jones, a 6'1", 220 lb. safety has been slotted in behind Ha Ha Clinton-Dix and Morgan Burnett, but has also been placed at inside linebacker in the nickel package through two days of training camp. Jones, known for his hard-hitting, has looked a bit nervous through the first two days, but one thing that stood out to me is that Jones will be a playmaker. It's not often you find playmakers on defense, but Jones will be one. During a two minute offensive drill, backup quarterback Brett Hundley handed the ball off to Jamaal Williams and in a matter of a second, Josh Jones read it from his safety position and shot the gap for what would have been a tackle for a loss. With any rookie, the team is going to go through ups and downs, but Jones has all the makings of being a playmaking ball hawk, something the Packers need on this defense.
3. Ty Montgomery looks like a running back this year
Last season after Eddie Lacy got injured and was overweight, the Packers were in search of an answer at running back. In stepped wide receiver Ty Montgomery. Montgomery performed admirably to give the Packers a weapon at running back to keep defenses honest. Montgomery finished the year with 457 yards and three touchdowns on 77 carries while carrying the weight and build of a receiver. This year, Montgomery looks ready to carry the load at running back. Montgomery looks leaner, faster, more agile, and his biceps look ready to break out of his shirt (If you don't believe me look up a picture). He worked with Rischad Whitfield, who many refer to as the "Footwork King," between minicamp and training camp. It certainly showed. Being in shape and having the right build is only part of the job, but by the looks of it, Montgomery looks ready to have a breakout year as the Packers running back.
4. Martellus Bennett will be a BIG weapon for Rodgers
Ever since the Packers lost Jermichael Finley to a career-ending injury, they have been looking for a tight end to take his place. They may have found their answer. Enter Martellus Bennett. Bennett, played last season with the New England Patriots, is listed at 6'6", 275 lbs. and let me tell you, he looks bigger than that. Even without pads on, watching the Packers huddle up, you can see Bennett from miles away. When the Packers were running the two-minute drill, watching linebackers try to stay in front and guard Bennett was laughable. On Friday, Rodgers completed a 13-yard touchdown to Bennett during the aforementioned two-minute drill when he posted up on Morgan Burnett. I'm not saying Bennett is going to be the reason the Packers get back to the Super Bowl, but with Rodgers having a weapon as BIG as Martellus Bennett over the middle of the field, Packers fans are going to be delighted.
Other Notes and Observations
During the two-minute drill, Morgan Burnett was lined up at inside linebacker next to Joe Thomas instead of Blake Martinez. Josh Jones was lined up in the same position with the second string.
When Burnett was lined up at linebacker, Kentrell Brice was next to Ha Ha Clinton-Dix at safety. Brice, a hard hitting safety, could be in for a big season.
Ha Ha Clinton-Dix looks fast, and ready for a monster season at safety. During Friday's practice, he picked off Aaron Rodgers twice when they went live.
Randall Cobb and Trevor Davis look to be the front runners to return punt returns, but Ty Montgomery, Quinton Rollins, and rookie receiver Colby Pearson also took reps.
Davon House and Kevin King lined up as the two outside cornerbacks while Quinton Rollins lined up in the slot during the two-minute drill.