In our weekly FCS Spring Football Power Rankings, Weber State remains in the pole position. The Wildcats beat a good UC Davis team 18-13 last weekend. North Dakota improved on their unbeaten record by easily dispatching Western Illinois 38-21.
Nicholls State had a very bad weekend, as they got demolished by Sam Houston State, 71-17. The Colonels drop out of the top ten altogether. Finally, Southern Illinois and South Dakota State joined the top four after close victories over Northern Iowa and Youngstown State respectively.
This weekend, we will really see teams separating themselves from the competition, especially in the Missouri Valley Football Conference. On Saturday, the Fighting Hawks of North Dakota will travel to the Fargodome to take on their rival Bison. On top of that, Southern Illinois will battle it out with South Dakota State, in a top-five match-up. Rhode Island and Kennesaw State are both in action, with James Madison sitting idle for the second straight week.
Overall, there are plethora of great games this weekend to keep you entertained. So let's take a look at the three best games, along with a betting guide for each.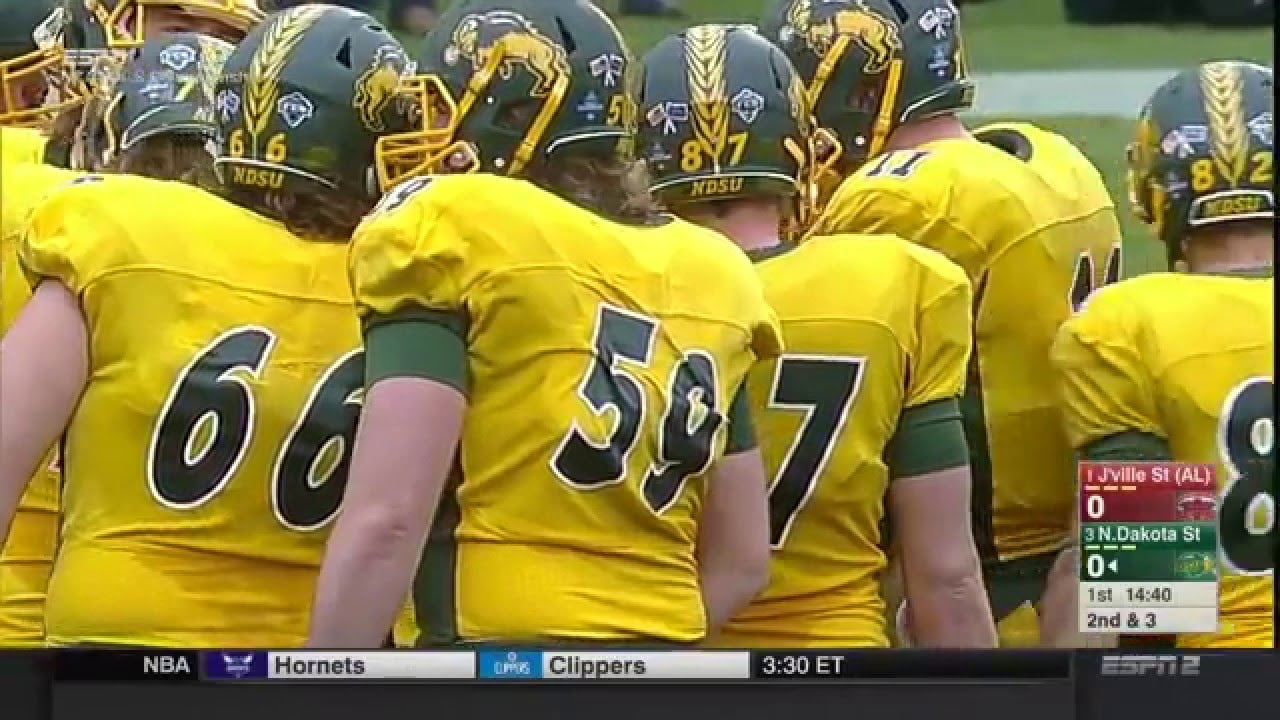 FCS Spring Football Betting Odds, Predictions and Stream
FCS Spring Football Betting Odds can be found at Bovada Sportsbook
(2) North Dakota (4-0) vs (7) North Dakota State (4-1)
Date: Saturday, March 20, 2021 | Time: 3:30 PM ET
Coverage: ESPN+
Location: Fargodome — Fargo, ND
North Dakota vs North Dakota State Betting
Spread: UND +3.5 (-110) | NDSU -3 (-110)
Moneyline: UND (+140) | NDSU (-160)
Total: 36.5 — Over (-110) | Under (-110)
This is the biggest game of the FCS Spring Football betting season so far, and it isn't particularly close. North Dakota has won their first four games by an average margin of 15.5. The Fighting Hawks are beating fellow MVFC members by more than two touchdowns. That's usually a stat for the Bison. On offense, the Hawks have a great running game, led by Otis Weah and Luke Skokna. Redshirt Freshman quarterback Tommy Schuster has played well, throwing for eight touchdowns while only giving up two interceptions.
The Bison are missing one key piece that previous NDSU teams have had. Zeb Noland has been an average, at best, game-manager for the Bison this year. He has only thrown for three touchdowns, compared to four interceptions. Noland is also different from past NDSU quarterbacks, in the fact that he's not a real running threat. He will need to be much more than a game manager to beat UND.
This should be a closely-fought battle until the end. It will be interesting to see how Bison head coach Matt Entz deploys Cam Miller. Last week, Cam Miller came on in relief of Noland, and lead NDSU to victory. He's much more in line with Bison quarterbacks of the past. However, the Fighting Hawks are very good. It isn't a fluke that North Dakota is 4-0. They have a great balanced offensive attack, and their defense can get enough stops to preserve a win. Another thing working against the Bison, is that their defense is not up to par with past defenses at NDSU. All in all, I think the Hawks get a close victory, and put the Bison in a position they don't want to be in, heading into the post-season.
Prediction: (2) North Dakota 27, (7) North Dakota State 20 (UND +3.5, UNDER 36.5)
(10) Rhode Island (1-0) vs Albany (1-1)
Date: Saturday, March 20, 2021 | Time: 1 PM ET
Coverage: FloSports
Location: Bob Ford Field — Albany, NY
Rhode Island vs Albany Betting
Spread: ALB +2.5 (-110) | RHI -2.5 (-110)
Moneyline: ALB (+115) | RHI (-135)
Total: 62.5 — Over (-110) | Under (-110)
Rhode Island had one of the best wins in this young FCS Spring Football season. They knocked off previously ranked Villanova, 40-37. Kevin Brown Jr. and Kasim Hill, two transfers, were huge against the Wildcats. Brown Jr. carried the ball 20 times for 141 yards, and a whopping four touchdowns. Hill also added another score on the ground, to go along with his 260 yards passing.
Albany is one of the biggest mysteries so far this spring. Two weeks ago, the Great Danes beat a good New Hampshire team on the road. Then last week, they were upset by Maine, who had lost the previous week to Delaware, 37-0.
All in all, this weekend the Rams give the voters more reason to believe they are a top-10 team this spring.
Prediction: (10) Rhode Island 38, Albany 31 (RHI – 2.5, OVER)
(4) South Dakota State (3-1) vs (3) Southern Illinois (3-1)
Date: Saturday March 20, 2021 | Time: 1 PM ET
Coverage: ESPN+
Location: Saluki Stadium — Carbondale, IL
South Dakota State vs Southern Illinois Betting
Spread: SIU +3 (-110) | SDSU -3 (-110)
Moneyline: SIU (+130) | SDSU (-150)
Total: 44 — Over (-110) | Under (-110)
This is another huge Missouri Valley Football Conference matchup with playoff implications. Both Southern Illinois and South Dakota State are coming off wins versus Northern Iowa and Youngstown State, respectively. Both teams are also tied for second in the MVFC. With only one automatic bid going to the conference this year, things should get very interesting down the stretch.
This matchup, unfortunately, comes down to two injured players. Saluki quarterback Nic Baker suffered an injury to his foot last weekend versus Northern Illinois. He is doubtful, which is a huge blow to Southern Illinois.
Jackrabbit running back Pierre Strong is also doubtful for the game on Saturday. He injured his foot in the game last week versus Youngstown State. Without Strong, the passing game will have to improve. Also, if Baker doesn't go for Southern Illinois, they might lean on the running game a bit too much. In the end, I like the Saluki's this weekend. They've beaten NDSU and Northern Iowa, who were both ranked at the time of the game. Southern Illinois' experience helps them in a major way on Saturday.
Prediction: (3) Southern Illinois 31, (4) South Dakota State 23 (SIU +3, OVER 44)