Fantasy football Week 9 features six teams on bye, which may be devastating for some fantasy owners. Although the Cleveland Browns, Dallas Cowboys, Denver Broncos, New York Giants, Pittsburgh Steelers and San Francisco 49ers are all on bye, there are still fantasy football Week 9 QB streamers worth your attention.
Read on for three fantasy football Week 9 QB streamers that are worth consideration. In some cases, one might still be able to claim these quarterbacks off of waivers. In order to be included in the fantasy football Week 9 QB streamers article, they must be rostered in less than 60 percent of ESPN leagues.
---
Fantasy Football Streamers for Week 9
---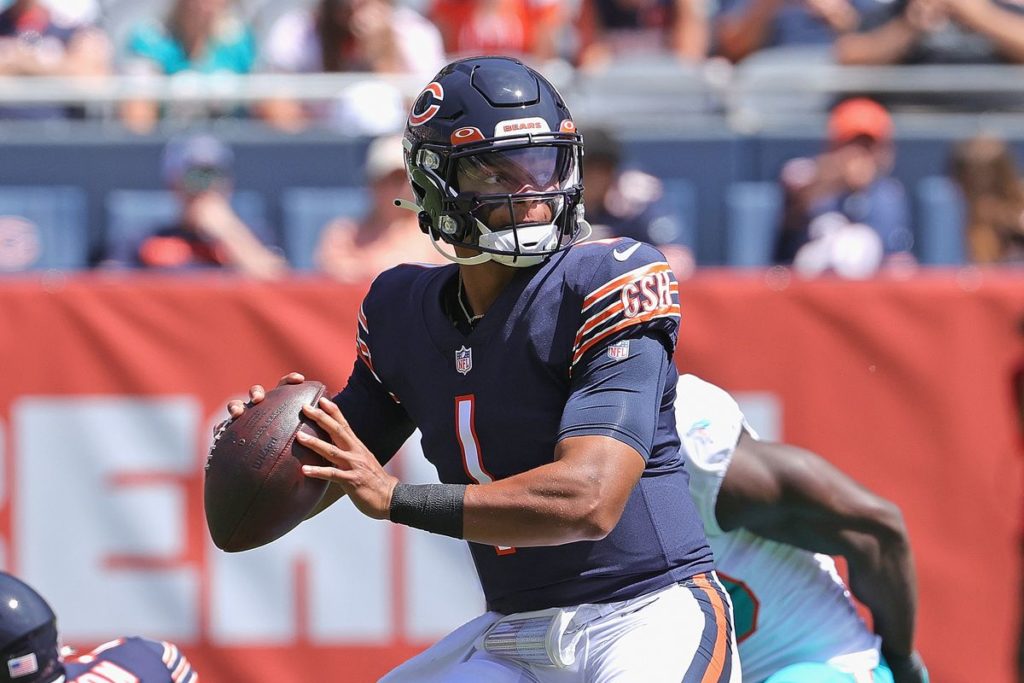 Fantasy Football Week 9 QB Streamers
Justin Fields Fantasy Streamer vs MIA (38.1%)
It took them long enough, but the Chicago Bears finally found a way to use Justin Fields to maximize his potential. After an extremely slow start to the season, Fields has gone nuclear the last two weeks. In both games, Fields has rushed for over 60 yards and a touchdown. That, combined with efficient passing, has led to Fields putting up 23 and 26 points respectively the past two weeks.
This week, Fields and the Bears face off against the Miami Dolphins in Chicago. The Dolphins have struggled mightily since Week 1 at forcing turnovers and getting opposing offenses on the field. Outside of a three-interception performance against the lowly Steelers, the Dolphins have forced just one turnover. As long as Fields can take care of the ball, he should be among the best fantasy football Week 9 QB streamers.
Marcus Mariota Fantasy Streamer vs LAC (29.3%)
In a turn that nobody saw coming, Marcus Mariota and the Atlanta Falcons are in first place in the NFC South. Much of that has been due to the play of Mariota himself. Mariota has posted 22 or more fantasy points in two of the last three weeks and matches up against the Los Angeles Chargers in Week 9.
For as good as the Chargers are on paper, injuries and overall disappointing play has led to Los Angeles being the 31st-ranked fantasy defense. This defense has given up 35 or more points to both the Jacksonville Jaguars and the Seattle Seahawks. The Chargers have also only forced five turnovers since Week 1. With Mariota doing a good job at limiting mistakes most of the season, it would be unlikely that the Chargers can suddenly flip a switch and stop Atlanta's offense in Week 9.
---
After you check out these Week 9 fantasy football streamers, join our new Facebook group called Fantasy Football by Committee (FFBC). At FFBC, you can get and give fantasy football advice all season long. Whether you are looking to win your fantasy league or make your name known in the fantasy industry, FFBC is a great place for you!
---
Jared Goff Fantasy Streamer vs GB (39.2%)
Jared Goff is currently the 15th-ranked fantasy quarterback this year even with already having his bye week and putting up just over seven points in Weeks 5 and 7 combined. Last week, Goff dropped over 18.5 points and was again a solid fantasy football streamer. With the Green Bay Packers coming to Ford Field, Goff again looks to be a solid fantasy football Week 9 QB streamers option.
The Packers' defense hasn't been bad lately, but it hasn't been good either. The Packers have given up 23 points or more in four weeks straight and have only forced three turnovers during that time period. While the entire team played poorly during that time, the fact that they struggled against the offenses of the New York Giants, New York Jets and Washington Commanders is problematic. Goff and the Lions have been solid all year. At the very least, Goff has one of the highest floors among available quarterbacks.