Tight ends are hit or miss in fantasy football, and there are very few options that you can trust on a weekly basis. Fantasy managers look for consistency in both volume and touchdown potential when evaluating what tight ends are viable enough to add via fantasy football waiver wire pickups.
An option that has recently emerged into what fantasy managers thought he'd be in the offseason is Chicago Bears tight end Cole Kmet. He's become reliable enough that he warrants an immediate add for fantasy managers that have streamed the tight end position all season and are looking for a high-upside player moving forward.
Let's look at why Cole Kmet is a top Week 11 fantasy football waiver wire pickup and how he's been so productive lately.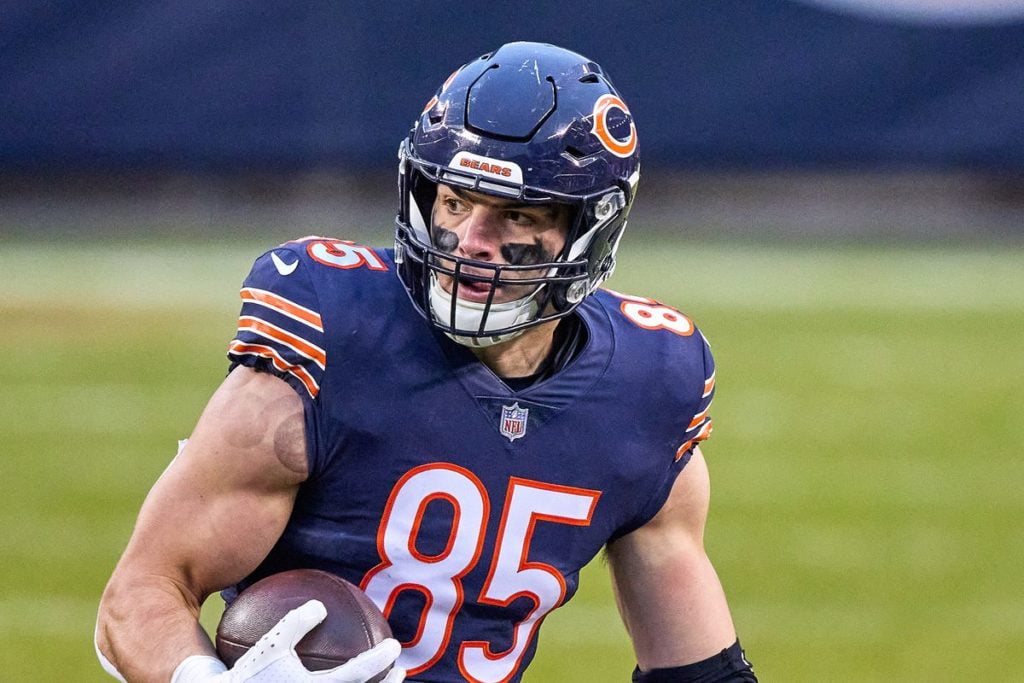 Cole Kmet Fantasy Football Waiver Wire Pickup in Week 11
Cole Kmet played all but four snaps (93%) in Week 10 against the Detroit Lions. He was touted as a breakout candidate during fantasy football drafts, but he disappointed almost all fantasy managers early on, dropping his ownership to 38.8% in ESPN leagues.
It's always a good idea to temper expectations when dealing with tight ends in fantasy football because they can be very inconsistent. Kmet started the season off with low volume and zero touchdown production, but over the last three games, things have drastically improved. While Justin Fields continues to develop, his weapons will benefit and Kmet has been the primary beneficiary. He's caught five touchdowns in the past three games and has finished as the TE1 in back-to-back weeks, making him a top fantasy football waiver wire pickup.
Kmet checks the boxes when it comes to evaluating whether a tight end is worth the fantasy football waiver wire pickup or not. At just 38% ownership, it shows not many fantasy managers trusted the 22.0 fantasy point performance in Week 10. But for teams in need of a tight end that's produced well, you should consider making Kmet a No. 1 waiver wire priority for Week 11.
Want No-Fee Tickets?
If you want to continue making good decisions, go buy some tickets for yourself or a loved one on TickPick. Ticket fees are the worst. They can be more than the damn tickets themselves! At TickPick, there are NO HIDDEN TICKET FEES! Sign up through our link here to get discounted tickets to a game, concert, comedy show, or more this holiday season.