One reason fantasy football is so fun from year to year is that there are so many different strategies to use. The best part is that there is rarely a wrong answer in terms of fantasy football draft strategy. Some people find success with taking quarterbacks early and others find success with waiting at the position. Every fantasy player knows at least one league member who finds a way to make a unique strategy work out.
Although there are plenty of ways to win a fantasy championship, there are plenty of ways to lose your league as well. Whether you are an expert or playing in your first fantasy football league, it's nice to be reminded of things you should and shouldn't do.
Here are a few things to keep in mind during your fantasy football draft.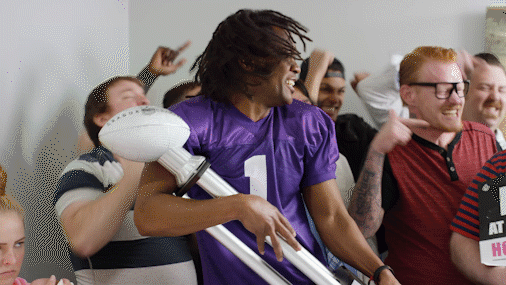 Check out TrophySmack today to get the best fantasy football trophies, belts, rings and draft boards in the industry! Use promo code FLURRY for a free championship ring with a trophy, or get a nice discount!
Fantasy Football Draft Dos and Don'ts
DO: Mock Draft
No fantasy football league is the same. No matter how much experience your fellow league members have, no draft will go exactly as the pre-draft rankings dictate. That's why it's so important to do at least one or two mock drafts prior to draft day. Knowing where some players will fall is crucial. It can help you understand if you'll need to reach on some players while also helping you find out if you'd rather wait on certain positions in the fantasy football draft.
DON'T: Have a Rigid Fantasy Football Draft Strategy
Everybody has a fantasy football draft strategy. Some like to go the zero running back route, while people like me like to stockpile as many solid running backs as I can. No matter what your strategy may be, it's important to be flexible. For example, if Ja'Marr Chase or Tyreek Hill somehow falls to you at the end of the first round, don't pass on their elite production simply to stick to your script. Not being able to adapt will lead to you missing the playoffs more likely than not.
DO: Draft Your Guys
Sometimes your player may not be the best pick at your current position. Many love players like Kadarius Toney and Jameson Williams. We know that certain players haven't been the most productive but we still love them anyways. While you shouldn't reach too much for them, don't feel bad if you pick them up a few picks early. Fantasy football is much more fun when you have a team of guys you love to cheer for.
DON'T: Draft Kickers
Unless you're in a fantasy football league with odd scoring settings, there is absolutely no reason to draft kickers early, if at all. The output of kickers depends a ton on their offense and their opponents. Sure, Justin Tucker and Harrison Butker are great kickers, but what happens if Lamar Jackson or Patrick Mahomes gets hurt? What happens when they play teams with incredible defenses? It's always best to stream kickers from week to week. Drafting one when you can get a good lottery ticket player who could put your fantasy team over the top, is foolish.
DO: Join A Fantasy Football Community
Joining an online community to discuss fantasy football draft strategies, and get/give advice during this season, is not only essential to winning a league — it's fun! We have created a Facebook group called Fantasy Football by Committee. Click the link to join our group, and listen to our fantasy podcast of the same name!
Get a FREE 2023 Fantasy Football Draft Kit
It is important to have a plan heading into your fantasy football draft. It is even more important to have the ability to adjust when things don't go according to your plans. That is why it is vital to use our printable 2023 fantasy football draft kit here.
We have many tools, stats and other information in our draft kit for you to use. We will discuss this draft kit further and show you how to use it on the Fantasy Football by Committee podcast and our YouTube page. Subscribe to both, please!