The NASCAR Cup Series Playoffs will continue this Sunday at Charlotte Motor Speedway. The drivers will have a tough time trying to maneuver the 17 unique twists and turns of the Charlotte ROVAL. Road course races always bring some guys who are usually not up towards the front of the pack into the NASCAR DFS discussion. You'll want to stock your lineup full of the best road racers in the sport this weekend. Read on for this week'sFanDuel NASCAR DFS advice ahead of the Bank of America ROVAL 400.
FanDuel NASCAR DFS Overview
In this NASCAR Cup Series DFS column, we will be using FanDuel prices and scoring. Their scoring includes the following:
.1 points for leading a lap
.1 points for completing a lap
Add/subtract 0.5 points based on the difference in a driver's finishing position relative to their starting position
Points based on where the driver finishes
FanDuel NASCAR DFS | Race 32
Bank of America ROVAL 400 Drivers to Consider
Chase Elliott ($14,500)
This one is pretty self-explanatory. The winner of the last two races held at the Charlotte ROVAL is a NASCAR DFS lock for this weekend. Chase Elliott has an average finish of 2.7 in the three previous NASCAR Cup Series races on the Charlotte Motor Speedway Road Course. He will look to win his third Bank of America ROVAL 400 in a row this weekend and secure his spot in the Round of 8.
Joey Logano ($11,000)
Joey Logano has a good track record here at the Charlotte ROVAL. In three previous starts, he has a solid 7.3 average finish and has completed every lap that has been contested. Logano has no reason to panic this weekend as he is 21 points above the NASCAR Playoffs cut line in the standings. As long as he runs his race, he should be fine. The No. 22 car makes for a fine addition to your NASCAR DFS lineups.
Ryan Blaney ($8,000)
Ryan Blaney is surprisingly cheap this week for how good his equipment is. He has a win on his Charlotte ROVAL resume here to go along with a 4.7 average finish. To be completely honest, it makes no sense why he is this cheap. Blaney should be a steal for FanDuel NASCAR DFS lineups this Sunday.
Daniel Suarez ($4,500)
The value play this week is the No. 99 car of Trackhouse Racing. Daniel Suarez has a great price for NASCAR DFS players to capitalize on this week relative to the equipment he has. Trackhouse has been getting better at providing Suarez with equipment that will hold up. As an affiliate of Richard Childress Racing, they should be fine this week on that front. Suarez has the potential to provide a great finish for you this weekend.
Bank of America ROVAL 400 Drivers to Avoid
Austin Dillon ($6,900)
The driver of the No. 3 for Richard Childress Racing has had a tough time trying to figure out this track and all road courses for that matter. Austin Dillon has an average finish of 27th in three previous attempts on the Charlotte ROVAL. Dillon is one to avoid when it comes to your FanDuel NASCAR DFS lineups this week.
Kyle Busch ($12,500)
How Kyle Busch has a price this high at this track is very questionable. He has an average finish of just 33rd in three prior starts at the track. While this is slightly skewed by the fact that Busch has only finished the race once, it still was not a top-10 result. Combine the bad stats with an inconsistent playoff performance thus far and it's hard to trust the No. 18 team right now.
Erik Jones ($6,700)
Erik Jones has been a sturdy points-producing value play throughout the course of the season. This is not a week where he is likely to help you, however. Jones' average starting position at the Charlotte ROVAL is 13.7 and his average finish is just 24.3. He has lost roughly 11 spots on average in the three previous road course races. A similar performance will cost you points this week. Avoid the No. 43 in NASCAR DFS.
Kyle Larson ($14,000)
While Kyle Larson has won two road course races this year, he is on the avoid list because he has not seen this track in two years. In the two Charlotte ROVAL starts he does have he was not the best, posting an average finish of 19th. Granted that was with a different team, but at this price, it is still smart to avoid Larson in FanDuel NASCAR DFS lineups this weekend.
---
Follow us on all of our social channels! Check out our Twitter, Facebook and YouTube for more great FlurrySports content.
---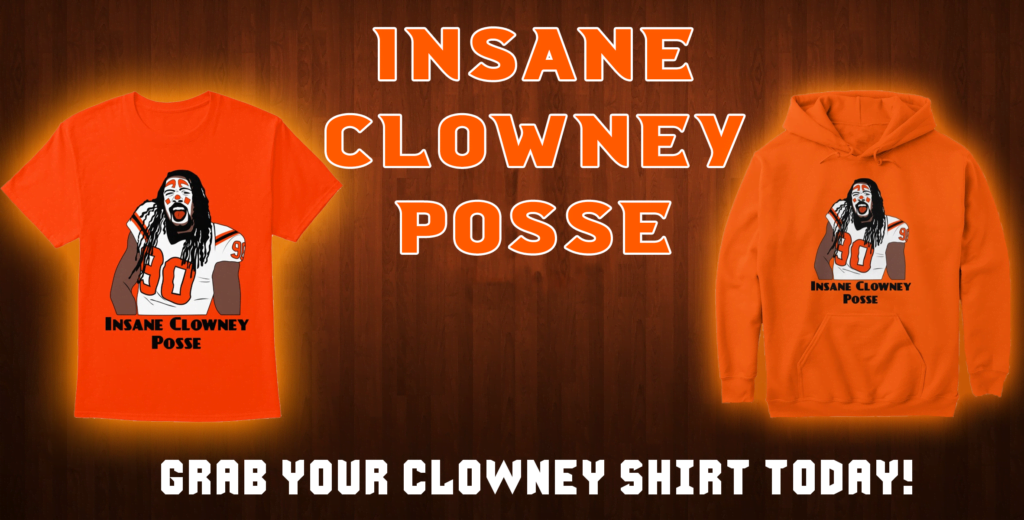 The only thing scarier than the Browns' pass rush are clowns. Get the design that shows off both today!
Available shirts in men, women and kids, along with posters and tumblers! Click here or the image above to see!
---