It is officially mock draft season! The 2022 NFL Draft is quickly approaching, with the first round kicking off on Thursday, April 28th. Of course, draft analysis, projections and rumors will be dominating the headlines until then. Among the players hoping to hear his name called early in the draft is offensive tackle Daniel Faalele out of Minnesota.
The following is a complete Daniel Faalele NFL Draft profile, including stats, highlights and a mock projection.
Daniel Faalele NFL Draft Profile, Stats, Highlights and Projection
Daniel Faalele
Position: Offensive Tackle
Height: 6'8″
Weight: 384 lbs
Age: 22
College: Minnesota Golden Gophers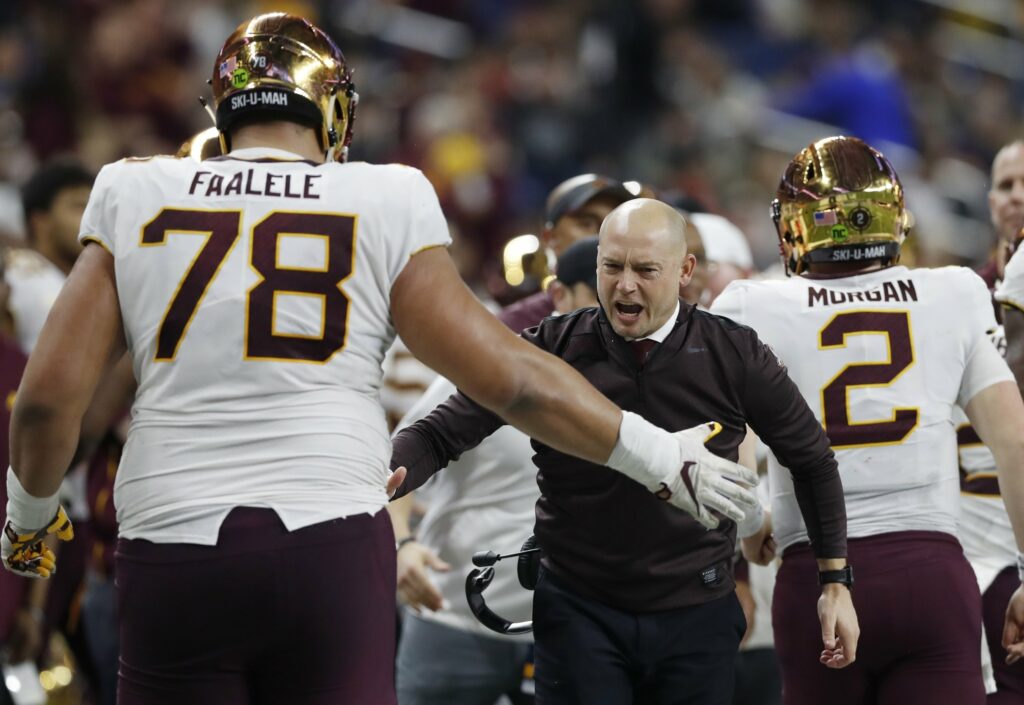 Daniel Faalele Draft Profile and Scouting Report
Strengths
Obviously, Daniel Faalele possesses rare size, standing at 6-8 and nearly 400 pounds. With this size, he brings tremendous strength, possibly being the strongest player in the 2022 NFL Draft. He is also, unsurprisingly, an anchor in pass protection, with nobody able to move him backward. Faalele only began playing football when he came to America, which was five years ago, so he has the potential to learn more and get better.
Weaknesses
He's a massive man, and he plays like it in the worst ways. Faalele has poor footwork and has zero idea what to do with his hands. Most of his weaknesses are a product of terrible coaching at Minnesota, which is par for the course with former Gophers, but it's extremely obvious with Faalele. He has limited experience with different dropback protections, due to the scheme at Minnesota. Faalele also doesn't show much of an aggressive side. He's a big, strong, passive lineman.
Daniel Faalele Highlights
Daniel Faalele Draft Projection
All 2022 NFL Draft Projections are taken from the latest NFL Network Mock Draft by Chad Reuter.
Daniel Faalele is currently projected to be drafted by the Tennessee Titans at No. 90.
---
For more 2022 NFL Draft coverage and player profiles, check out our NFL Draft page.