The Dallas Cowboys kicked off their 2021 Training Camp on Wednesday. We heard from Jerry Jones, Stephen Jones and Mike McCarthy ahead of the first day, where they addressed concerns, the focus going forward and more.
Addressing COVID-19 Concerns and Vaccination Rates
The press conference kicked off with Jerry Jones immediately addressing COVID-19 concerns. A large part of the conversation was not only COVID-19, but also where the Cowboys stand as far as vaccines.
Jerry said that most of the faculty, staff and players within the organization have gotten the vaccine, but that here are a handful of players still "in the pipeline." This suggests they are committed to getting a vaccine, but are still in the working stages of it. Whether that means they need a second dose, are getting it in the next couple weeks, etc.
In true Jerry Jones fashion, he made sure to point out that a handful to him is five, like the amount of fingers on his hand. Stephen Jones adding in that it "takes time" in regards to getting players through that pipeline. "We provided them (the players) with a lot of education and a lot about the science," said Stephen Jones. Also adding that he thinks the Cowboys will hit the 85% threshold for vaccines ahead of the season.
It was, also, the first time Cowboys Nation got confirmation from head coach Mike McCarthy that he too received a vaccine, though he wasn't 100% on board with the idea at first.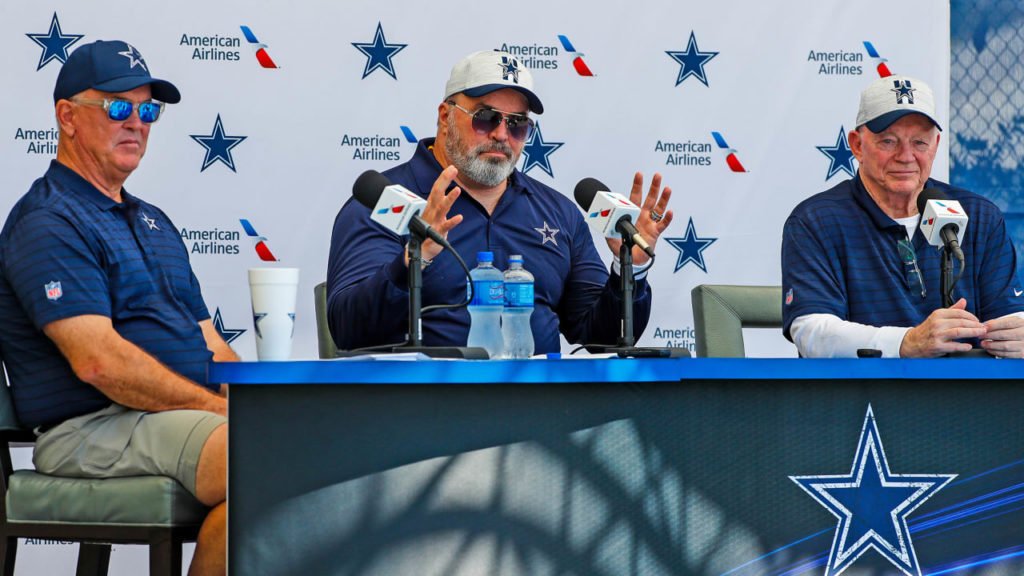 Jerry Jones on Michael Irvin's Recent Comments
When asked to shed light on what he thought of Michael Irvin's recent comments about the Cowboys not making the 85% vaccinated threshold, Jerry Jones had a throughtful response.
"I thought it was an outstanding message." said Jerry. Adding in that he thinks Michael is very "influential" with the team. "When he talks I listen," said Jerry, adding in that "[Irvin] comes with all of the credibility in the world."
During the presser, it was mentioned that Jerry even called players who had concerns about taking the vaccines, saying he wanted to get and give information so "everyone would be comfortable with their decisions."
However, Jerry did say that he doesn't feel that the unvaccinated members of the team will be a distraction, since the Cowboys already know how to operate under COVID-19 protocols. "The protocol we used last year is what you will be looking at this season," said Jerry. This means unvaccinated players will be more isolated, subjected to daily testing, and limited to outside camp activities.
"I am totally satisfied that by the Hall of Fame game we will be able to play anybody we want to play," said Jerry when asked if he thinks the team will be fully vaccinated soon.
Back in Oxnard for Cowboys Training Camp
Jerry Jones fought back tears during some moments of the presser, saying being back in California is making him emotional. "The thing that means the most to me, and I care about, and I could probably be anywhere in the world. I wanna be here with our team" he said with a cracking voice and teary eyes.
Jerry said that returning to Oxnard. as Cowboys training camp kicks off. was a way of showing that the Cowboys are back and back to business. "The feeling that we have is that we are coming home" said Jerry. Even adding that Oxnard is one of the best places in the world to get a team ready to compete.
This was something McCarthy agreed with saying that the focus during this time will be to "establish a winning culture." McCarthy making it clear that training camp is for review of what the last 5-6 weeks of offseason programming has been, but to ultimately focus on the mental stand point of the game.
Head coach McCarthy believes training camp is the most important part for a football team, especially since he sees the bond and connection the team already has.
Talking Super Bowl Potential
The ultimate goal for the Dallas Cowboys? Well, it's the same as it's been for 26 years now — getting back to the Super Bowl.
"I'd do anything known to man to get in a Super Bowl," said Jerry Jones. Adding that there is "nothing that could have a higher priority than that" in his mind.
When asked about how to get back to the level that the Cowboys were in the 90s to win Super Bowls, Jerry said he sees something in common between the teams from back then to now. That something being the combination of "youth players' talent and solid talented veteran players".
Stephen Jones was quick to add in one key component he thinks makes the Cowboys contenders for a Super Bowl run this year. That being the "winning and leadership traits" from QB1 Dak Prescott. Mike McCarthy agreed with Stephen saying "we've got people with pedigree that can help take us to that next step."

Dak Prescott Expected to Fully Participate in Team Drills
Of course, all eyes will be on Dak Prescott this week, as he returns to Cowboys training camp after his season-ending injury.
But good news for Cowboys fans, it was confirmed by McCarthy that he projects Dak to fully participate in team drills during training camp. McCarthy said that having Prescott participate in these drills was "the last hurdle for a full recovery for Dak."
"One thing about Dak, he's the same man every single day," said McCarthy. Even adding in that Dak was at the facility everyday since the injury. The head coach making it clear that he believes in Dak and believes "he has great days ahead of him."
Addressing the Defense
When discussing the 2020 season with McCarthy, he made it clear that although last year was hard for everyone, he expects the team to be better. "Anytime you have adversity or negativity you can build off those experiences," he said.
Major and much-needed changes were addressed on the defense this offseason that all three of them feel confident about.
Stephen Jones saying that they had a productive offseason, between picking up veterans during free agency, bringing on defensive coordinator Dan Quinn and drafting heavily for the defense. As for the corner position, he said they're making a "major commitment with the corner position" with the veterans Diggs, Brown and Goodwin, adding that that they feel confident with their veterans in that particular position.
As for Randy Gregory, Jerry Jones made it clear that Cowboys fans can expect to see more of him, saying "he's been worth the investment of extra time and interest."
Leadership with the Cowboys
As for the offensive side of the ball, eyes will also be on RB Ezekiel Elliott as Cowboys training camp kicks off
Head coach Mike McCarthy was quick to commend Zeke's work ethic and leadership. "I really enjoy working with him. He sits in the front row every team meeting," said McCarthy. Adding in Zeke is a great example for young players.
But when it comes to leadership on the team, McCarthy says wants everyone to take the lead. He said that he hopes to create opportunities for leadership and leadership development for all players. "We want everyone to take a leadership role," he said in regards to both rookies and veteran players.
But, he hopes to create an atmosphere where the leadership is organic. Saying he believes that's the only way it will really work.
Hard Knocks Production Kicks Off | Cowboys Training Camp
Not much was shared about the production of Hard Knocks, but it was confirmed that production has already started filming with the Cowboys.
McCarthy's overall message to the team was to "be yourself" when it comes to having the cameras around. "I'm going to be honest, I wrecked my truck when Jerry told me," said McCarthy.
And, of course, Jerry confirmed what we already knew, saying agreeing to this season of Hard Knocks was a "quick decision" for him.
---
Follow us on all of our social channels! Check out our Twitter, Facebook and YouTube for more great FlurrySports content.
---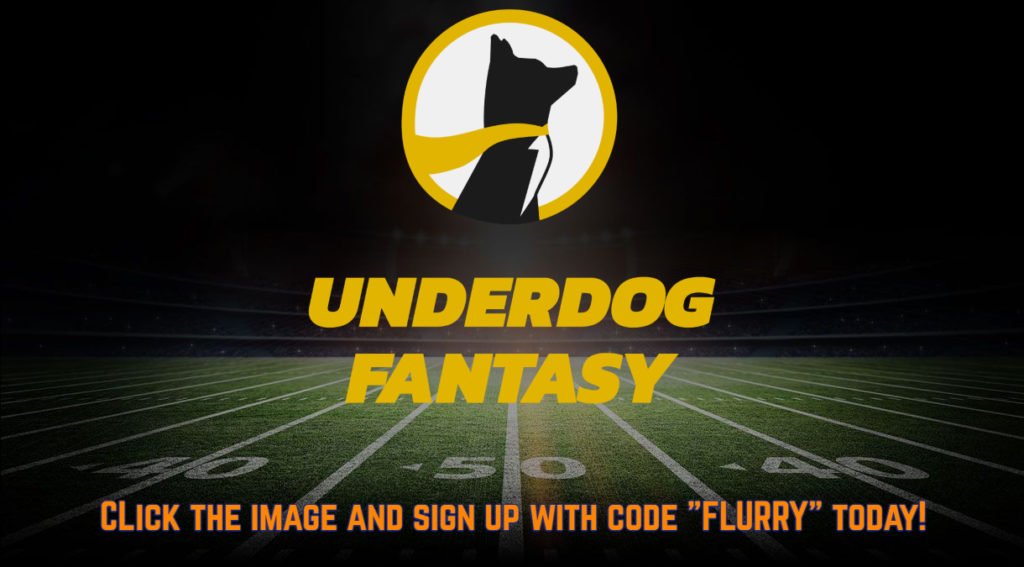 Underdog Fantasy is a new type of DFS that combines the fun of season-long drafts with daily fantasy sports. Aside from their fun, addictive draft mode, Underdog Fantasy also has pick'em player props for many different sports and athletes!
Click the image or RIGHT HERE to get signed up today, and don't forget to use the promo code FLURRY for a FREE $10 bonus on your first deposit!
---