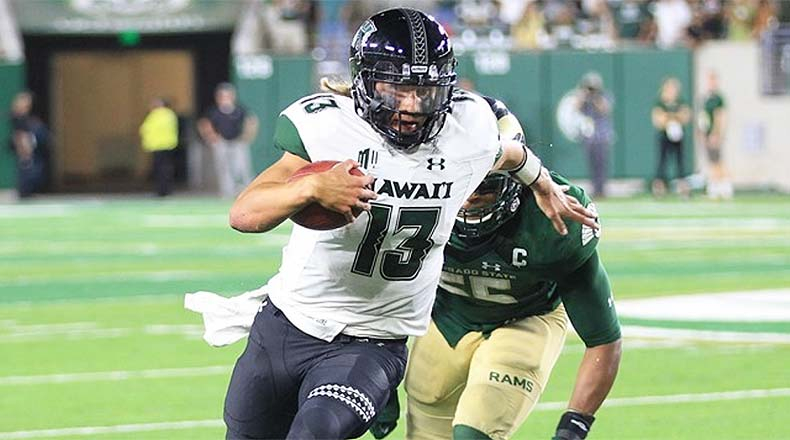 In any sport, there will always be teams who come out of nowhere and surprise us all with a season-long performance that far exceeds expectations. Over the past few years, college football has gotten a bit of a bad rap for being too predictable. This sentiment is certainly felt at the very top of the sport. Since the induction of the four-team College Football Playoffs four years ago, only nine teams have actually gotten into the four-team field. It's no secret that the parity in college football is no where near what it is in other mainstream sports, but that doesn't mean underappreciated teams can't exceed expectations. With the season three weeks old and conference play set to ramp up, here are my picks for each conference's surprise team.
ACC: Duke Blue Devils
Both Duke and Syracuse have gotten off to impressive starts the first three weeks, but the Blue Devils get the nod as the surprise team who will sustain it throughout the season, based on the quality of their wins. Army, Northwestern and Baylor aren't exactly juggernauts, but I wouldn't call any of them slouches. Duke has dispatched them all. The Coastal Division of the ACC is again appearing weaker overall this season, so the Blue Devils could make some real noise in conference play. Quarterback Daniel Jones has already returned to practice just ten days after surgery on a broken clavicle. Duke will need him for their September 29th home tilt against Virginia Tech, a true measuring stick game.
American: Cincinnati Bearcats
Three games, three wins. None of them have been in-conference, but for a team that was only projected to win four games total this season, the Bearcats are well on their way to exceeding that. A cross-country road trip to the Rose Bowl saw Cincinnati spoil the UCLA coaching debut of Chip Kelly. They followed that up by beating rival Miami (Ohio), who many believe could challenge for a MAC championship this season. Michael Warren II has been the focal point of the offense, racking up 311 rushing yards and 6 touchdowns in the three games. The American East is top heavy with UCF and South Florida, but games against UConn, East Carolina, and a disappointing Temple team all look winnable.
Big Ten: Iowa Hawkeyes
The theme for the Big Ten Conference through the first three weeks of the season has been surprise in the form of disappointment, not exceeding expectations. Big Ten teams have been losing left and right to supposedly weaker opponents (Nebraska to Troy, Northwestern to Akron, Wisconsin to BYU), suggesting that the conference might have been overrated as a whole. Iowa gets the edge over Maryland to be the surprise team, due to playing in the far weaker Big Ten West division. The Hawkeyes are 3-0, with two of those wins coming against FBS opponents. The big one was, of course, taking down rival Iowa State 13-3. As evidenced by the score, Iowa's defense will be critical to how the team fares in conference play. They could make serious hay in the West division, and the crossover opponents are Penn State and the aforementioned Terrapins. I guess we will find out on October 20th if I made the right choice!
Big 12: Texas Tech Red Raiders
Not many teams can say their quarterback has over 1,000 yards passing just three games into the season. That is precisely the company that Red Raiders signal caller Alan Bowman is in, with 1,160. Texas Tech sits at 2-1, with wins over Houston and FCS opponent Lamar, after dropping their opener to Ole Miss. Houston should be one of the best teams in the American Conference again this year, and the Ole Miss loss almost gets a pass in my book, seeing how the SEC has asserted itself over other Big 12 teams and over all of the Power 5 conferences in general these first three weeks. Tech can score with anyone per usual. That alone should have them higher than their Big 12 preseason projection of 8th.
Conference USA: FIU Panthers
Upward mobility in the Conference USA East Division won't be easy with Lane Kiffin's FAU Owls and the Thundering Herd of Marshall as the favorites. So why is FIU my pick to be the surprise team of the conference? Because they get both FAU and Marshall at home. If they can win just one of those games, it could be a three-way race atop the division at year's end. The Panthers are currently 2-1, with wins over Old Dominion and UMass, and just a 10-point loss to Indiana. For a team with no glaring strengths but also no glaring weaknesses, the favorable schedule could be the lottery ticket for Butch Davis' crew.
MAC: Akron Zips
Everyone in the MAC may be looking up at Buffalo this season, but after that, the East Division is truly up for grabs. After having their season opener against Nebraska canceled, Akron trounced FCS opponent Morgan State and then shocked Northwestern on the road allowing them to enter conference play unblemished. The Zips play host to Miami (Ohio) and are home for their toughest crossover matchup against Northern Illinois. If the defense continues to force turnovers like they did against Northwestern, Akron will easily exceed its projected 4th place finish in the East.
Mountain West: Hawaii Rainbow Warriors
Sophomore quarterback Cole McDonald is going to have a lot to say about the preseason prediction that had Hawaii finishing tied for last in the west division. Through four games, McDonald has thrown for 1,486 yards and has the Rainbow Warriors sitting at 3-1 with the only loss a narrow defeat to Army last week. The schedule doesn't play to Hawaii's favor, as they have road games against both Fresno State and San Diego State, as well as a nonconference opponent in BYU. But if the offense keeps humming like it has, this team could easily be in the top-3 of the West Division at year's end.
PAC-12: Colorado Buffaloes
Despite the preseason projection of a ninth place PAC-12 finish, Colorado has busted out of the gates with a 3-0 start, including an impressive road victory over Nebraska. With several defensive starters back as well as quarterback Steven Montez and ultra-talented receiver Laviska Shenault on offense, the Buffs have the potential to pull some upsets in conference. The PAC-12 South Division is yet to see any team assert itself as an overwhelming favorite. It's as much Colorado's to win as anyone's.
SEC: LSU Tigers
By LSU standards, a preseason projection of a 7th place finish in the SEC is alarmingly low. Fast-forward three weeks, and the Tigers are 3-0, have knocked off two ranked opponents in Miami and SEC West rival Auburn, and have vaulted to sixth in the AP Poll. These three games shouldn't be viewed as a flukes either. The Tigers have a vaunted defense full of playmakers like usual, and Joe Burrows is doing a much better job at quarterback then many people anticipated. The SEC schedule is always daunting, but the good news for LSU is they get their three toughest opponents, Georgia, Mississippi State, and Alabama all at home. That will be a brutal three-week homestand, but these Tigers appear to be on a mission.
Sun Belt: Georgia Southern Eagles
No, I'm not expecting Georgia Southern to make a serious run at the Sun Belt East Division crown. Quite honestly, Appalachian State, Arkansas State and Troy are the three clear teams to beat, so I'm rolling with the Eagles as my surprise team to be bowl eligible. GSU finished dead last in the conference a season ago, but improvements have been made, particularly on the defensive side of the ball. The Eagles beat UMass handily and held Clemson scoreless through the entire first quarter last week. This is the first year of the Sun Belt having divisions, and I like Georgia Southern to win 6 or 7 games, finish third in the East, and go to the program's second-ever bowl game.
More Articles
Week 3 Fantasy Football Rankings
Week 3 NFL DFS Tournament Stacks
Hot-Hand Fallacy & Recency Bias Trends the Past 3 Years: QBs and RBs