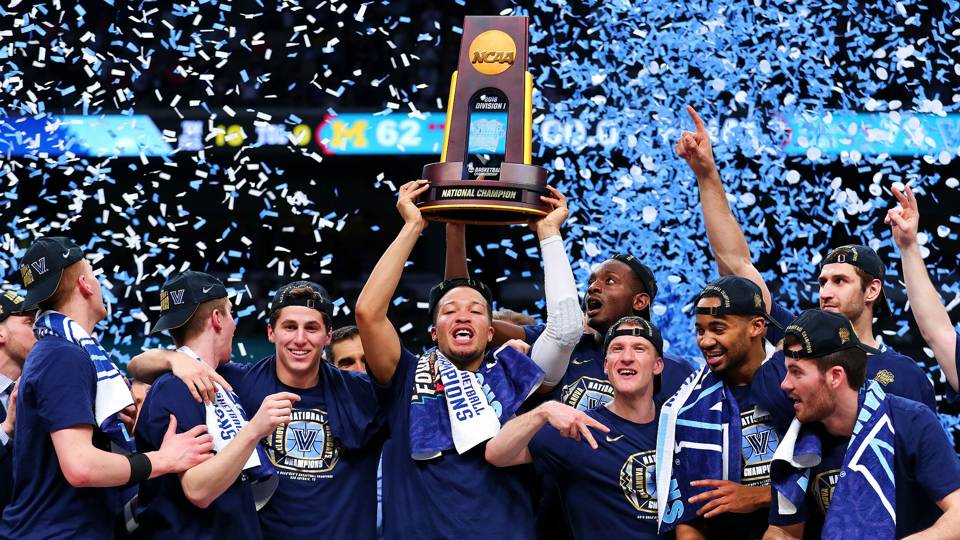 Today is a massive opening day for college basketball, and it's going to be well worth the wait. Obviously, the highlight is the Champions Classic, where Kansas faces Michigan State and Duke faces Kentucky, but I want to dive into a few other games that are intriguing.
North Carolina at Wofford
Wofford was granted another opportunity for an upset over North Carolina, after they defeated the Tar Heels in Chapel Hill. This time, UNC will travel to Wofford to try and get revenge, but Wofford is strong once again with their star Fletcher Magee returning, who averaged 22.1 ppg last year and dropped 27 in Wofford's win over North Carolina.
UMBC at Marquette
The first 16 seed to win will start their season off with a bang, as they travel to Marquette to take on Markus Howard and the Golden Eagles. UMBC lost a ton from the team that beat #1 Virginia, so I think Marquette won't have much trouble. However, it will be cool to see UMBC on the court again after what they've accomplished.
Florida vs Florida State
The in-state Florida rivalry will hit the basketball court this year before it hits the football field, and this is a fantastic match-up that not many are talking about. Florida State has depth and they are ranked in the AP Top-25, but Florida has experience with Jalen Hudson and Kevaughn Allen returning. This rivalry will make for a great opening game for both teams.
BYU at Nevada
To cap off what looks to be a fantastic opening night, I know that I am going to be staying up late to see an incredible Nevada team take on a quietly good BYU team. Tip-off is at 11 ET, as the Martin Twins will take the floor for Nevada against a BYU team that may be the best preseason team we have seen the last few years that could be a major factor in the West Coast Conference.
Now, instead of continuing to talk team basketball, I want to take a look at the individual players across the country this year. Throughout the season, keep an eye out on Fridays for my updated top-10 players!
Preseason Top-10 Players
Grant Williams (Tennessee)- Williams is the main reason why the Tennessee Volunteers have turned around their basketball team to be a top-10 team to start the year. I look to see this guy improve even more this season and he is my preseason player of the year.
Zion Williamson (Duke)- Some may not agree with me having Zion so high and some believe that Zion is not even the best player on Duke, with RJ Barrett, but I think this kid may be the most valuable player of the year. A player with this much talent and power at 6-7, 285 pounds will be a force. The way Zion attacks the rim and uses his strength will make him nearly unstoppable and I believe that will make up for his inability to shoot the basketball.
Markus Howard (Marquette)- Howard is one of the highest-scoring players to return this season, averaging 20.4 ppg in 2017-18. I actually see his numbers going up from last year, as he will have an even bigger scoring role than last year.
Mike Daum (South Dakota State)- The Dauminator is back once again and he will likely be the best all-around Mid-Major player as he aims to take his Jack Rabbits back to March Madness and actually win a game this season.
Ethan Happ (Wisconsin)- I view Happ as the top post player in college hoops and I see him continuing to dominate around the rim to try and resurrect the Wisconsin basketball team, who have underperformed lately.
Luke Maye (North Carolina)- Maye is a great post player in his own right, but he is more than a post, as he does a ton for his team. He is a great leader and he is the top force for a talented North Carolina squad.
Shamorie Ponds (St Johns)- The Red Storm want to finally get away from their losing ways and this looks to be their year to do it. Winning is going to start with Ponds, who does it all for St Johns. This year, he will have to take a leadership role, which I think will suit him being the scorer he is.
Carson Edwards (Purdue)- The Boilermakers are looking like they are going to be taking a step back this season, losing 3 of their 4 top scorers. The one coming back was the leading scorer, averaging 18.5 ppg, and I don't see anyone on this roster with a scorer's mentality, except Carson Edwards. I expect Edwards to score well over 20 ppg, and I think Purdue's success with be based on his performance.
Tremont Waters (LSU)- Waters is one of the most electrifying guards in the country and I expect him to make the next step this year for the Tigers. He will need to be able to score at will and get others involved to get LSU into the NCAA Tournament.
Dedric Lawson (Kansas)- Lawson had to sit a year after transferring to KU, so he is ready to make his mark in Kansas and I think he will lead the Jayhawks in scoring among other categories with the talent he possesses.
More Articles
DFS Flurry ELITE: Making NBA DFS Easy
NBA DFS 11/1 News and Notes for DK and FD