The NASCAR Cup Series will tackle the longest race of the season under the lights on Sunday night. The 2022 Coca-Cola 600 will assume its rightful spot as the conclusion of the Greatest Race Day of the year. Charlotte Motor Speedway will transition from day to night during the course of the four-hour-long race. The teams will have to change the setups of their cars as the track cools off and gains grip throughout the evening. The more experienced guys will pay off in the long run, but don't count out some of the young guns either when making your Coca-Cola 600 DraftKings NASCAR DFS picks.
DraftKings NASCAR DFS Overview
In this DraftKings NASCAR DFS picks column, we will be using DraftKings prices and scoring. Their scoring includes the following:
.25 points for leading a lap
.45 points for the fastest laps
Add/subtract a half-point based on the difference in a driver's finishing position relative to their starting position
Points based on where the driver finishes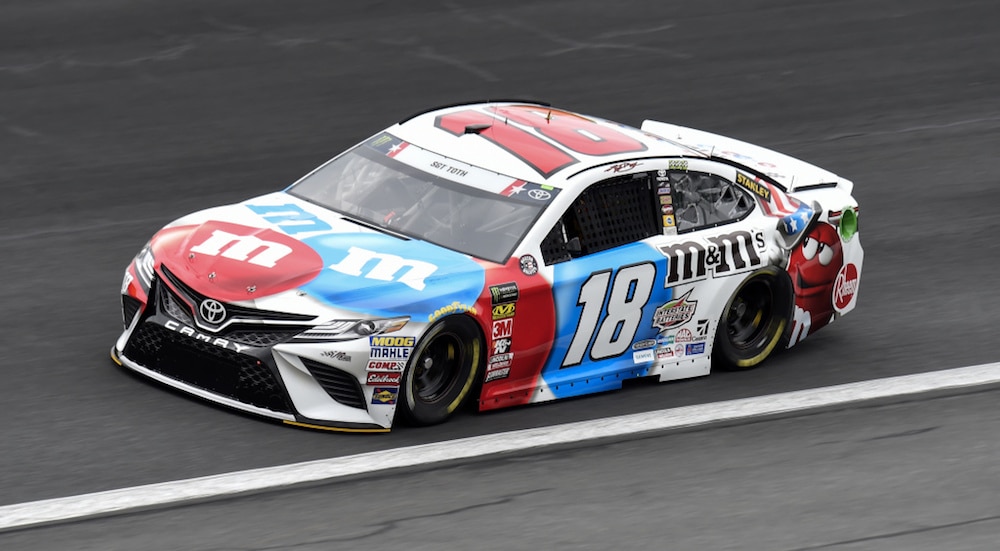 DraftKings NASCAR DFS Picks | Race 14
Coca-Cola 600 Drivers to Consider | DraftKings NASCAR DFS Picks
Kyle Busch ($11,100)
This year, Kyle Busch has been on a tear in terms of DraftKings NASCAR scoring. Entering Memorial Day Weekend, "Rowdy" is averaging over 41 points per race thus far on the season. Busch has six top-10s in his last ten races on the Charlotte Motor Speedway oval. He will either dominate Sunday's race (like he did in 2018) or will fail to finish on the lead lap. Make sure that the No. 18 car is in your NASCAR DFS lineup if you believe the former outcome is more likely.
Martin Truex Jr. ($10,200)
Joe Gibbs Racing veteran Martin Truex Jr. has had a fairly quiet season thus far. While he has no wins to date, Truex but has managed to keep himself right in the thick of things as far as the NASCAR Cup Series points standings are concerned. MTJ has three career wins at Charlotte in the last ten races there. His average finish in those ten starts is 6.8, so he definitely knows how to get around this track. The No. 19 is surely one to have in your NASCAR DFS lineup come Sunday.
Kevin Harvick ($8,000)
Alright, how does this guy have a price tag this low? Kevin Harvick might not be having the season you would expect out of him and the No. 4 team, but he is still Kevin Harvick. The veteran is averaging 38 DraftKings NASCAR points per race so far this season. In his last ten starts at Charlotte, he has eight top-10s and a terrific average finish of 12.8. Harvick is a cheap stud option for your Coca-Cola 600 DFS lineups this week.
Coca-Cola 600 Drivers to Avoid | DraftKings NASCAR DFS Picks
23XI Racing Drivers (Kurt Busch — $8,600; Bubba Wallace — $6,900)
The 23XI Racing team had a great Kansas race two weeks ago as Kurt Busch scored an outright win and Bubba Wallace finished inside the top-10 as well. While Kansas and Charlotte are comparable 1.5-mile oval tracks, Sunday's Coca-Cola 600 is another 200 miles in running distance. 23XI Racing has had numerous equipment failures, poor pit stops and other bad luck this season. On top of that, Wallace's average finish here is just 26.4 in five total starts. Avoid both the Nos. 23 and 45 cars this week in DraftKings NASCAR DFS.
Noah Gragson ($6,000)
Another driver that is tough to trust when making NASCAR DFS picks this week is Noah Gragson. The full-time Xfinity Series driver will be behind the wheel of the No. 16 Chevrolet for Kaulig Racing in the Coca-Cola 600. However, he has not raced in NASCAR's 600-mile ever before, so he could get a little too aggressive early on and have it backfire. Gragson has not had much success this year in previous starts driving the No. 16 Cup Series car either.
Alex Bowman ($9,300)
Alex Bowman has found his kryptonite in the NASCAR Cup Series. Despite having a win at Charlotte Motor Speedway in the Xfinity Series, he hasn't had anywhere near that kind of success at the sport's top level. Despite a top-5 showing in the Coca-Cola 600 last year, Bowman has an average finish of just 20.3 in his last seven starts at the track. Hopefully, he can do better in the Next Gen Car, but as for now, do not include the No. 48 among your NASCAR DFS picks this weekend.