The Cincinnati Bengals fell short in the Super Bowl last season, then began this season with a slight Super Bowl hangover. However, they quickly got back on track, and now they are playing like one of the hottest teams in the NFL, despite their injuries. As a result, we have seen a big Cincinnati Bengals Super Bowl odds update, as well as an update to the Bengals' odds to win the AFC North, heading into NFL Week 16.
Below, we will take a look at the Bengals' Super Bowl odds update. If you are in a legal betting state, sign up with our BetMGM Bonus Code link to claim a $1,000 risk-free bet to use on the Bengals. Of course, if you are in Ohio, or another state without BetMGM, you can sign up with our BetOnline Promo Code link and claim thousands in bonuses to use today!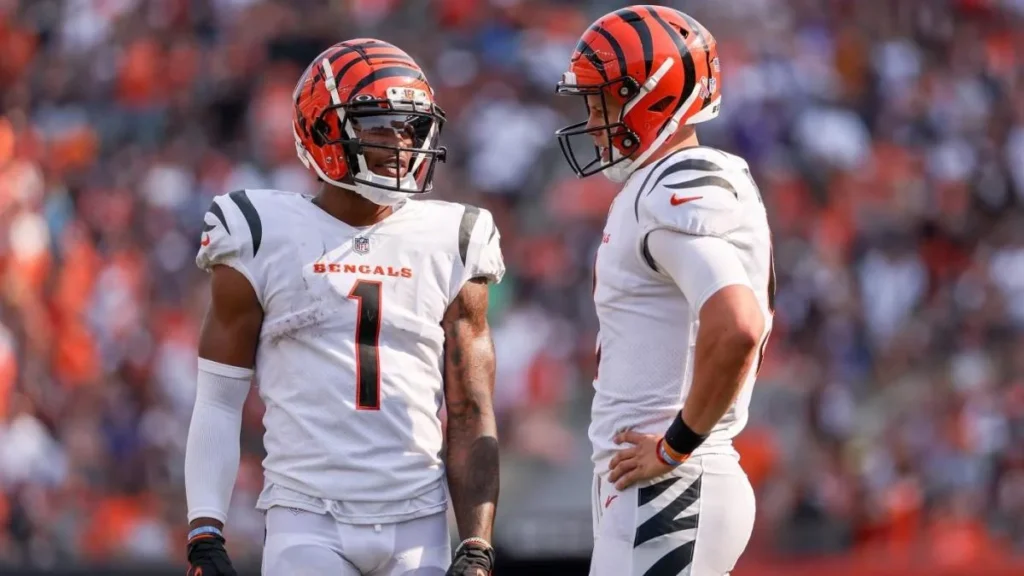 BetMGM Bonus Code: $1000 Risk-Free Bet On Bengals Super Bowl Odds
Sign up with our BetMGM Bonus Code link today to claim a special welcome bonus for NFL Week 16. You will be given a risk-free bet, up to $1,000, to use on any odds. This means you will be able to wager up to $1,000 on the Bengals' Super Bowl odds completely risk-free, as you will receive your wager amount back if the bet loses.
Take the following steps to sign up and claim this bonus.
Click the BetMGM Bonus Code link
Create your new BetMGM account
Fund your new account with at least $20
Place your risk-free bet!
If you cannot sign up for BetMGM, simply follow the same steps with our BetOnline Sportsbook link, which you can use to bet from anywhere.
Bengals Super Bowl Odds Update To +750
Following a big win over the Tampa Bay Buccaneers and Tom Brady, the Cincinnati Bengals' Super Bowl odds update has their odds rising to +750. This means a $100 wager on the Bengals would win $750, if Cincinnati wins it all.
Oftentimes with a young team, they can overachieve because they don't know how to lose. This seemed to be the case in Cincinnati last season. However, many wondered how they would react following a Super Bowl loss. Heading into Week 16, the Bengals possess a 10-4 record, good for the No. 3 Seed in the AFC Playoff Picture.
Sign up for BetMGM to bet up to $1,000 on the Bengals Super Bowl odds (+750) completely risk-free, up to $1,000.
Bengals Odds To Win AFC North Improve
Following last weekend's win, and the Baltimore Ravens' loss, the Bengals now sit alone atop the AFC North. This has the Bengals' odds to win the AFC North improving to -190. The Ravens' odds to win the AFC North have fallen to +160, as they sit a game behind Cincinnati in the standings.
However, the Bengals' one-game lead looks less important, due to the schedule ahead. If they hold a one-game lead heading into Week 18, the winner of the Ravens vs Bengals matchup will win the AFC North, while the other will likely win a Wild Card bid.
That one-game lead could be tough to hold onto, however. The Bengals face the New England Patriots and Buffalo Bills over the next two weeks. The Ravens, on the other hand, face the Atlanta Falcons and Pittsburgh Steelers, and Lamar Jackson looks ready to return to the field as well.
Clearly, the Bengals' odds to win the AFC North heavily favor them, but it looks like Week 18 will decide it all.
---
Follow us on all of our social channels! Check out our Twitter, Facebook and YouTube for more great FlurrySports content.