The Cincinnati Bengals can still land a gifted offensive lineman, even if the team passes on Oregon offensive tackle Penei Sewell in the upcoming NFL Draft. Should the team skip offensive tackle in the first round, Christian Darrisaw out of Virginia Tech could be a prime target.
Bengals Targeting Sewell, Chase in First Round
Sewell, a 6-6, 331-pounder, is considered one of the top linemen in the country and a good fit for the Bengals, who finished 4-11-1 last year. But there is growing speculation that Cincinnati is likely to select former LSU wide receiver Ja'Marr Chase with the fifth overall pick in the draft.
Bengals quarterback Joe Burrow won a CFP National Championship with Chase, a 6-0, 207-pound wide receiver, as one of his main targets in 2019. Burrow is reported to be lobbying Orange and Black brass to pick his former LSU
teammate instead of an offensive lineman.
If Cincinnati goes with Chase, they can still find a talented lineman in Christian Darrisaw, from Virginia Tech.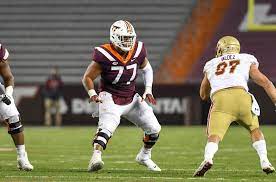 Bengals Draft Targets: OT Christian Darrisaw
According to the NFL Network, Darrisaw, who won First Team All-ACC honors, could still be available in the second round.
The 6-5, 314-pound offensive tackle from Petersburg, Virginia is considered the 26th best prospect, according to Daniel Jeremiah of the NFL Network.
After the fifth selection in the first round, the Bengals will select again with the 38th pick in the draft. Darrisaw could still be available to fit the offensive line needs in the Queen City.
Jeremiah's assessment of Darrisaw said that he was a solid and reliable starter at left tackle.
"He has ideal size, length and balance. In the passing game, he has average foot quickness in his set but can bend his knees and plays with a firm base. He has a sharp two-hand punch and generally keeps defenders away from his chest," he said. "He plays with excellent awareness. He uses his upper-body strength to torque and turn defenders in the run game. He takes good angles to the second level, where he's able to position and wall off linebackers. He will have some trouble adjusting in space because of his average change-of-direction skills."
---
Follow us on all of our social channels! Check out our Twitter, Facebook and YouTube for more great FlurrySports content.