It's that time of year when you have to figure out Christmas gift ideas for either your friends and family or yourself. It can be tough to figure out the perfect gift that is both meaningful and useful without breaking the bank. Below, we have organized what we feel are the best 2022 Christmas gift ideas for sports fans that will cover a wide variety of sports, gift categories and prices.
Of course, with the supply chain still being an issue, if you see a sports Christmas gift idea that you like, you should probably order it today so you know you can get it in time for the holidays.
Christmas Gift Ideas for Sports Fans 2022
---
Tickets to Games | Top Christmas Gift Idea for Sports Fans
A great Christmas gift idea for sports fans is to give them an experience instead of a tangible gift. An easy way to do this is to give them tickets to their favorite team's game!
Shop for tickets at TickPick to get sports tickets without any hidden fees! It's common for ticket fees to be as much as the damn tickets themselves, but that is not the case at TickPick. Save some money without sacrificing the quality of the ticket!
---
Insulated Water Bottles and Tumblers – Iron Flask
Anyone who lives an active lifestyle needs at least one insulated water bottle in their rotation, and Iron Flask is among the best for the price you'll pay. Iron Flask keeps liquids cold for up to 24 hours or hot for up to 12 hours.
In a variety of unique colors, designs and sizes, there's a lot to explore at the Iron Flask site. Whether you are looking for a water bottle to take to the gym or a tumbler to fill up with your favorite adult beverage, Iron Flask has options for you. They even have high-quality dog bowls and fun bottles for kids!
---
Indoor Putting Green | Top Christmas Gift Idea for Golfers
If you are thinking about golf Christmas gift ideas, there's no doubt you should be looking at this indoor putting green from PrimePutt. With the temperatures dipping and snow in many places across the country, some golfers go into hibernation before figuring out how to golf again in the spring. However, you can shop for an indoor putting green, in a variety of different sizes to suit your space, so your putting game stays sharp all winter.
What sets PrimePutt apart is that they obsessed over every single detail to ensure it is high-quality, has tour speed and will help you lower your scores from the comfort of your own home.
---
Championship Belts and Customizable Wall Art – TrophySmack
You may know TrophySmack because they have the most customizable trophies and championship belts on the internet. It's also possible you heard of them because they struck a deal on Shark Tank. Now, they also have brought their customization skills to wall art, which changes the game.
With metal wall art, you put a magnet on the wall so you can easily swap the art you want to put up. You can create your own sports designs, shop MLB posters, create custom sports or Pokemon card-like designs, and much more!
Of course, you can also create customized trophies, championship belts, rings, champ chains and more as well, which will forever be fun to receive.
---
Brett Favre Grinch Merch | Top Christmas Gift Idea for NFL Fans
If you are looking for Christmas gift ideas for NFL fans, this has been a bestseller this holiday season. NFL legend has gotten himself into a bit of a situation, where he may have used state welfare funds for his own interests. Very Grinch-like.
This holiday season, Brett Favre is the Grinch in both reality and this funny merch, which features crewneck sweatshirts, hoodies, tees, mugs and even Christmas tree ornaments.
---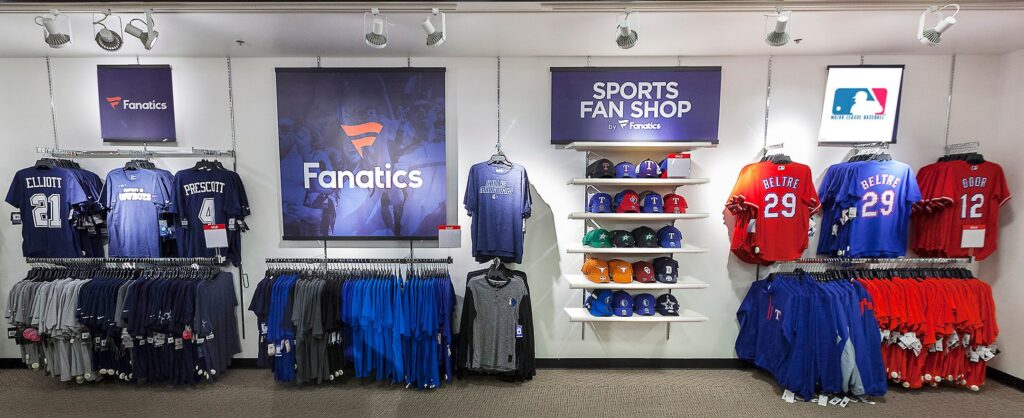 Jerseys, Hats and Apparel – Fanatics
The most popular Christmas gift ideas for sports fans every single year are apparel of some kind so they can show off their fandom wherever they go. One of the top merchandisers in the game this holiday season is Fanatics.
You can get just about anything apparel-wise at Fanatics. Whether you need Christmas gift ideas for their favorite professional sports team or one of 500+ college teams, Fanatics has hats, jerseys, shoes and all kinds of other apparel to pick from.
Fanatics is also promoting big sales every single day leading up until Christmas, so see what they are offering today!