It all started in Game 1 of the first-round series between the Phoenix Suns and the Los Angeles Lakers. It was late in the third, and Suns point guard Chris Paul was laboring, just trying to get through the game. He would end up playing 36 minutes, and they were all hard-fought. Paul had suffered a "stinger" earlier in the game. Well, ultimately, the Suns won the game versus the defending champions, 99-90. The final buzzer hadn't sounded yet when Twitter, and the rest of social media, were buzzing about the Chris Paul injury woes. Well, he ended up struggling with the injury for the rest of the series. To get by the defending champs, back-up point guard Cameron Payne needed to step up.
Payne, the man probably more recognizable for his break-dancing than play, was in the hot seat.
First NBA Playoffs Action Since 2017
Payne, who last played in the NBA Playoffs in 2017 with the Chicago Bulls, did not get the nod to start Game 2, but he played 33 minutes. He finished with 19 points and seven assists. Paul would come back in the series and be a huge part of why the Suns are four wins away from the NBA Finals.
We got the news earlier this week that Chris Paul tested positive for COVID and was ruled out for Game 1 and possibly more. Well, asking a back-up to step in and fill the shoes of one of the NBA's greatest point guards ever is impossible. However, for Cameron Payne, if CP3 is out Games 2 and 3 as well, the Suns break-dancer has the ability to fill his shoes in a short absence.
Cameron Payne 2020-21 Stats
(Regular Season, NBA Playoffs, Per 36)
| | | | | | | |
| --- | --- | --- | --- | --- | --- | --- |
| | Points (Per Game) | Assists | Rebounds | Steals | FG% | 3pt% |
| Regular Season | 8.4 | 3.6 | 2.4 | 0.6 | 48.4% | 44% |
| Playoffs | 10.2 | 2.9 | 2.8 | 1.0 | 42% | 39% |
| Per 36 (Playoffs) | 16.8 (18.0) | 7.2 (5.1) | 4.8 (4.9) | 1.2 (1.8) | 48.4%(42%) | 44%(44%) |
Cameron Payne By The Numbers
Statistics don't really mean much when it comes to the Western Conference Finals. On top of that, filling in for a guy like Chris Paul, it's not possible. No one on the Suns can bring the leadership, experience and overall presence that Paul brings to the team. However, if Payne can play above his normal level of play four a couple of games, the Suns should be able to keep cruising. If you look at Payne's stats per 36 minutes, his numbers are relatively similar to Paul's.
CP3 averages 18.1 points (per 36 minutes), 10 assists and 4.7 rebounds. Payne is right on par with Paul in terms of scoring and rebounding, but is a long way off in the assist department. Paul is also shooting a better percentage per 36 minutes in the NBA Playoffs, hitting 51% of all field goals, and 44% of his three-point attempts. Payne is well below CP3 in field goal percent at 42%, but right on par with a matching 44% from three. Now, after looking at the numbers overall, it's time to see if Payne can replicate what Chris Paul plays like on the court.
How Cameron Payne Can Be Effective Like CP3
Let's take a look at Chris Paul, in probably his second-best performance of the NBA Playoffs so far. He was better in the deciding Game 4, but let's throw that one out because of the Jokic ejection. The first thing you notice about Paul is he is one of the deadliest shooters in the the NBA from about 14-18 feet. His ability to fade away, and stay floating in the air for what seems like forever, cannot be replicated. It's one of the most incredible go-to shots a point guard has had since Magic Johnson's "baby hook."
However, Cameron Payne is able to replicate some of what Paul does. This is not a knock on Paul, but a lot of his assists are just regular passes to teammates who are in a position to score. In the video below, you can see that Payne is a gifted passer, with an eye for the open man. It's on display for Payne, as he dishes to Deandre Ayton (0:24 In), and the pass right after. In the video below, you can also see that Payne has a large first step, and can get to the bucket rather easily. As a younger and more athletic guard, he's able to finish among tall defenders quite well. I know, this is all great, but can we really expect this from Payne?
Steal a Page Out of Matthew Dellavedova's Book
Yes, Payne just isn't the same impact player on the court as Paul is. However, he can still make a huge impact with CP3 down. All he has to do is give a call to Australia's finest, Matthew Dellavedova. During his stint with Cleveland, when LeBron returned to the Cavs, he played in some big games.
He not only played in some big games, but he played well. With Kyrie Irving struggling with an injury, Delly stepped in during Game 6 of the Eastern Conference Semi-Finals in 2015. In the video below, you can see how Delly is effective.
He uses the defense's focus on the the other star players to find spaces to shoot, pass, and most importantly lob. Let's face it, lobs are very hot right now. Trae Young is making a career out of it in Atlanta, and it's in the tool bag of any decent point guard. Payne can allow the Clippers to focus on Devin Booker and Deandre Ayton, while he just stays patient and finds openings. He will also most likely to be guarding Reggie Jackson, who he can fluster and annoy all game while he tries to set up the offense.
The Bottom Line
Chris Paul being absent for at least the first game of these Western Conference Finals is a huge blow to the Suns. He's their leader, he gets everyone involved and his experience is crucial. However, while he will be missed, Cameron Payne is a more than capable back-up. He's actually had the two best years of his career, during these last two seasons in Phoenix. No one can replace Paul, but Payne doesn't have to "replace" him. All Payne needs to do is take what the defense gives him, be annoying on defense and, most of all, get the damn ball in the hands of Devin Booker.
Three Best Bets For Game 1
DeAndre Ayton 20+ Points (+280): Paul George is a very good defender, but when Devin Booker gets going, it doesn't matter much. Still with all the attention on Booker, look for Ayton to finish with at least 21. He's averaging at least 15 points per game in the playoffs. Look him to establish himself early.
Devin Booker 8+ Assists (+220): Unfortunately, Booker can't win the game on his own. He's not on that level yet. However, during the playoffs Booker has shown he's an above average passer. With Paul out, the load will be on Booker. Look for him to try to find Mikal Bridges often, while using the ever-popular lob to find Ayton. Easy Money.
Cameron Payne 15+ Points (-128): I wish I could find a better bet here than this, but it's what I landed on. I think Payne starts establishing himself late in the first quarter and early in the second half. Plus, take this wager, pair it with the other two (Devin Booker 8+ Assists & DeAndre Ayton 20+ Points) for a real winner (+4800).
Suns win Game 1, 98-85.
---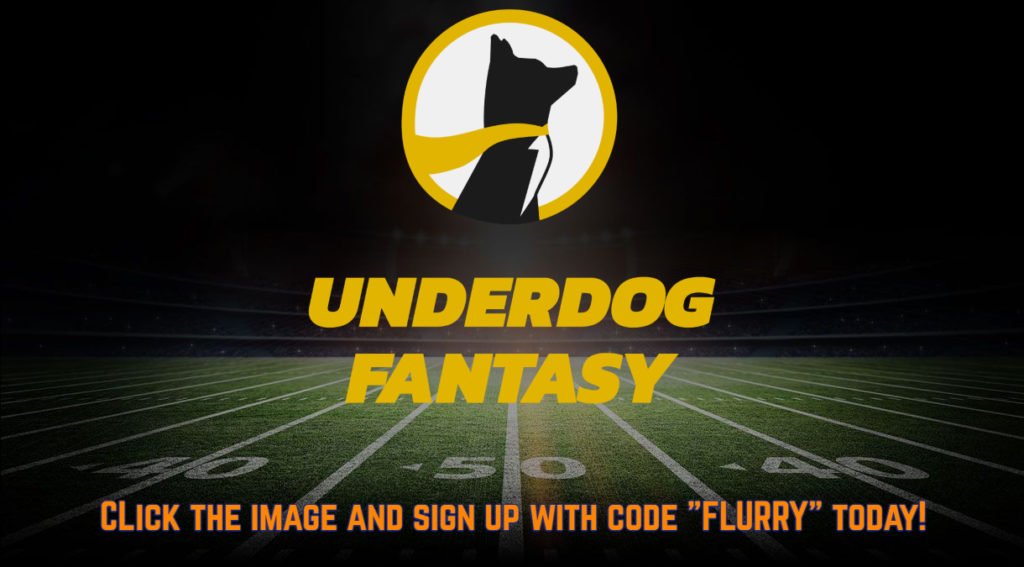 Underdog Fantasy is a new type of DFS that combines the fun of season-long drafts with daily fantasy sports. Aside from their fun, addictive draft mode, Underdog Fantasy also has pick'em player props for many different sports and athletes!
Click the image or RIGHT HERE to get signed up today, and don't forget to use the promo code FLURRY for a FREE $10 bonus on your first deposit!
---