In basketball and baseball, players are easy recognized due to them not wearing a face mask or helmet. This isn't the case for football, though. Fans are forced to recognize players through their number. NFL players have embraced this, sometimes creating controversy about what number they are going to wear.
This begs the question, who is the best active player wearing each number? Some of these selections were tough, like #12, while other numbers were pretty easy.
With that being said, lets take a look at the best active NFL player wearing each number, 1-99.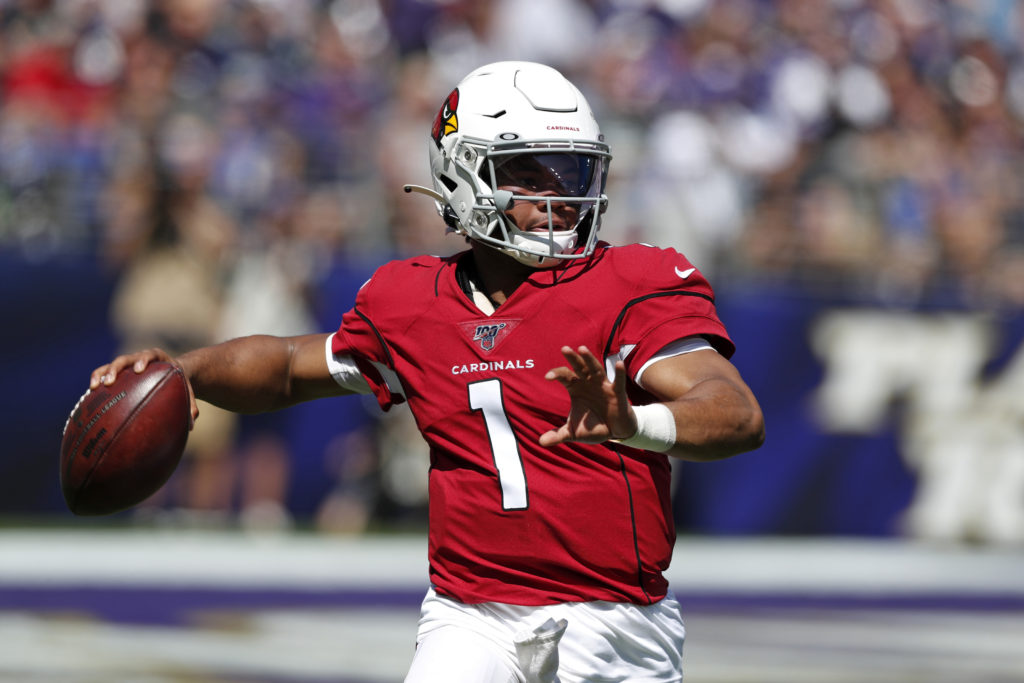 Best Active NFL Player at Every Jersey Number
1 – Kyler Murray
With Kyler Murray's breakout season, he has dethroned long-time #1 champ, Cam Newton.
2 – Darius Slay
In a recent jersey number switch, Eagles cornerback Darius Slay will switch to No. 2. He immediately becomes the best in the league to wear this number, usurping the worn down, overrated quarterback Matt Ryan.
3 – Russell Wilson
Since he was drafted, Russell Wilson has consistently been one of the best quarterbacks in the NFL. With Tyler Lockett and DK Metcalf, Wilson should have a flurry of options for years to come. Safety Budda Baker recently made his switch to three as well, through Wilson still is the best to wear the number.
4 – Deshaun Watson
Where will Deshaun Watson end up? Watson is a franchise-changing player. You have to think that he would be in the MVP conversation if Houston had just kept DeAndre Hopkins. Derek Carr and Dak Prescott present interesting arguments, but Watson is the guy here.
5 – Teddy Bridgewater
Teddy Bridgewater didn't have a great season at Carolina, and now he is on the way out. Christian McCaffrey going down didn't help, but Bridgewater didn't seem to provide much help for that offense. With the lack of options at this number, Bridgewater takes it by default.
6 – Baker Mayfield
Leading the Cleveland Browns to the playoffs is no easy accomplishment. Baker Mayfield still has some things to improve upon. But with punters and kickers as your main competition for number six, Mayfield easily takes this spot.
7 – Ben Roethlisberger
I'm sorry to all of you Taysom Hill and Younghoe Koo fans, but Big Ben is the option here. Roethlisberger hasn't retired yet, so he becomes the easy pick. He's a future Hall of Famer.
8 – Lamar Jackson
Lamar Jackson is the second-best rushing quarterback of all time, only behind Mike Vick. With Kirk Cousins' struggles lately, Jackson is the easy pick for number eight. The former MVP should be wearing purple and black for a very long time.
9 – Matthew Stafford
Matthew Stafford has always lied in Drew Brees' number nine shadow. With Brees retiring and Stafford moving to Los Angeles, the long-time Lions quarterback gets to prove that he is one of the best quarterbacks in the NFL.
10 – DeAndre Hopkins
In an offense that didn't seem to fit DeAndre Hopkins' style of play, he still recorded 1,400 yards. Being a big reason for Kyler Murray's development may keep Hopkins as a top-five receiver for years to come. Shout out to Tyreek Hill, too.
11 – Julio Jones
Someone get Julio Jones out of Atlanta! Matt Ryan's go-to guy is still a top-five receiver in the NFL. We haven't seen this combination of size and speed at the receiver position since Randy Moss.
12 – Aaron Rodgers
Who needs first-round draft picks to be used on receivers? Aaron Rodgers just cemented his third MVP season. Now, obviously the argument here is Tom Brady. What Brady lacks in talent, he makes up for in legacy. What Rodgers lacks in legacy, he makes up for in talent. When picking the best player, I'll take talent over legacy any day of the week.
13 – Mike Evans
Four receivers come to mind when you think of 13. Odell Beckham Jr., Kennan Allen, Michael Thomas and Evans. Beckham and Thomas dealt with injuries in most of 2020. Allen is one of the most underrated receivers in NFL history, but with Evans recording seven straight 1,000-yard seasons to start his career, he looks like the better pick.
14 – Stefon Diggs
Stefon Diggs is one of the elite route runners in the NFL, proven by his league-leading 1,535 receiving yards. This has translated well to his partnership with rocket arm, Josh Allen. Being able to get open on deep routes isn't easy, but Diggs' ability to be one of the best field stretchers in the NFL makes him an easy pick for number 14.
15 – Patrick Mahomes
Since his MVP year, Mahomes has been the best quarterback in the NFL. Outside of Aaron Rodgers, we haven't seen this combination of arm strength, accuracy and mobility in NFL history. It is fairly obvious that Mahomes is one of the best players in the NFL. The real question though, is Mahomes already a hall of famer?
16 – Tyler Lockett
Outside of Tyler Lockett and Jared Goff, this number isn't very deep. With Goff's recent struggles, Lockett is the pick here. He is the go-to guy for Russell Wilson and is capable of taking the top off of any defense at any time.
17 – Davante Adams
Remember when Davante Adams couldn't catch a ball to save his life? Adams emergence as one of the best receivers in Packers' history was proven this season by his 18 touchdowns in 13 and half games. Adams is the best receiver in the NFL and should be as long as Rodgers is in Green Bay.
18 – Justin Jefferson
Justin Jefferson just recorded one of the greatest rookie receiving seasons. Jefferson is a major target for Kirk Cousins and should be a major player in the NFC North.
19 – Adam Thielen
As a die hard Packer fan, it pains me to put two Vikings receivers back-to-back. Adam Thielen is sure-handed, which can be pretty difficult when Cousins isn't perfect.
20 – Jalen Ramsey
With two first-team All-Pro selections, as well as four Pro Bowl selections in his first five years in the league, Jalen Ramsey makes his claim as one of the best players in the NFL.
---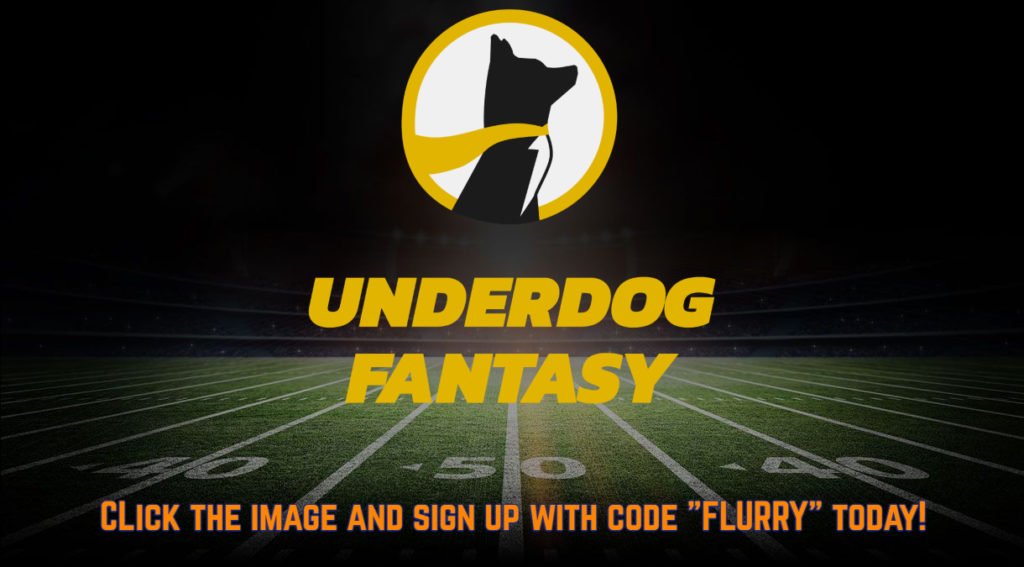 Underdog Fantasy is a new type of DFS that combines the fun of season-long drafts with daily fantasy sports. Aside from their fun, addictive draft mode, Underdog Fantasy also has pick'em player props for many different sports and athletes!
Click the image or RIGHT HERE to get signed up today, and don't forget to use the promo code FLURRY for a FREE $10 bonus on your first deposit!
---
21 – Ezekiel Elliott
Three guys come to mind when you think of number 21: Patrick Peterson, Denzel Ward and Ezekiel Elliott. The Cowboys RB had a down year last year, due in part to Dak Prescott going down. But with a long offseason and another season under Mike McCarthy, Elliott should pick up some of the slack in 2021.
22 – Derrick Henry
Last season's injuries have hurt Christian McCaffrey's argument as the best running back in football. His main competitor, Derrick Henry, just recorded the eighth 2000-yard rushing season. Henry's combination of size, speed and production is unmatched in NFL history.
23 – Jaire Alexander
Jaire Alexander only allowed 14 catches in the regular season last year. Six of them came in Week 1. The young star is arguably the best cornerback in the NFL, currently.
24 – Nick Chubb
The most underrated running back in the NFL is Nick Chubb. The Browns hit a wall in the middle of the season, but Chubb's return added what Cleveland needed to get to the playoffs. Stephon Gilmore's down season made this choice a little easier.
25 – Xavien Howard
Defensive Player of the Year? The 27-year old led the NFL with 10 interceptions last season. Xavien Howard looks like the leader of a Miami team that is getting close to competing.
26 – Saquon Barkley
The Giants were one offensive piece from winning the division last season. Saquon Barkley's early ACL injury obviously limited what the Giants could do offensively. When healthy, Barkley is one of, if not the best running back in football. When your main competition for 26 is Darnell Savage and Casey Hayward, you can afford to miss a whole season and still be number one.
27 – Tre'Davious White
The Bills' star defensive back had a down year last season, but his spot in the upper tier of defensive backs reigns large. Tre'Davious White is a reason that Buffalo is able to take chances to get after the quarterback. Malcolm Jenkins remains a large figure wearing this number as well.
28 – Josh Jacobs
Josh Jacobs narrowly edges out other young backs, Joe Mixon and Jonathan Taylor. Jacobs is the central point of Gruden's offense in Vegas.
29 – Malik Hooker
In an otherwise terrible number, the young Colts safety reigns supreme.
30 – Austin Ekeler
Austin Ekeler is one of the underrated backs in football. His ability to both run and catch passes plays a major part in the Chargers offense. Being able to give him the ball 20-25 times per game will positively affect Justin Herbert's development.
31 – Kevin Byard
Kevin Byard has quietly been one of the best safeties in the NFL. Last season, Byard recorded his second-lowest INT total, but recorded 111 tackles.
32 – Tyrann Mathieu
The honey badger is a ball hawk. He plays fast and he plays strong. Tyrann Mathieu lines up all around the field and is a huge reason why Kansas City's average defense plays above that average moniker.
33 – Dalvin Cook
This pick could've went either way with Dalvin Cook and Jamal Adams. What really puts Cook over the top was that he had a better 2020 season than Adams. You could make the case for either player and still be right no matter what side.
34 – Rex Burkhead
When the two options are Rex Burkhead and Terrell Edmunds, I'll take the guy who scores touchdowns any day of the week. Burkhead has been a do-it-all back for the Patriots the past few seasons, and he has earned this recognition.
35 – Gus Edwards
Mark Ingram leaving Baltimore opens up a spot for Gus Edwards to star in a more featured role. JK Dobbins and Edwards should be perfect complements to Lamar Jackson's rushing abilities.
36 – Chuck Clark
Let's move to the other side of the ball for the Ravens. Chuck Clark is a major player in the Ravens elite secondary, and he deserves to actually be recognized for it.
37 – Quandre Diggs
The Pro Bowler finished 2020 with five interceptions. Quandre Diggs is one of the better players on an average Seattle defense.
38 – TJ Carrie
With Xavier Rhodes joining and playing well for the Colts last season, TJ Carrie was allowed to thrive alongside him on the underrated Indy defense. Carrie allowed just a 57.5% catch rate last season.
39 – Minkah Fitzpatrick
A superstar at the safety position. Mikah Fitzpatrick, much like Tyrann Mathieu, is a ball hawk who always seems to end up with the ball in his hands. Fitzpatrick is a top three player on the Steelers' exceptional defense.
40 – Jarrad Davis
In one of, if not the worst number group, the new Jets linebacker takes the spot here.
---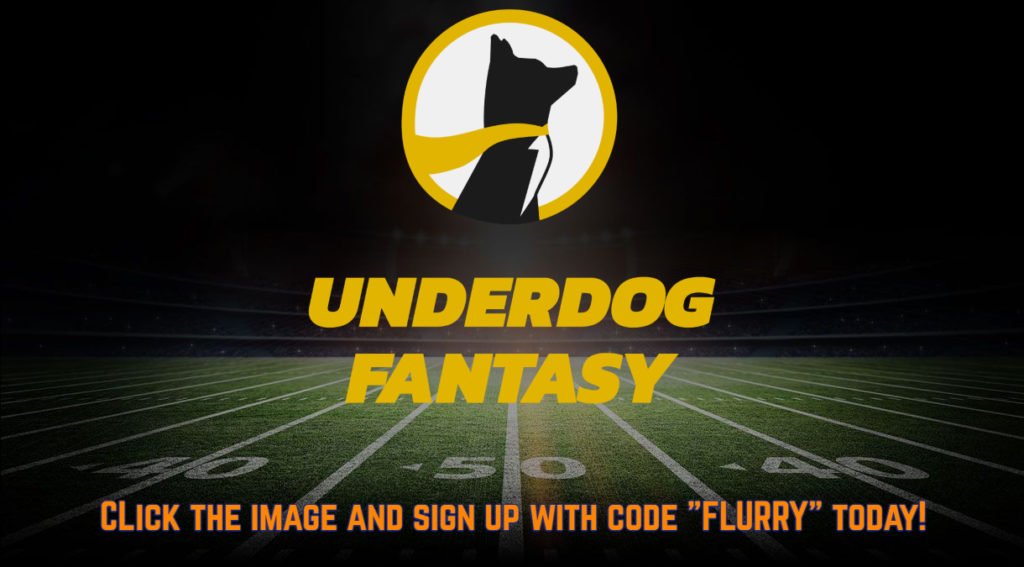 Underdog Fantasy is a new type of DFS that combines the fun of season-long drafts with daily fantasy sports. Aside from their fun, addictive draft mode, Underdog Fantasy also has pick'em player props for many different sports and athletes!
Click the image or RIGHT HERE to get signed up today, and don't forget to use the promo code FLURRY for a FREE $10 bonus on your first deposit!
---
41 – Alvin Kamara
Alvin Kamara became the second player in NFL history to rush for six touchdowns in one game. With Drew Brees gone, Kamara will have to be the focal point of Sean Payton's offense.
42 – Karl Joseph
While Karl Joseph has not lived up to his first-round draft position, he has started 49 games over the past five seasons.
43 – John Johnson III
The new Browns safety has become a star in the NFL. Last season, John Johnson recorded 105 tackles. He looks to lead this Cleveland secondary deeper into the playoffs next season.
44 – Marlon Humphrey
Marlon Humphrey may be one of the most overlooked defensive backs in the NFL. His ability to cover both outside and slot receivers has played well for Baltimore.
45 – Deion Jones
The Falcons linebacker is one of the fastest linebacker in the league. This is shown by his 106 tackles, four and half sacks and two interceptions in 2020. Deion Jones simply needs a little bit of talent around him.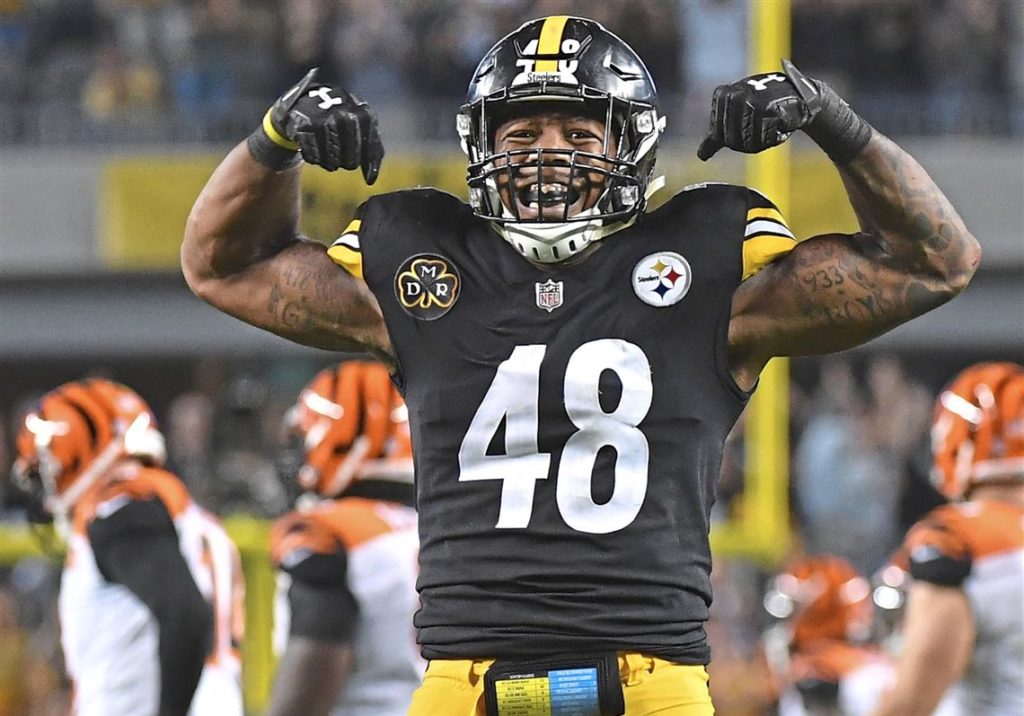 46 – Morgan Cox
In a disappointing number, the long-time Ravens long snapper takes the crown as King of 46.
47 – Joe Schobert
Joe Schobert switched his number when he signed with the Jaguars last season. The talented, underrated linebacker racked up 141 tackles last season.
48 – Bud Dupree
Bud Dupree's speed off the edge is a main reason why Pittsburgh was able to rush the quarterback as well as they did. He will look to jumpstart the pass rush in Tennessee this season.
49 – Tremaine Edmunds
Tremaine Edmunds has a lot of room for improvement, but he is an intriguing up and comer for a very good Bills team.
50 – Vita Vea
The huge defensive tackle missed time last season with a leg injury. Vita Vea is the anchor of the Tampa Bay defensive line, which is saying something, considering who he plays alongside.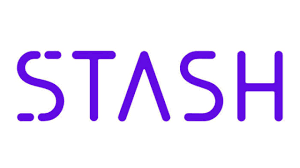 51 – Alex Mack
Alex Mack has been one of the best centers in the NFL for years now. His elite inside blocking has allowed Matt Ryan to throw for another 4,000 yards.
52 – Khalil Mack
Khalil Mack's third season with Chicago was a disappointing one, but his presence alone causes an instant double team.
53 – Darius Leonard
The Colts' star linebacker finished the 2020 season with 132 tackles. Darius Leonard's ability to lock down the middle of the field has been integral in Indianapolis' success, and he has clearly earned his nickname of "maniac."
54 – Bobby Wagner
The best linebacker in football continues to show his prowess on the football field. Bobby Wagner is the heart soul of the Seahawks defense.
55 – Chandler Jones
Injuries barred Chandler Jones from having another dominant season. But with him healthy and back in the mix, the Cardinals get that extra piece that can propel them to the playoffs next season. Prior to his shortened last season, Jones had racked up 60 sacks in his four seasons playing in the desert.
56 – Quenton Nelson
Quenton Nelson has shown that he is one of, if not the best linemen in football. His ability to get to the next level on his blocks opened up Jonathan Taylor to finish third in rushing, with 1,169 yards.
57 – CJ Mosley
The Jets' inside linebacker missed all but two games in 2020 with an injury. The six-year player has made four Pro Bowls and should provide a valuable piece to a rebuilding Jets team.
58 – Von Miller
Von Miller had a disappointing 2019 season, only finishing the year with eight sacks. He missed the entirety of the 2020 season with an injury. Still, he is one of the most feared players in the NFL, when he is on the field.
59 – De'Vondre Campbell
The Cardinals' inside linebacker finished last season one tackle shy of the century mark. De'Vondre Campbell should play a big part in the improved Cardinals defense this season.
60 – Mitch Morse
The veteran Bills' center has been a stead for in the Bills offense for the past couple years. Snapping the ball for both Patrick Mahomes and Josh Allen in his career, Morse is one of the better centers in the NFL today.
61 – Rodney Hudson
With the Raiders since 2015, Rodney Hudson has made the move to Arizona this offseason. The three-time Pro Bowler did not miss a snap in the 2020 season.
62 – Jason Kelce
The longtime Eagles' center just notched his fourth Pro Bowl appearance in seven years. While he may be nearing his end, Jason Kelce has been one of the few bright spots on the Philadelphia offense.
63 – Corey Linsley
The new Chargers All-Pro center was a major reason why the Packers offensive line was so good last season. He should be an instant difference maker in LA, with his athleticism playing a big role on outside running plays for Austin Ekeler.
64 – JC Tretter
Finishing our run on centers, JC Tretter has become a mainstay in the Browns offense. Playing four straight 16-game seasons, Tretter has been a lot of help in turning the Browns offense into one of the best rushing attacks in the league.
65 – Lane Johnson
The long-time Eagles tackle has blocked for many great running backs. With Jalen Hurts developing and a new head coach, Lane Johnson will be relied on to hold down the right side of the offensive line.
66 – David DeCastro
David DeCastro is often ranked as one of the best linemen in the NFL. Always part of high-powered Pittsburgh offenses, DeCastro has started 124 out of 125 games in his career.
67 – Justin Pugh
Justin Pugh is a major part of the Cardinals offense. With Kliff Kingsbury's up-tempo offense, Pugh will have to continue to play good ball. Pugh has the ability to play both guard and tackle, proved by his 14 starts at guard and two at tackle.
68 – Matt Skura
In order to have a great rushing attack, you need to have a strong center. The Ravens have had some of the best rushing offenses of all time the last couple years, with Matt Skura leading the offensive line.
69 – David Bakhtiari
The highest-paid offensive lineman of all time has become a very good friend of hall of fame quarterback Aaron Rodgers. David Bakhtiari is the premier left tackle in the NFL and will be in green and gold for years to come. Bakhtiari just notched his second First Team All-Pro appearance.
70 – Zack Martin
Zack Martin has been the best guards in the NFL over the past several seasons. Martin has blocked for elite rushing seasons, in the forms of Darren McFadden, DeMarco Murray and Ezekiel Elliott.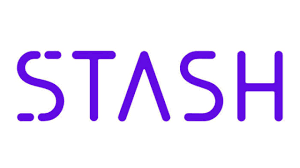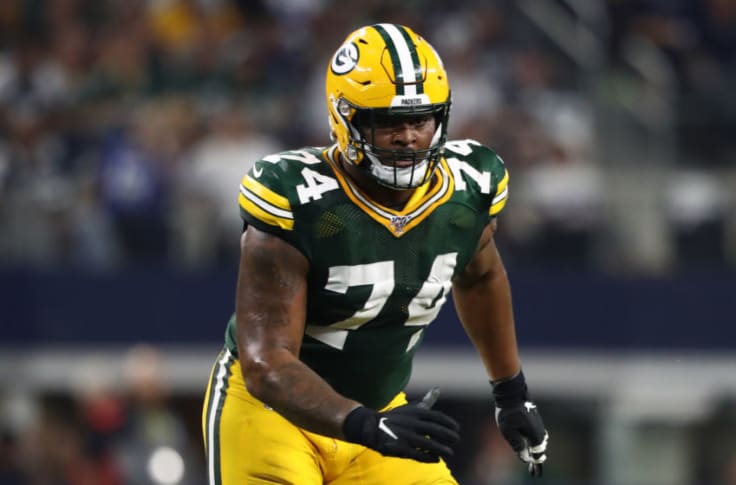 71 – Mitchell Schwartz
Mitchell Schwartz's career took off when the Kansas City Chiefs picked him up in 2016. Schwartz has locked down the right side of the offensive line for Patrick Mahomes and Alex Smith. Now, he plays the market and will sign with a new team soon.
72 – Terron Armstead
The 2013 third-round draft pick has been named to his third straight Pro Bowl in 2020. Blocking for Drew Brees, Alvin Kamara and Latavius Murray, Armstead looks like one of the better tackles in the NFL.
73 – Dion Dawkins
Dion Dawkins is a mammoth of human being. At 6-5, 320 lbs, Dawkins is almost impossible to get around. Josh Allen may not have a better partner to help him develop than Dawkins.
74 – Elgton Jenkins
One of the under-appreciated guards in the NFL, Elgton Jenkins was able to move around for the Packers when David Bakhtiari went down with injury last season. Jenkins' ability was shown when he locked down Aaron Donald in the divisional round.
75 – Joel Bitonio
The Cleveland Browns have one of the premier offensive lines in the NFL. Nick Chubb and Kareem Hunt have thrived behind the three-time Second Team All-Pro.
76 – Duane Brown
Duane Brown has hit a wall in his career after coming to Seattle. No. 76 isn't the greatest number for talent, but Brown's four Pro Bowls propel him to this spot.
77 – Tyron Smith
While his 2020 was quieted due to injuries, Tyron Smith, when healthy, is still the best player in the league at No. 77. He should compete for All-Pro status yet again this season.
78 – Jack Conklin
Jack Conklin has proved his ability to play in the NFL with both the Titans and Browns. He just received his second First Team All-Pro nod, and he is a massive reason why Cleveland was able to dominate opponents on the ground and in play action last season.
79 – Ronnie Stanley
Ronnie Stanley has justified his position as the number six overall pick in 2016. His ability to open holes for both the Ravens running backs and Lamar Jackson has been awarded with a First Team All-Pro appearance.
80 – Jarvis Landry
This is a surprising number that doesn't have a lot of talent outside of a couple slot receivers. Jarvis Landry is in the upper tier of number 80's with his 7,000+ yards in seven seasons.
---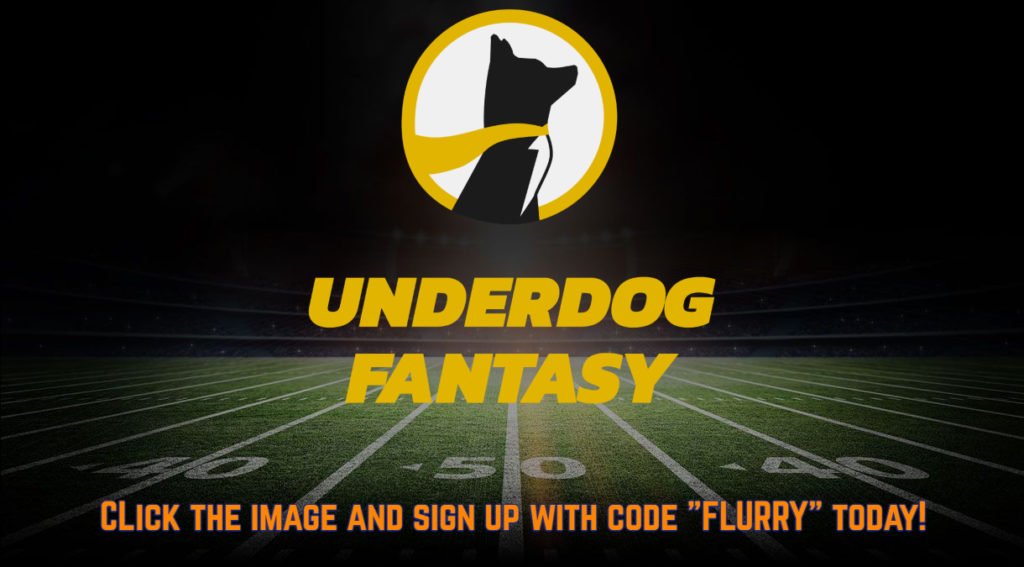 Underdog Fantasy is a new type of DFS that combines the fun of season-long drafts with daily fantasy sports. Aside from their fun, addictive draft mode, Underdog Fantasy also has pick'em player props for many different sports and athletes!
Click the image or RIGHT HERE to get signed up today, and don't forget to use the promo code FLURRY for a FREE $10 bonus on your first deposit!
---
81 – Austin Hooper
As the better receivers in the NFL have moved their numbers to the teens, tight ends have taken over the 80s. Austin Hooper is the best player to wear number 81 in the NFL. Hooper's first season in Cleveland resulted in 435 yards and four touchdowns in 13 games.
82 – Jamison Crowder
Jamison Crowder was one of the better players on the Jets last season. The slot receiver missed out on 700 yards by just one yard in 12 games played last season.
83 – Darren Waller
Darren Waller proved himself to be one of the best tight ends in the NFL last season. Waller was only one of two tight ends (Travis Kelce) to record 1,000+ receiving yards.
84 – Corey Davis
Corey Davis recorded his best season in the NFL in 2020. With an injury to AJ Brown, Davis proved that he can play the number one receiving role. He finished 2020 just 16 yards short of 1,000.
85 – George Kittle
Had injuries not taken away most of his 2020 season, George Kittle may be right up there in receiving yards with Kelce and Waller. What separates Kittle from the rest of the tight ends on his list is his exceptional blocking ability. This allows Kyle Shanahan to keep Kittle on the field for almost all of the offensive plays.
86 – Zach Ertz
Zach Ertz seems like he is going to be the transition receiver from Carson Wentz to Jalen Hurts. With Dallas Goedert coming into his own, it looks like Ertz is getting fazed out of the offense. Even so, Ertz is still looked at as one of the better tight ends in the NFL.
87 – Travis Kelce
Speaking of better tight ends in the NFL, Travis Kelce has already made his case as one of the best tight ends in NFL history. A 2020 season saw him finish second in receiving yards in the NFL.
88 – TJ Hockenson
The up-and-coming tight end, T.J. Hockenson, proved to be worth his first round selection. He finished 2020 with 723 yards and six touchdowns. With Jared Goff in town, Hockenson should see a lot more work, as Goff has been known to rely on short passes.
89 – Mark Andrews
Rounding out the tight ends on our list is Mark Andrews. He plays a vital role in the Ravens run-first offense. Andrews has become a favorite of Lamar Jackson in the red zone.
90 – TJ Watt
TJ Watt had a Defensive Player of the Year-type season 2020. Leading the Pittsburgh defense, Watt finished 2020 with 15 sacks. This earned him a spot in the Pro Bowl, as well as a First-Team All-Pro selection.
---
Follow us on all of our social channels! Check out our Twitter, Facebook and YouTube for more great FlurrySports content.
91 – Fletcher Cox
Fletcher Cox has been one of the best defensive tackles in the NFL since he was drafted. His combination of strength and athleticism has been a problem for teams who try to run on Philadelphia.
92 – Marcus Davenport
The young edge rusher oozes potential and should be a cornerstone for the Saints' defense. If Marcus Davenport can stay healthy, his speed alone should make Saints fans very happy.
93 – Calais Campbell
Calais Campbell still remains as one of the best defensive ends in the NFL. At 34 years old, he just received his sixth Pro Bowl nod.
94 – Cameron Jordan
On the other side of Marcus Davenport is veteran pass rusher, Cameron Jordan. The true leader of the Saints defense continues to bother NFC South quarterbacks. Drafted in 2011, Jordan has started every game in his career, except for one.
95 – Myles Garrett
Had he not gotten injured in the middle of the season, Myles Garrett might be talked about as the Defensive Player of the Year. While missing two games, the Browns edge rusher finished 2020 with 12 sacks.
96 – Shelby Harris
One of the only bright spots on Denver this season; Shelby Harris was forced to step up with Von Miller's absence. Harris established himself as a threat and one the better defensive tackles in the NFL.
97 – Nick Bosa
No. 97 is loaded. Kenny Clark has made his claim as one of the best defensive tackles in the NFL. Joey Bosa is a young superstar, but the pick here is Joey's brother, Nick. Nick Bosa immediately set himself apart as the best player on a loaded 49ers defense. With the strong offenses in the NFC West, Bosa has become one of the best players in the division.
98 – Maxx Crosby
This number is a tricky one, but the best current player to wear 98 is defensive end Maxx Crosby. Over his first two seasons with the Raiders, Crosby has racked up 17 sacks and 27 QB hits. The fourth-rounder has been one of the few pleasant surprises under this current Raiders regime.
99 – Aaron Donald
The best defensive player in the NFL has continued to be dominant at the defensive line position. While fighting through double and triple teams all season, Aaron Donald recorded 13.5 sacks.