It is officially 69 days until the official kickoff of the 2022 NFL season! As our official countdown here on FlurrySports, we will be releasing the best players to ever wear the jersey number of the number of days remaining. Follow along to keep track of how many days until the NFL season, and share who YOU think the best player to ever wear that jersey number is! Click here to see the best NFL players from yesterday.
With 69 days until the 2022 NFL season, we give you the best NFL players to wear #69. Of course, some of the all-time greats at this number will still be playing this season. They have the ability to continue rising up the list! The official ranking of these players is based on the Approximate Value (AV) from Pro Football Reference.
Without further ado, here are the all-time best players to wear #69 in NFL history.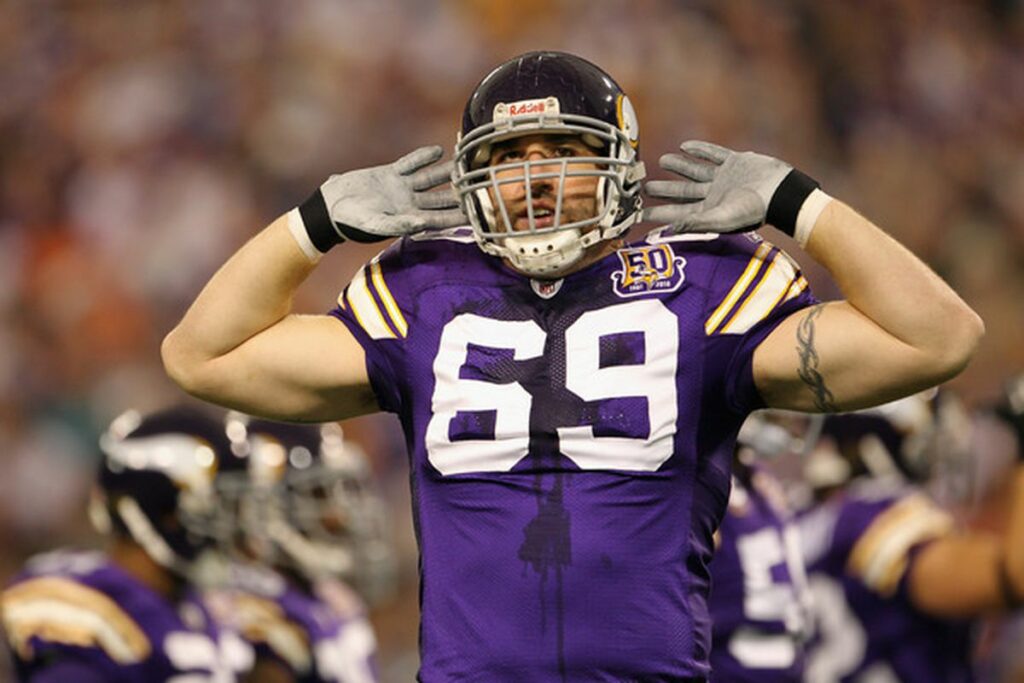 Best Players to Wear 69 in NFL History
1) Jared Allen, DE (2004-15)
NFL Draft: 2004, Round 4, Pick 126 to the Kansas City Chiefs
5x Pro Bowl | 4x All-Pro
136 Sacks, 648 Tackles, 32 Forced Fumbles
NFL Records for most career safeties (4), most safeties in a season (2) and most seasons leading the league in sacks (2).
2) Jon Runyan, OT (1996-2008)
NFL Draft: 1996, Round 4, Pick 109 to the Houston Oilers
1x Pro Bowl
192 Career Starts
3) David Bakhtiari, OT (2013-Present)
NFL Draft: 2013, Round 4, Pick 109 to the Green Bay Packers
3x Pro Bowl | 2x All-Pro
119 Career Starts
4) Jordan Gross, OT (2003-13)
NFL Draft: 2003, Round 1, Pick 8 to the Carolina Panthers
3x Pro Bowl | 1x All-Pro
167 Career Starts
5) Woody Peoples, OG (1968-80)
NFL Draft: Undrafted in 1965
2x Pro Bowl
153 Career Starts