Last weekend's NASCAR action at Charlotte Motor Speedway delivered in every way imaginable. The Memorial Day festivities were beautiful as always. The on-track racing action throughout the weekend was exhilarating. The long and wild Coca-Cola 600 was a memorable conclusion to the weekend and the month of May. Now, the NASCAR Cup Series is set to make its debut at World Wide Technology Raceway to kick off the June portion of the 2022 NASCAR schedule. The St. Louis-area track will host the NASCAR Enjoy Illinois 300 as its first-ever Cup Series race.
Joining the Cup Series stars at Gateway this weekend will be the Camping World Truck Series. Meanwhile, the NASCAR Xfinity Series is set to head out further west and race at Portland International Raceway. That will also be the Xfinity Series' debut event at the Oregon-based track. Two separate venues may be involved, but at the end of the day, it is yet another full weekend of NASCAR racing action!
Read on for the complete NASCAR Enjoy Illinois 300 schedule to find out when the cars will be on track throughout the weekend and get the start time for the NASCAR race today.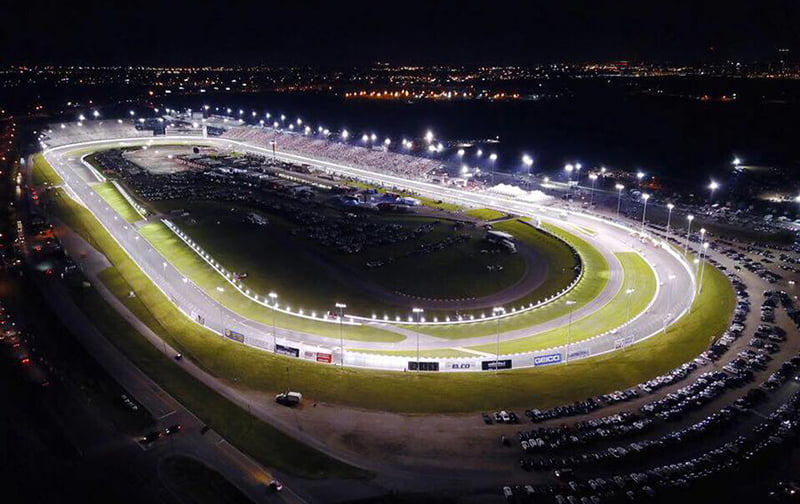 NASCAR Weekend Racing Schedule | Enjoy Illinois 300
Friday, 6/3
NASCAR Xfinity Series
Event: Practice
Start Time: 1 PM ET
Coverage: N/A
NASCAR Cup Series
Event: Practice
Start Time: 5 PM ET
Coverage: FS1
NASCAR Camping World Truck Series
Event: Practice/Qualifying
Start Time: 6 PM ET
Coverage: FS1
NASCAR Xfinity Series
Event: Qualifying
Start Time: 8 PM ET
Coverage: FS1
Saturday,6/4
NASCAR Cup Series
Event: Qualifying
Start Time: 11 AM ET
Coverage: FS1
NASCAR Camping World Truck Series
Event: Toyota 200
Start Time: 1 PM ET
Coverage: FS1
NASCAR Xfinity Series
Event: Pacific Office Automation 147
Start Time: 4:30 PM ET
Coverage: FS1
Sunday, 6/5
NASCAR Cup Series
Event: Enjoy Illinois 300
Start Time: 3:30 PM ET
Coverage: FS1
NASCAR Enjoy Illinois 300 Schedule and Race Info
NASCAR Camping World Truck Series
Toyota 200
Date: Saturday, June 4, 2022
Start Time: 1:30 PM ET
TV Coverage: FS1
Distance: 200 miles
Laps: 160
Defending Champion: Sheldon Creed
NASCAR Xfinity Series
Pacific Office Automation 147
Date: Saturday, June 4, 2022
Start Time: 4 PM EST
TV Coverage: FS1
Distance: 142.52 miles
Laps: 75
Defending Champion: N/A
NASCAR Cup Series
Enjoy Illinois 300
Date: Sunday, June 5, 2022
Start Time: 3:30 PM EST
TV Coverage: FS1
Distance: 300 miles
Laps: 240
Defending Champion: N/A