After nearly eight full months of racing, it all comes down to this. Each of the three NASCAR National Series will crown a 2022 season champion this weekend at Phoenix Raceway. The Championship 4 drivers from the Cup Series, Xfinity Series and Camping World Truck Series will all duke it out for their respective series titles. The weekend schedule kicks off on Friday night and concludes on Sunday afternoon with the 2022 NASCAR Cup Series Championship Race.
Last weekend's penultimate Cup Series race at Martinsville delivered one of the most incredible moments in NASCAR history as Ross Chastain pulled off the "Hail Melon" to secure a spot in the Championship 4. Chastain's epic final lap almost overshadowed the fact that Christopher Bell got the job done in a must-win scenario for the second time in these playoffs. A pair of former champions by the names of Joey Logano and this year's regular season champion, Chase Elliott, round out the Championship 4. Who will emerge from Phoenix Raceway with the title?
Continue reading for the complete 2022 NASCAR Cup Series Championship Race schedule and start times for the action-packed weekend on tap at Phoenix Raceway.
2022 NASCAR Championship Weekend Race and TV Schedule
Friday 11/4
NASCAR Camping World Truck Series
Event: Qualifying
Start Time: 6 PM ET
Coverage: FS1
NASCAR Xfinity Series
Event: Practice
Start Time: 7 PM ET
Coverage: USA
NASCAR Cup Series
Event: Practice
Start Time: 8 PM ET
Coverage: USA
NASCAR Camping World Truck Series
Event: Lucas Oil 150
Start Time: 10 PM ET
Coverage: FS1
Saturday 11/5
NASCAR Xfinity Series
Event: Qualifying
Start Time: 8 PM ET
Coverage: NBC Sports Live Extra
NASCAR Cup Series
Event: Qualifying
Start Time: 3 PM ET
Coverage: USA
NASCAR Xfinity Series
Event: NASCAR Xfinity Series Championship
Start Time: 6 PM ET
Coverage: USA
Sunday, 11/6
NASCAR Cup Series
Event: NASCAR Cup Series Championship
Start Time: 3 PM ET
Coverage: NBC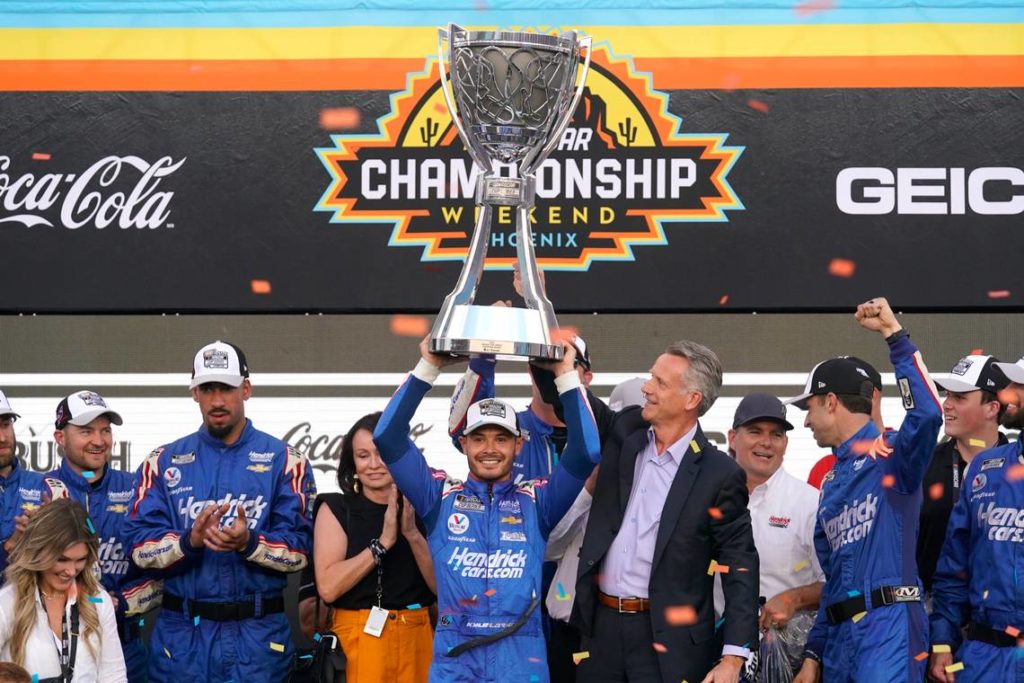 2022 NASCAR Cup Series Championship Schedule and Race Info
NASCAR Camping World Truck Series
Lucas Oil 150
Date: Friday, November 4, 2022
Start Time: 10 PM EST
TV Coverage: FS1
Distance: 150 miles
Laps: 150
Defending Champion: Chandler Smith (with Ben Rhodes winning series championship)
NASCAR Xfinity Series
NASCAR Xfinity Series Championship Race
Date: Saturday, November 5, 2022
Start Time: 6 PM EST
TV Coverage: USA Network
Distance: 200 miles
Laps: 200
Defending Champion: Daniel Hemric
NASCAR Cup Series
NASCAR Cup Series Championship Race
Date: Sunday, November 6, 2022
Start Time: 3 PM EST
TV Coverage: NBC
Distance: 312 miles
Laps: 3312
Defending Champion: Kyle Larson