Chicago Bears
Key FA: Prince Amukamara, Mike Glennon,
Rookies: Mitchell Trubisky, Adam Shaheen, Eddie Jackson
Key Losses: Alshon Jeffery, Brian Hoyer, Matt Barkley
Record: 5-11
There are a select few teams whose franchises are banished to football purgatory. The Chicago Bears are members of this never-ending cycle of bad draft picks/signings. The Bears finally made the decision to can Jay Cutler, who arguably was their number one problem. Also gone in Chicago are Brian Hoyer, and once hyped USC quarterback Matt Barkley. A team will only go as far as their quarterback can take them.
The Bears lived up to their bad free agent signings by inking quarterback Mike Glennon to a 3-year, 45 million dollar contract. One move I actually do agree with was drafting Mitchell Trubisky. Trubisky can come in and either start or sit behind Glennon and get a feel for the game. The NFC North as a whole is a weak rushing division, but Chicago is the one exception. Jordan Howard is looking to repeat his breakout rookie campaign in which he rushed for over 1,300 yards and 6 touchdowns. Ironically, the strength of the Bears rushing attack on offense is their weakness on defense.
The Bears' ranked 27th in rushing yards allowed almost allowing 2,000 yards! The secondary, on the other hand, just improved with the arrival of defensive back Prince Amukamara entering the starting lineup. I expect this to be a bridge year for the Bears and rookie quarterback Mitch Trubisky. With not much being done on the defensive side of the ball, I expect the Windy City to fall out of playoff contention considerably early in 2017.
Minnesota Vikings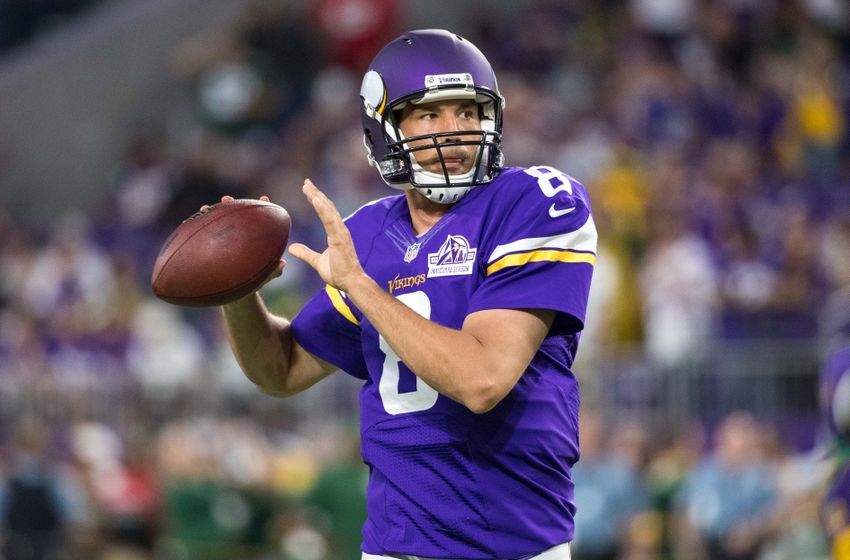 Key FA: Michael Floyd, Datone Jones, Latavius Murray, Riley Reiff, Mike Remmers
Rookies: Dalvin Cook, Pat Elflein
Key Losses: Matt Kalil, Adrian Peterson, Cordarrelle Patterson
Record: 8-8
The Vikings are one of those teams that has such great potential, but there's one thing that is keeping them from making a legitimate push, Sam Bradford. You can say all you want about having the most accurate season by a quarterback of all time, but when you hide behind a great defense and settle for check downs, short routes, and hand-offs, it makes Bradford's life a little easier, but hurts the offense as a whole. Like the rest of this list, the Vikings struggle to run the football. Minnesota's leading rusher in 2016 was Jerick Mckinnon with 539 yards and only two touchdowns, and the once great Adrian Peterson is headed to New Orleans this season. Initially Latavius Murray was brought in via free agency to be the lead back for the Vikings, but then the draft came along and Dalvin Cook was drafted early in the second round. Like I said previously, a team will only go as far as their quarterback can take them.
Quarterback is the most important position in the NFL, and with one of the best defenses in 2016, Bradford still found a way to keep his team out of the playoffs while setting an NFL record for completion percentage. Minnesota's defense will be locked 'n loaded entering 2017 and will need to be top of the line once again if the Vikings want to challenge for a playoff spot.
Detroit Lions
Key FA: T.J. Lang, Ricky Wagner, Paul Worrilow
Rookies: Jarrad Davis, Teez Tabor, Kenny Golladay
Key Losses: Riley Reiff, Larry Warford
Record: 9-7
Isn't it just fun to root for Detroit? After going an astonishing 0-16 in 2008, Detroit has bounced back to being a playoff team. The Lions have one of the grittiest quarterbacks in Matthew Stafford, who is headed for a big payday sooner rather than later. Detroit is a team similar to the New York Giants in the fact that their offense isn't the high-powered machine that it once was. The rushing attack for the Lions was horrendous last season with leading rusher Theo Riddick only totaling 357 yards on the ground. They were one of the worst rushing attacks in the NFL and that's why bringing in T.J Lang and Ricky Wagner was two difference-making aqcuisitions for the Detroit offensive line. The return of third year running back Ameer Abdullah can bring a threat to the rushing game that Detroit is seriously lacking and need in order to run a more efficient offense.
As for the Lions defense, a few pieces were brought into help fortified the middle of the road defense. Paul Worrilow is currently in the starting outside linebacker spot, and first round pick Jarrad Davis is the team's starting middle linebacker. The Lions defense was average in 2016, ranking 17th and 18th in both passing and rushing defense. With not much brought in, I expect the defense to be near the same as 2016
I Feel safe with the Lions making a wild card spot in 2017 because of Matthew Stafford's clutch ability to lead his team to victory. In 2016, Stafford had eight 4th quarter comebacks, so it's safe to say Stafford can get his team a win. If the defense can hold it's own, and Stafford can lead Detroit in some very key divisional games, then another wild card birth is in their sights.
Green Bay Packers
Key FA: Martellus Bennett, Davon House
Rookies: Kevin King, Josh Jones, Montravius Adams, Vince Biegel, Joe Williams
Key Losses: T.J. lang, Jared Cook, Micah Hyde, J.C Tretter, Eddie Lacy
Record: 10-6
Will Aaron Rodgers ever let the Packers fall out of playoff contention? It seems unlikely. The Packers haven't had a season with less than eight wins since the 2008 season. Green Bay was a team with no rushing attack in 2016, and that will continue to be the theme for the NFC North, excluding Chicago. The Packers' leading rusher totaled 457 yards after being a wide receiver converted to running back, yes Ty Montgomery played receiver up until week five. Fun fact for everyone reading, Aaron Rodgers had the most rushing touchdowns with a grand total of four in the 2016 regular season. The scary thing about this Packers offense is that they lost T.J Lang who is a very good lineman, and with the lack of success on the ground, that gives cheeseheads a reason to worry.
The defense lost safety Micah Hyde while being one of the worst pass-defending teams in the NFL. On the contrary, they were top-8  in rushing yards allowed, so the Green Bay defense did a great job at stopping the run. I did a lot of hating on the Packers in this preview, but there is one thing no other team has that the Packers are blessed with, Aaron Rodgers. Rodgers is the reason why the Packers will lead the division and make the playoffs once again. Not to mention their great weapons with NFL receiving touchdown leader Jordy Nelson, emerging wideout Davante Adams, slot man Randall Cobb, and newly acquired tight end Martellus Bennett. This passing attack will be a thing of beauty in 2017, but then again, when isn't it.