New York Jets
Key Acquisitions: Josh McCown, Kelvin Beachum, Morris Claiborne
Rookies: Jamal Adams, Marcus Maye, ArDarius Stewart, Chad Hansen,
Key Losses: Ryan Clady, Nick Mangold, David Harris, Ryan Fitzpatrick, Eric Decker, Brandon Marshall, Darrelle Revis
Record: 1-15
Looks like we have a competition for the #1 draft pick. The Jets hit the reset button this offseason and are dumping any high-paid players. With arguably the worst roster in the NFL, the Jets look to tank hard this season as they need a franchise quarterback. Josh McCown turns 300 years old this year, Bryce Petty looked abysmal in six games last season, and 2016 second-round pick (throws up in mouth) Christian Hackenberg can't manage to find the field, and is reported not being able to complete routine passes in OTA's. This offense is headed to arguably be one of the worst in recent memory.
Remember the good ol' days where the Jets were known for having a top-tier defense? It seems as though those days were 20 years ago with the way the 2017 roster is shaping up. Rookie Jamal Adams is looking to start at safety and will be in line for plenty of snaps. Muhammad Wilkerson and Sheldon Richardson are still on the team (for now) and Morris Claiborne was brought in to replace once elite corner Darrelle Revis.
Well, my heart is telling me to pull the trigger and say 0-16, but luckily for this pitiful-looking team, the Cleveland Browns are on the schedule. 2017 will be a long season for you Jets fans out there.
Buffalo Bills
Key Acquisitions: Micah Hyde, Patrick DiMarco, Steven Hauschka, Leonard Johnson
Rookies: Tre'Davious White, Zay Jones, Dion Dawkins
Key Losses: Robert Woods, Zach Brown, Stephon Gilmore, Nickell Robey-Coleman, Mike Gillislee
Record: 5-11
Where do I begin? Buffalo seems to be in a complete dumpster fire situation entering 2017. For starters, the offense does not have a reliable receiving core. Sammy Watkins has shown he can be uber talented, but it remains to be seen if he can stay healthy. Robert Woods has left in free agency, and rookie receiver Zay Jones will come in as the number 2. Jones holds the FBS record for career receptions while playing at East Carolina. It will be a test for Jones in his rookie season to see if he can be a legitimate weapon.
Tyrod Taylor signed a deal that looks to be a complete overpayment to the naked eye, but if you look at this season, Tyrod is only owed $8.6 million. This means if Buffalo decides to go in a different direction, they can cut Taylor and actually save a million dollars. Taylor's passing touchdowns were low with only 17 in 15 games but kept the picks down with only 6 while passing for barely over 3,000 yards. Let's also mention that LeSean McCoy is an elite running back, but his days at the top are closing fast. McCoy just turned 29 in July, and the rule about running backs is once they hit age 30, that's when they typically begin to decline. In McCoy's defense, he still looked like vintage Shady in 2016. I just worry with his skill set of being extremely quick and fast that it will vanish unexpectedly when he hits that famous age 30 seasons. If McCoy does not have the quickness that he had in 2016, what does he have to bring to the table?
Let's turn it over to the defensive side of the ball. Buffalo was a great pass-defending team in 2016 ranking 6th in yards allowed, but where it gets sour is the rush defense. The Bills rushing defense ranked 29th in yards allowed. Now jumping to 2017, I worry about the Bills secondary. Micah Hyde will come in and be an immediate factor being a versatile player. Rookie Tre'Davious White is the early favorite to start at corner. White played four years at LSU, where he totaled six interceptions in four seasons. Going from Pro Bowl corner Stephon Gilmore to Rookie Tre'Davious White will be a huge adjustment for the Bills defense.
I expect a down year for the Bills. Buffalo has simply lost too many key pieces and did little to replace them. The defense that flourished last year is on a dangerous path to becoming one of the worst in the AFC.
Miami Dolphins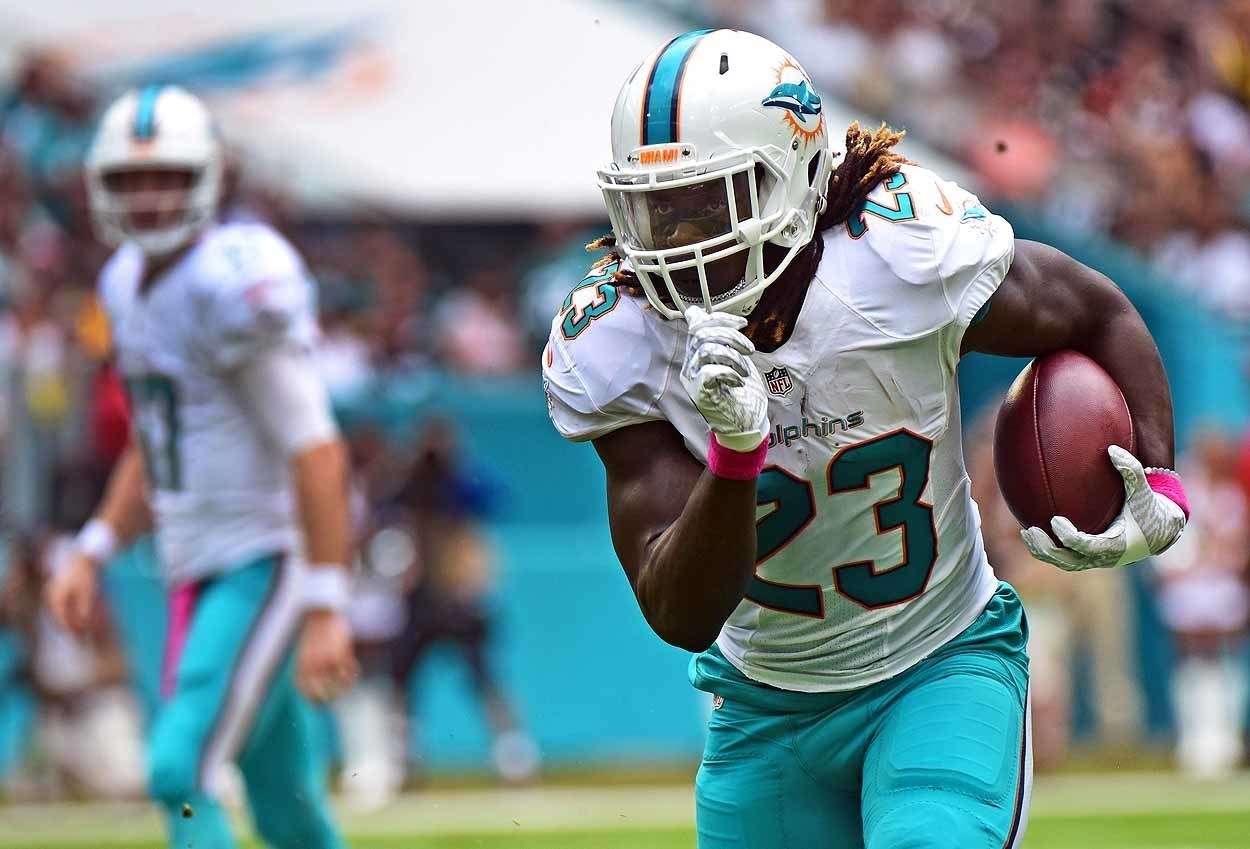 Key Acquisitions: TJ Mcdonald, Nate Allen, Lawrence Timmons, Julius Thomas, William Hayes
Rookies: Charles Harris, Raekwon McMillan, Cordrea Tankersley
Key Losses: Jelani Jenkins, Branden Albert, Mario Williams
Record: 10-6
Let's give a round of applause to the Miami Dolphins for actually making the playoffs in a division where the Patriots will not be beaten and won't finish second. The Dolphins' season was looking promising early with an 8-5 record until Ryan Tannehill slightly tore/sprained his ACL and MCL. Matt Moore came in to close out the season and started in the AFC wild-card round against the Pittsburgh Steelers. The Dolphins would ultimately lose the game 30-12 after Antonio Brown and Le'Veon Bell each went for two touchdowns.
Let's jump to 2017, a fresh brand new season with Ryan Tannehill ready to bring the Dolphins back into playoff contention. This is a huge season for Tannehill. The quarterback signed a 4-year, $77 million deal back in 2015. This looks to be a huge number, but it is deceiving since it's really only worth $21.5 million guaranteed. Up to this point, the 29-year-old quarterback has been underwhelming and hasn't taken the necessary leap to turn the Dolphins into a team ready to contend in the AFC. If Miami is ready to move on from Tannehill in 2017, it would leave $24.875 million in dead money, so it would be pointless to cut ties this season. As for 2018, his cap hit or dead money would only be $4.6 million. This would actually save the franchise a cool $15.2 million. I believe the Dolphins could use 2017 to see if Tannehill takes the next step, and if not, he could be off the roster. Enough talk of Ryan Tannehill, let's check out the rest of the offense.
Third-year running back Jay Ajayi had a great 2016 season for the Dolphins. While Ajayi had his share of big games (200+ yards in three games) he lacked consistency in his performances. 49 percent of Ajayi's rushing yards came in three games, which goes to show you the problem with him constantly being a big factor.
The Dolphins defense ranked in the bottom five in rushing and total yards allowed in 2016. Veteran linebacker Lawrence Timmons comes from Pittsburgh and looks to solidify the middle linebacker role. Timmons brings an immediate boost to the struggling rush defense, accounting for 100+ tackles in each season since 2012. Nate Allen looks to be in the starting safety spot next to Reshad Jones. Allen will likely be the fill in starter for the first eight weeks as T.J McDonald will be suspended. When McDonald returns, he too will become a huge factor in the rush defense as he ranked top-5 in tackles at the safety position last season.
New England Patriots
Key Acquisitions: Brandin Cooks, Dwayne Allen, Rex Burkhead, Stephon Gilmore, David Harris, Kony Ealy, Lawrence Guy
Rookies: Derek Rivers, Antonio Garcia, Deatrich Wise, Connor McDermott
Key Losses: Martellus Bennett, Logan Ryan, LeGarrette Blount, Chris Long, Jabaal Sheard
Record: 13-3
What is there new to say about the New England Patriots offense? It's going to be high-powered, much like it has been for the past decade. Brandin Cooks comes in and is the one piece that this stellar offense was missing. New England has been missing a true home run threat, and Cooks will come in and be that. In 2016, Tom Brady threw eight passes of 40+ yards. In 2016, Brandin Cooks caught six passes of 40+ yards from Drew Brees. Brady will look to use his weapon as a burner to take the top off the opposing defenses, which could help the Patriots' questionable running game entering 2017.
A new cog in the Pats offense will be at running back. LeGarrette Blount left in free agency after a 1,161 yard, 18 touchdown season. Dion Lewis and Super Bowl hero James White remain on the roster while former Bengal Rex Burkhead and former division rival Bills running back Mike Gillislee were brought in this offseason. The early favorite for the lead back role is Mike Gillislee, as he has shown a lot of potential behind LeSean McCoy in Buffalo and has a similar skill set to Blount.
The Patriots defense was a shocker to me in 2016. They were top-10 in yards allowed and ranked 3rd in points per game. Not to say they don't have talent, but on the contrary, I actually didn't realize how stacked that defense really is. Losing Logan Ryan would have been a huge blow to the secondary, but they found a replacement in Pro Bowl cornerback Stephon Gilmore. He will play alongside and learn from Devin McCourty, who ranked number 1 in pass coverage out of all qualifying safeties according to Pro Football Focus.
New England added pass rusher, Kony Ealy, in a trade with Carolina. Ealy has earned 14 sacks in three NFL seasons. This defense will be great like it was in 2016 (outside of the first half of the Super Bowl). A quick shout-out to 3rd round pick Derek Rivers. Rivers and I actually attended the same college at Youngstown State University. I have never spoken a word to him, but since we both went to the same university, were actually best friends. That's how that works, right?