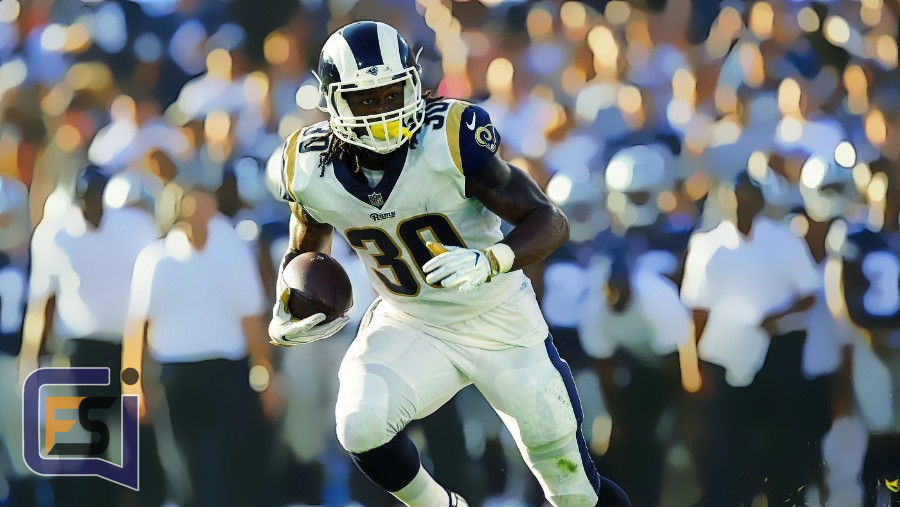 LAR @ NO – GAME TOTAL 57.5 (LAR -2)
This Week 9 matchup between the Los Angeles Rams and New Orleans Saints features the highest implied total on Sunday at a whopping 57.5 points. Over the past several years, the Superdome has held its fair share of high-scoring games. If the Superdome were a race track on the NASCAR circuit, it would be Talladega.
Offensive talent is everywhere in this game,and if it lives up to the hype, there should be a ton of fantasy points scored in this contest between these two teams. With so many players offering fantasy potential in this game, this is one matchup that can easily be stacked using any number of player combinations. What follows will hopefully help you comb through some of the data to make solid roster selections.
Before reviewing the possible fantasy options in this game, just a couple of quick notes about the data included in this write-up.
All the data included in this article is provided courtesy of FantasyData.com. All points allowed, points scored, and pricing is based on DraftKings data. In addition, all positional rankings and rankings for points allowed to each position is based on a points per game basis.
With that bit of housekeeping out of the way, let's take a look at some of the fantasy relevant players in this game.
QUARTERBACKS
DraftKings Points Allowed to QBs – LAR 17.0 (27th); NO 26.7 (4th)
Los Angeles Rams: Jared Goff, $6000 (QB9)
In Week 9, Jared Goff comes into this matchup as the 6th highest priced quarterback on DraftKings (DK). On the season, he is averaging 21.4 completions, 31.6 attempts, 303.1 passing yards, 2.1 touchdowns, 0.6 interceptions, and 22.8 DK points per game.
Interestingly enough, in his four home games, Goff has thrown a total of 12 TD passes and is averaging a solid 30.2 points per game. However, in the four games he has played on the road, he has only thrown 5 TD passes and his average points per game drops to 15.4. In each of his road contests, his scores have ranged from a low of 8.4 to a high of 19.3.
Through the first eight weeks of 2018, the Saints are allowing the 4th most DK points to opposing quarterbacks at 26.7 per game. They have allowed three QBs to score more than 24.0 DK points. That group includes Ryan Fitzpatrick with 45.28, Matt Ryan with 43.16 and Kirk Cousins with 24.66. While those are certainly some beefy fantasy totals, in their other four games the Saints have held Tyrod Taylor, Eli Manning, Alex Smith, and Joe Flacco to 19.6 or less.
New Orleans: Drew Brees, $6100 (QB9)
While Jared Goff is this week's 6th highest priced QB on DraftKings, his counterpart Drew Brees is this week's 5th highest priced quarterback.
Though the first seven games, Brees is averaging 26.9 completions, 34.7 attempts, 284.3 passing yards, 2.0 touchdowns, 0.1 interceptions, and 22.8 DK points per game. Brees also has two rushing TDs on the year which both occurred in Week 3 against Atlanta.  As you might have noticed, both Goff and Brees are averaging the same amount of DraftKings points on the year and are tied for the 9th highest point per game scoring average among quarterbacks.
At the midpoint of the season, Brees has thrown at least 2 TD passes in five out of seven games and 3 TD touchdown passes in three out of seven. He also has three games with 30.0 or more DK points (including one with 43.54), but also has two with 8.6 or less. Nevertheless, just like Goff, Brees has been better at home than on the road. In his three home games he is averaging 30.3 completions, 36.3 attempts, 348.3 passing yards, 2.7 touchdowns, 0.0 interceptions, and 27.6 DK points per game.
In Week 9, Brees will face a Rams defense that is currently allowing the 6th fewest points to opposing quarterbacks at 17.0 DK points per game. However, this average includes a horrendous 2.6 point game put up by Sam Bradford in Week 2 and a 9.1 outing by Beathard in Week 7. Perhaps the Rams defense is solely responsible for causing the terrible fantasy outings by those two players, but if we remove those games from consideration, they have allowed 20.7 to the other six QBs they have faced. This revised average would move their rank up from #27 to #11.
The other thing to consider this week is how the Saints offense has changed over the past three weeks. While it is a small sample size, it's worth noting that according to Sharp Football Stats, over the first four weeks of the season the Saints run-pass ratio was 36% rushing to 64% passing. Since Ingram returned in Week 5, these numbers have flipped and over their last three games they have passed on 46% of their plays and rushed on the other 54%. Regardless, if the actual score hits the over on the projected game total, this trend may get thrown out the window.
RUNNING BACKS
DraftKings Points Allowed to RBs – LAR 22.3 (22nd); NO 19.0 (28th)
Los Angeles Rams: Todd Gurley, $9500 (RB1)
At the midpoint of the 2018 season, Todd Gurley has been simply dominant. His complete game log for all eight of his matchups is shown below, but as the data shows, he has scored at least 25.6 DK points in every game and more than 30.0 in five of those contests.
Perhaps even more impressive, he leads all backs with 169 rushing attempts. The next closest running back in this department is Kareem Hunt with 134. Both Gurley and Hunt have each played a total of eight games. Gurley also is tied for 7th among RBs with 42 receiving targets and is 5th in receiving yards with 351. Best of all, he has scored a total of 15 TDs (11 rushing and 4 receiving) on the year and has at least one rushing or one receiving touchdown in every game and has scored two or more TDs four times.
While Gurley has been simply amazing, this matchup against the Saints run defense might be the toughest test he has faced this season. New Orleans is currently allowing the 5th fewest (#28) DK points to running backs at 19.0 per game. So far, the only running backs that have been able to score more than 20.0 DK points against this defense were Saquon Barkley with 22.0 in Week 4 and Latavius Murray with 20.5 in Week 8. None of the other backs that they have faced has scored more than 12.7.
As good as the Saints run defense has been, Gurley is a unique running back with a unique skill set and should still have a solid game. The real question that you will need to answer is do you believe more in Gurley's ability to get the job done at his price point or do you believe the Saints rush defense is as good as the numbers suggest. One way or the other, we are about to find out.
New Orleans: Alvin Kamara, $7300 (RB3); Mark Ingram, $5000 (RB22)
Whereas the Rams backfield features one workhorse running back, the Saints have two solid options in the form of Alvin Kamara and Mark Ingram. The table below shows the season-long averages for both players.

While these numbers paint a certain picture, it is somewhat of a mirage due to the fact that Ingram was suspended for the first four games of the season. While Ingram was out, Kamara dominated the touches out of the backfield and averaged 36.3 DK points per game. Much of Kamara's early season success was actually tied to the Saints passing attack as he was seeing almost 12 targets per game. Kamara's totals from Weeks 1 through 4 are shown below.

However, with Ingram back in the fold, Kamara's overall numbers have dipped. The table below shows the per game averages for each player over the Saints past three games.

As was mentioned earlier, since Ingram's return, the Saints run-pass ratio the past three weeks is almost opposite of what it had been to start the season and they are now rushing the ball on 54% of their plays. Both running backs are averaging 16 touches since Ingram's return as the Saints have leaned hard on the run.
On the season, the Rams are allowing the 11th fewest (#22) DK points to running backs at 22.3 per game. They have also not allowed any single running back to score more than 16.9 against them this this year. However, when you consider the high-implied point total in this game and the potential volume of work that both Ingram and Kamara are likely to see on Sunday, they are both worthy or roster consideration in this matchup.

WIDE RECEIVERS
DraftKings Points Allowed to WRs – LAR 36.1 (21st); NO 55.0 (1st)
Los Angeles Rams: Robert Woods, $7000 (WR15); Brandin Cooks, $6700 (WR24); Cooper Kupp, $6000 (WR16)
The good news for the Rams heading into Week 9 is that Cooper Kupp no longer carries an injury designation and is good to go on Sunday. Kupp sustained a sprained MCL early in the game in Week 6 against the Broncos. This will mark the first time that Goff will have his full complement of wide receivers since the end of Week 5.
On a per game basis, the trio of Robert Woods, Brandin Cooks, and Cooper Kupp provide Jared Goff with three Top 25 fantasy scoring wide receivers to work with and he may need all of them against the Saints. On the season, Woods has averaged 18.7 DK points per game, Cooks has averaged 15.1, and Kupp has averaged 18.2. Each of their season long averages is shown below.
Over their first seven games, the Saints pass defense is giving up the most DraftKings points to opposing wide receivers at 55.0 per game. They have allowed some huge individual performances to opposing wide receivers this year. This group includes DeSean Jackson (34.6), Mike Evans (30.7), Calvin Ridley (43.5), Sterling Shepard (25.7), John Brown (29.4), Stefon Diggs (30.9), and Adam Thielen (26.8). To help illustrate this even further, the table below shows the team totals for each of their opponents (players are listed in order from most to least DK points scored in each game).
Needless to say, even with the addition of Eli Apple who was traded to New Orleans a couple of weeks ago, the Saints defense is vulnerable to opposing passing attacks. The only real question is which of the Rams wide receivers will be able to take advantage of the situation. Based on the data shown in the table above, it appears that the Saints have had particular trouble with the burner type wide receivers followed by the primary target hogs.
New Orleans: Michael Thomas, $7600 (WR6); Tre'Quan Smith, $4200 (WR90); Cameron Meredith, $3500 (WR107)
Although the Saints have three capable pass catchers, Michael Thomas is the clear leader of this wide receiver corps. While Ingram was serving his four game suspension, Thomas took full advantage of the situation and over the first four weeks, he caught an average of 10.5 passes and scored 27.1 DK points per game.
Unfortunately, when Ingram returned in Week 5, Thomas never quite exhibited the same level of fantasy dominance he showed over the first few weeks of the season. Over the Saints last three games, Thomas has only averaged 5.3 receptions on 6.7 targets and 14.8 DK points per game. The table below shows Thomas' splits over each of these two parts of the season.
Coinciding with Ingram's return in Week 5, the Saints also lost Ted Ginn Jr. to a knee injury which potentially opened the door for rookie Tre'Quan Smith or Cameron Meredith to earn a larger role in the passing game. Despite this potential opening, neither player has been able to capitalize on the situation. With Ingram back and Ginn out, both Smith and Meredith's per game averages for Weeks 5 through 8 are shown below.

While Tre'Quan Smith's numbers appear to be serviceable, keep in mind he had a 3 reception, 111 yard, 2 TD performance against Washington in Week 5 which was good for 29.1 DK points. Since that game, he has only caught a total of 6 passes on 10 targets and hasn't scored more than 7.4 DK points in either of the two games since.
Cameron Meredith is perhaps even less reliable. Since scoring 11.1 DK points against Washington, he has zero receptions and hasn't been targeted in either of the Saints last two games. It's certainly possible that one of these two players could have a decent day in this game, but they are GPP dart throws at best.
On the season, the Rams are allowing the 12th fewest DK point to opposing wide receivers at 36.1 per game. Although their ranking against wide receivers looks imposing, several players have achieved above average fantasy performances against the Rams this season. This group includes Mike Williams (24.1), Adam Thielen (30.5), Stefon Diggs (26.3), Tyler Lockett (19.4), Emmanuel Sanders (27.5), and Davante Adams (21.3).
TIGHT ENDS
DraftKings Points Allowed to TEs – LAR 12.4 (16th); NO 8.3 (29th)
Los Angeles Rams: Tyler Higbee, $2600 (TE65); Gerald Everett, $2600 (TE64)
The Saints are allowing the 4th fewest points to TEs at 8.3 DK points per game. Based on this matchup and due to the fact that the Rams don't use their tight ends in the passing game with any frequency, neither of these players should be considered as roster options for this weekend. Tyler Higbee is only averaging 2.4 DK points per game and Gerald Everett is averaging 2.5. You can safely avoid both of these tight ends on Sunday.
New Orleans: Benjamin Watson, $3200 (TE24)
Although the Rams tight ends leave much to be desired from a fantasy perspective, Benjamin Watson at least has a few decent games under his belt this season. Prior to last week's zero target game against the Vikings, Watson had received at least 3 targets in every contest and had five games with 4 or more. Over this same span, Watson scored 8.4 or more DK points in three games and over 12.1 in two of those three. Watson's season long averages can be seen in the table below.

On the season, the Rams are allowing the 16th most points to tight ends at 12.4 per game. While there are probably better options at the position this weekend, Watson does offer some upside given the high implied point total in this contest but is best suited for use in GPPs.
GAME STACK CONSIDERATIONS
Los Angeles Rams: Jared Goff, Todd Gurley, Robert Woods, Brandin Cooks, and Cooper Kupp
New Orleans: Drew Brees, Alvin Kamara, Mark Ingram, Michael Thomas, Tre'Quan Smith (GPPs), and Benjamin Watson (GPPs)
More Articles
Week 9 Fantasy Football Rankings
Rams vs. Saints — Preview and Prediction
The Oakland Raiders and Derek Carr