With less than four weeks remaining before the WCC basketball tournament in Las Vegas, things continue to heat up around the conference. The first of two meetings between Gonzaga and Saint Mary's basketball drew the spotlight this past week. With first place in the WCC basketball standings on the line, the two teams battled into overtime before the Gaels managed to prevail at home. Meanwhile, Santa Clara and BYU are among the other teams that continue to jockey for position behind the top two.
Let's have a look at the top headlines from around the West Coast Conference. The following article also includes the updated WCC basketball standings as well as some key upcoming games to watch in the conference this week.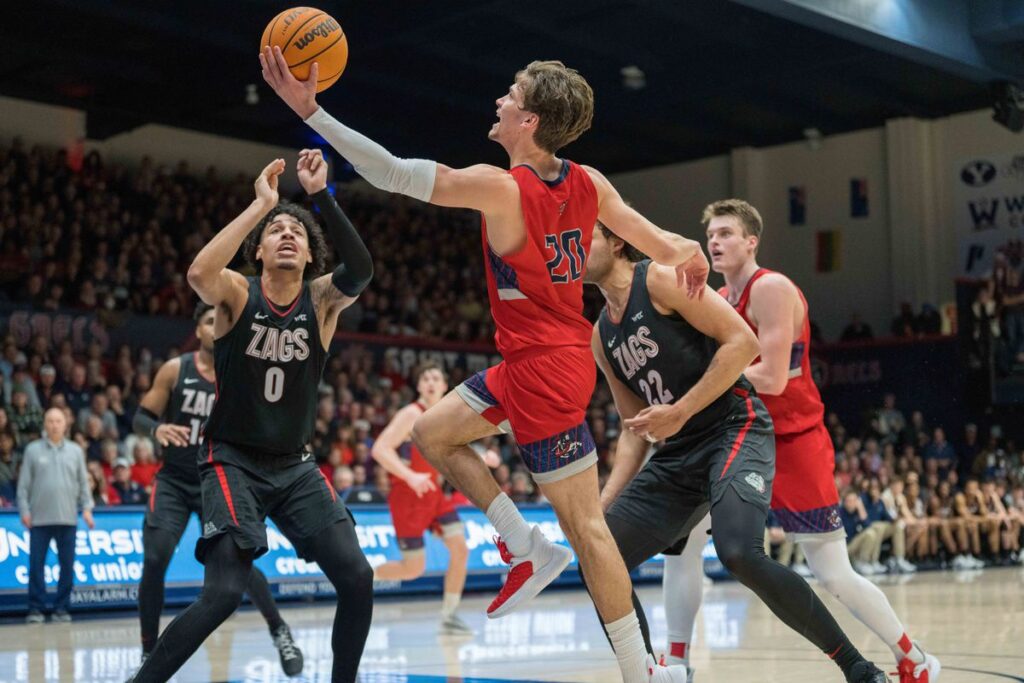 WCC Basketball News and Weekly Headlines
Saint Mary's Knocks Off Gonzaga to Extend Lead Atop WCC Basketball Standings
Thanks to the sustained success of the Gonzaga and Saint Mary's basketball programs, it's always must-see television when the two schools collide. The latest installment of this rivalry which took place on Saturday night was no exception. The two teams came into the contest separated by a single game for the top spot in the WCC basketball standings.
In the first half, Gonzaga largely dictated terms. Drew Timme had one of the worst games of his collegiate career when the teams met in Moraga last year. This time around, it was a different story. The Bulldogs were able to penetrate the paint and score at the rim on countless occasions early on.
After halftime, it was a different story as the Gaels were able to cut off Gonzaga's interior penetration. However, it continued to be tough sledding offensively. Up until the 6:30 mark, Aidan Mahaney had scored all of two points and was having a miserable shooting night. As he has so often this season, the hometown kid put his best foot forward in clutch time when Saint Mary's needed it the most.
Mahaney's jumper with less than two minutes remaining tied the game at 59 apiece. After Julian Strawther's bucket put Gonzaga back on top, Mahaney was able to thread a spectacular pass to Mitchell Saxson for a layup with five seconds to go to force overtime.
In the extra period, the Gaels' backcourt trio of Mahaney (18 points), Alex Ducas (14) and Augustus Marciulionis (five points in OT) rose to the occasion and Saint Mary's pulled away for a 78-70 victory. With the win, Randy Bennett's team stayed perfect in conference play and now owns a two-game lead over Gonzaga for the top spot in the WCC basketball standings.
Santa Clara Trounces Rival San Francisco to Snap Losing Streak
Coming into Saturday night's contest, Santa Clara basketball was in desperate need of a victory. A three-game losing streak had seen the Broncos slip below .500 in the WCC basketball standings. As it turned out, a showdown against rival San Francisco proved to be just the medicine that Herb Sendek's team needed.
When it comes to backcourt tandems in the West Coast Conference, Santa Clara's Brandin Podziemski and Carlos Stewart are often overlooked. The truth of the matter is that this duo stacks up with any in the WCC. Podziemski stuffed the stat sheet full on Saturday night with 23 points, 10 rebounds, four assists and five steals while Stewart led all Broncos players with 25 points in a masterful 83-70 victory over San Francisco.
Throughout the season, Santa Clara basketball has struggled to get consistent production from its bench, particularly at the offensive end. That was hardly the case on Saturday as numerous SCU reserves were able to make an impact. The Broncos also dominated on the boards (46-32 advantage) and did a tremendous job of defending the 3-point line which is where USF makes its living offensively.
Khalil Shabazz knocked down six 3-pointers on his way to scoring a game-high 31 points for the Dons in defeat. He also corralled eight rebounds. Fellow senior Tyrell Roberts finished with 17 points and six boards.
BYU Overwhelms Pacific at Home
This week took on the feel of a gut check for BYU basketball after a three-game losing streak. Needless to say, Mark Pope's team responded about as well as it possibly could have. The Cougars dominated Loyola Marymount on Thursday to put an end to the losing skid. Then, on Saturday night, BYU earned another double-digit home win by knocking off Pacific 81-66. Coupled with LMU's loss at San Diego, the two teams are now tied for third in the WCC basketball standings.
Unlike the wire-to-wire win over LMU, it took BYU a little bit longer to get going on Saturday. In fact, Pacific jumped out to an early five-point lead before the Cougars finally got on the scoreboard over two and a half minutes into the game. Fousseyni Traore chalked up yet another double-double stat line with 19 points (70% shooting) and 12 rebounds to help BYU overcome the slow start and pull away. Gideon George also posted a double-double line with 12 points and 10 boards.
For the second straight game, Pope elected to have Jaxson Robinson come off the bench. Although he didn't shoot quite as efficiently as he did against LMU, Robinson was still effective and finished with 11 points. BYU is now 2-0 with two double-digit victories since this adjustment was made. Will this lineup switch continue this week when the Cougars hit the road to face Gonzaga?
For Pacific, Jordan Ivy-Curry scored 11 points and snared 11 rebounds in just 19 minutes off the bench. It was an uncharacteristically poor offensive performance for the Tigers overall.
Updated WCC Basketball Standings
| | | |
| --- | --- | --- |
| Team | Conf. Record | Ovr. Record |
| Saint Mary's | 10-0 | 21-4 |
| Gonzaga | 8-2 | 19-5 |
| Loyola Marymount | 6-5 | 16-9 |
| BYU | 6-5 | 16-10 |
| Santa Clara | 5-5 | 17-8 |
| Pacific | 5-5 | 12-13 |
| Portland | 4-7 | 12-14 |
| San Francisco | 4-7 | 15-11 |
| San Diego | 4-7 | 11-14 |
| Pepperdine | 1-10 | 8-17 |
Upcoming WCC Basketball Games to Note
Now with a two-game lead at the top of the standings, the pressure will be on Saint Mary's to continue taking care of business. As things currently stand, the Gaels are in a position to win their first outright WCC basketball regular season title since the 2011-12 season. Behind the top two, the battle for a double-bye in the WCC Tournament continues to intensify. This week's showdown between Loyola Marymount and Santa Clara will carry major implications.
San Francisco at Gonzaga
Date: Thursday, Feb. 9
Time: 9 p.m. EST
TV Coverage: ESPN2
Saint Mary's at Loyola Marymount
Date: Thursday, Feb. 9
Time: 9 p.m. EST
TV Coverage: WCC Network
BYU at Pepperdine
Date: Thursday, Feb. 9
Time: 10 p.m. EST
TV Coverage: CBSSN
Saint Mary's at Portland
Date: Saturday, Feb. 11
Time: 6 p.m. EST
TV Coverage: CBSSN
Loyola Marymount at Santa Clara
Date: Saturday, Feb. 11
Time: 7 p.m. EST
TV Coverage: WCC Network
BYU at Gonzaga
Date: Saturday, Feb. 11
Time: 10 p.m. EST
TV Coverage: ESPN2