From thrilling finishes to stellar individual performances, this past week in WCC basketball provided a little bit of everything. Having reached the midway point of January, the action only figures to get more intense in the weeks ahead. Presently, everyone continues to look up at Gonzaga and Saint Mary's in the WCC basketball standings. However, there is still plenty of time left for teams to improve their seeding for next month's conference tournament.
Let's have a look at the top headlines from around the West Coast Conference. The following article also includes the updated WCC basketball standings as well as key games to watch for this week.
WCC Basketball News and Weekly Headlines
Gonzaga Overcomes Double-Digit Deficit Late to Shock BYU
In one of the most exciting West Coast Conference basketball games of the season to date, Gonzaga found itself down 10 against BYU with seven minutes remaining. Many teams might have panicked, but the Bulldogs managed to keep their composure and mount a massive comeback. Fittingly, the Zags' veteran duo of Drew Timme and Julian Strawther stepped up in crunch time.
A Timme layup at the 6:16 mark kicked off Gonzaga's rally. BYU was able to stretch the lead back to double figures a minute later before Strawther buried a 3-pointer to it a 68-61 ball game. Timme would score each of the Bulldogs' next five points, with an old-fashioned three-point play bringing the margin down to four with three minutes remaining.
Gonzaga went into a full-court press defense and BYU could not handle the pressure. Down four with just over a minute to play, Nolan Hickman came up with a steal and relocated to the corner for a knockdown triple to bring the Zags within a point. Unfortunately, Hickman turned the ball over after a defensive stop and forced the Bulldogs to foul on the ensuing BYU possession.
Jaxson Robinson's body language at the free throw line exuded confidence, but he hit back iron on the second attempt leaving the door open for Gonzaga. Strawther buried a deep 3-pointer from the top of the key with nine seconds left to give the Zags their first lead since the 11:08 mark of the second half. Gonzaga got one final stop to escape Provo with a 75-74 victory and remain unbeaten in WCC play.
Saint Mary's Rides Logan Johnson, Defense to Big Win Over San Francisco
Somehow, someway, Saint Mary's is nowhere to be found in the latest AP Top 25 college basketball rankings. The Gaels did jump into this week's Coaches Poll at No. 24, and rightfully so. Randy Bennett's team is currently one of the hottest in the country. Saint Mary's had one of its most impressive games to date this past Saturday in the form of a dominant 78-61 road win over San Francisco.
The Gaels ran their current winning streak to seven thanks to a suffocating defensive performance against one of the better offensive teams in the West Coast Conference. San Francisco was held to just 42.3% shooting from the field as a team. The 61 points scored marked the second-lowest output of the entire season for the Dons. Most importantly, Saint Mary's completely stymied USF's best weapon as Khalil Shabazz was held to just six points, well below his per-game average of 15.2 for the season.
Offensively, Logan Johnson followed up his 19-point effort against Loyola Marymount with a game-high 24 against San Francisco. The senior guard added seven rebounds and six assists and was recognized as the WCC Basketball Player of the Week for his efforts. Backcourt running mate Aidan Mahaney earned Freshman of the Week honors on the heels of scoring 21 against the Dons and 25 in the win over LMU last Thursday.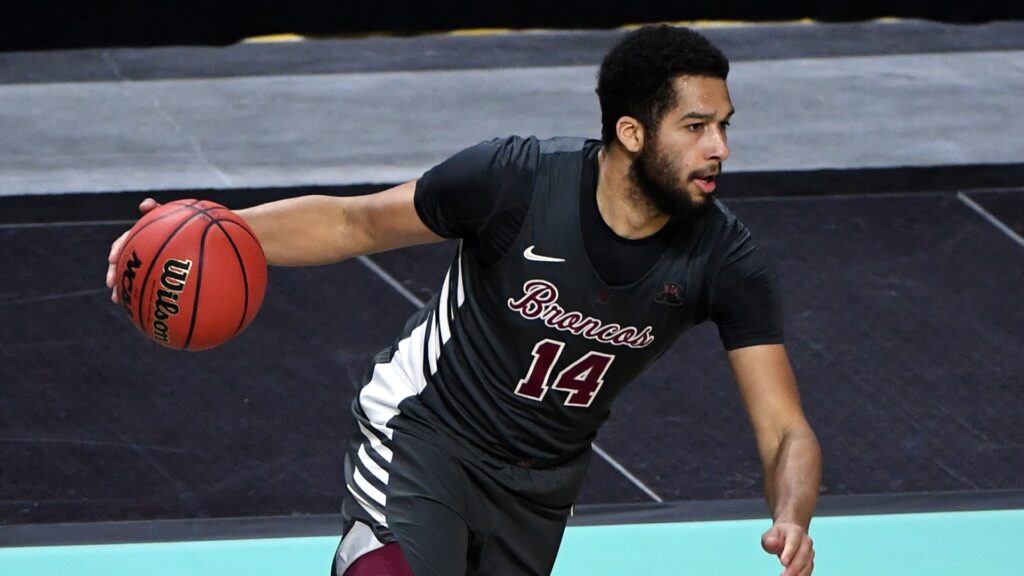 Santa Clara Races Past Pacific on the Road
Midway through the month of January, it appears as though Santa Clara has the best chance of being a third WCC basketball representative in the NCAA Tournament. Suffering a pair of close losses at home to Saint Mary's and Gonzaga could've easily broken the Broncos' spirit. Instead, they bounced back on Saturday with a 51-point first half in an eventual 92-81 road win over Pacific.
Senior forward Keshawn Justice emerged as the dominant force offensively for Santa Clara in the absence of leading scorer, Brandin Podziemski. The 26 points served as a nice encore to Justice's 22-point effort in the loss to Gonzaga. Fellow senior Parker Braun also came up big with a 10-point, 12-rebound double-double. SCU dominated the Tigers on the boards, finishing with a 48-26 advantage in total rebounds.
While there are no "nights off" in the West Coast Conference, the next few weeks could really make or break Santa Clara's aspirations of making the NCAA Tournament for the first time since the 1995-96 season. After hosting BYU, the Broncos will hit the road for a rematch against Saint Mary's. After a rematch against Pacific, Santa Clara will kick off the month of February with back-to-back road games against Gonzaga and San Francisco.
Updated WCC Basketball Standings
| Team | Conference Record | Overall Record |
| --- | --- | --- |
| Gonzaga | 5-0 | 16-3 |
| Saint Mary's | 5-0 | 16-4 |
| BYU | 4-2 | 14-7 |
| Santa Clara | 3-2 | 15-5 |
| Pacific | 3-2 | 10-10 |
| Loyola Marymount | 3-3 | 13-7 |
| San Diego | 2-4 | 9-11 |
| Portland | 1-4 | 9-11 |
| San Francisco | 1-5 | 12-9 |
| Pepperdine | 0-5 | 7-12 |
Upcoming WCC Basketball Games to Note
As previously noted, Santa Clara has two massive games looming this week. One of those comes at home against a BYU team that is also embarking on a three-game stretch that could make or break its tournament hopes. Meanwhile, both Gonzaga and Saint Mary's will look to stay perfect in West Coast Conference play ahead of their first head-to-head showdown on February 4th.
San Diego at Portland
Date: Thursday, Jan. 19
Time: 9 p.m. EST
TV Coverage: WCC Network
BYU at Santa Clara
Date: Thursday, Jan. 19
Time: 11 p.m. EST
TV Coverage: CBSSN
Saint Mary's at Pepperdine
Date: Thursday, Jan. 19
Time: 11 p.m. EST
TV Coverage: ESPNU
BYU at San Francisco
Date: Saturday, Jan. 21
Time: 8 p.m. EST
TV Coverage: CBSSN
Santa Clara at Saint Mary's
Date: Saturday, Jan. 21
Time: 8 p.m. EST
TV Coverage: WCC Network
Gonzaga at Pacific
Date: Saturday, Jan. 21
Time: 10 p.m. EST
TV Coverage: WCC Network