Following a mass exodus of member schools following the 2020-21 athletic year, the landscape of Southland basketball was very different this season. Only eight teams competed in the conference this season, down from 13 just one year ago. Mid-major conference realignment will continue after this college basketball season and it remains to be seen where the Southland fits into the picture. Nonetheless, the league will still be handing out an automatic bid to March Madness this week. While Nicholls managed to repeat as regular-season champs, both New Orleans and Southeastern Louisiana are also very much in the mix for a tournament title. The following contains the Southland Tournament bracket and schedule, as well as a preview of what we can expect to see.
---
Check out the FlurrySports Conference Tournaments Hub for wall-to-wall college basketball coverage throughout the leadup to March Madness!
---
Southland Basketball Standings
| | | | |
| --- | --- | --- | --- |
| Team | Conf. Record | Overall Record | Seed |
| Nicholls | 11-3 | 21-10 | 1 seed |
| Southeastern Louisiana | 10-4 | 18-13 | 2 seed |
| New Orleans | 10-4 | 17-12 | 3 seed |
| Texas A&M CC | 7-7 | 20-11 | 4 seed |
| Houston Baptist | 6-8 | 10-17 | 5 seed |
| Northwestern State | 5-9 | 9-22 | 6 seed |
| McNeese | 4-10 | 10-21 | 7 seed |
| Incarnate Word | 3-11 | 7-24 | 8 seed |
Southland Tournament Schedule
Dates: March 9-12
TV Schedule: ESPN+ (First Round, Second Round, Semifinals); ESPN2 (Championship Game)
Venue: Leonard E. Merrell Center — Katy, TX
Byes: Top 4 receive single bye; Top 2 receive double-bye
Defending Champion: Abilene Christian (now a WAC member)
Southland Tournament Bracket
First Round
(5) Houston Baptist 74, (8) Incarnate Word 64
(7) McNeese 80, (6) Northwestern State 67
Second Round
(3) New Orleans 82, (7) McNeese 78
(4) Texas A&M CC 75, (5) Houston Baptist 60
Semifinals
(4) Texas A&M CC 71, (1) Nicholls 64
(2) Southeastern Louisiana 74, (3) New Orleans 65
Championship
(4) Texas A&M CC 73, (2) Southeastern Louisiana 65
Texas A&M CC advances to NCAA Tournament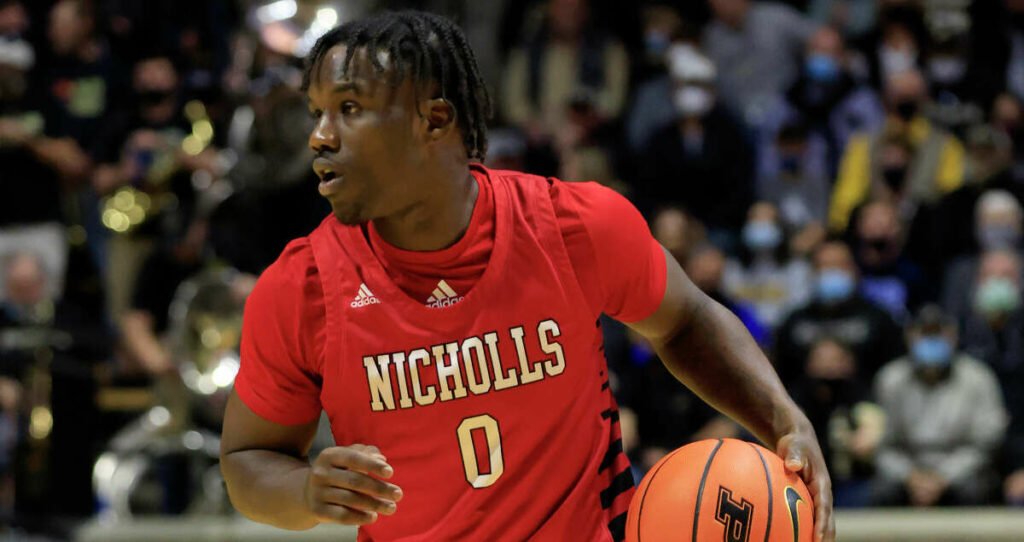 Southland Conference Breakdown
For the second straight season, Nicholls managed to finish atop the Southland basketball standings. Of course, last year's result failed to translate into an NCAA Tournament berth as the Colonels fell to Abilene Christian in the Southland Tournament title game. With the Wildcats now in the WAC, perhaps Nicholls will be able to take the next step and achieve the program's first March Madness berth since 1998. With Stephen F. Austin and Lamar also leaving for the WAC, only two current Southland members have won the tournament in the past decade. 2-seed New Orleans did so most recently in 2017 while 6-seed Northwestern State did so all the way back in 2013.
With so many teams jettisoning the conference, Southland basketball predictably stacked up poorly in terms of stats and metrics. In fact, Nicholls was the only team to finish with a top-200 standing in the College Basketball NET. At No. 189, it's not like the Colonels are necessarily viewed as a force, either. Even more stunning is the fact that only half of the eight teams in the Southland Tournament bracket even managed to finish within the top-300 of the NET. In order of ranking, 4-seed Texas A&M CC, 2-seed New Orleans and 3-seed Southeastern Louisiana joined Nicholls on the positive side of this ugly trend.
The Southland basketball preseason poll correctly tabbed Nicholls to repeat as regular-season champs. The Colonels received eight first-place votes while 2-seed New Orleans and 3-seed Southeastern Louisiana received seven and one first-place tallies, respectively. Thus, the poll predicted the exact finishing order for the top three seeds in the Southland Tournament bracket. Further down the line, Houston Baptist was a notable overachiever. The Huskies will be the 5-seed in Katy after being picked to finish dead last.
Team Stats | 2022 Southland Basketball Tournament
(1) Nicholls Colonels
Net Ranking: 189 (No. 1 in Southland)
KenPom Overall Efficiency Ranking: 200 (No. 1 in Southland)
Adjusted Offensive Efficiency: 102.3 (No. 200)
Adjusted Defensive Efficiency: 104.7 (No. 202)
Strength of Schedule Rating: -8.08 (No. 346)
(2) New Orleans Privateers
Net Ranking: 256 (No. 3 in Southland)
KenPom Overall Efficiency Ranking: 254 (No. 2 in Southland)
Adjusted Offensive Efficiency: 97.9 (No. 278)
Adjusted Defensive Efficiency: 105.4 (No. 214)
Strength of Schedule Rating: -8.74 (No. 354)
(3) Southeastern Louisiana Lions
Net Ranking: 265 (No. 4 in Southland)
KenPom Overall Efficiency Ranking: 278 (No. 4 in Southland)
Adjusted Offensive Efficiency: 103.8 (No. 174)
Adjusted Defensive Efficiency: 113.1 (No. 338)
Strength of Schedule Rating: -5.97 (No. 307)
(4) Texas A&M CC Islanders
Net Ranking: 254 (No. 2 in Southland)
KenPom Overall Efficiency Ranking: 256 (No. 3 in Southland)
Adjusted Offensive Efficiency: 97.3 (No. 291)
Adjusted Defensive Efficiency: 104.9 (No. 208)
Strength of Schedule Rating: -10.80 (No. 358)
(5) Houston Baptist Huskies
Net Ranking: 339 (No. 7 in Southland)
KenPom Overall Efficiency Ranking: 337 (No. 7 in Southland)
Adjusted Offensive Efficiency: 95.9 (No. 310)
Adjusted Defensive Efficiency: 113.2 (No. 339)
Strength of Schedule Rating: -7.67 (No. 337)
(6) Northwestern State Demons
Net Ranking: 327 (No. 6 in Southland)
KenPom Overall Efficiency Ranking: 327 (No. 6 in Southland)
Adjusted Offensive Efficiency: 99.4 (No. 256)
Adjusted Defensive Efficiency: 114.1 (No. 345)
Strength of Schedule Rating: -3.76 (No. 246)
(7) McNeese Cowboys
Net Ranking: 316 (No. 5 in Southland)
KenPom Overall Efficiency Ranking: 316 (No. 5 in Southland)
Adjusted Offensive Efficiency: 97.6 (No. 286)
Adjusted Defensive Efficiency: 111.2 (No. 316)
Strength of Schedule Rating: -4.69 (No. 262)
(8) Incarnate Word Cardinals
Net Ranking: 348 (No. 8 in Southland)
KenPom Overall Efficiency Ranking: 352 (No. 8 in Southland)
Adjusted Offensive Efficiency: 95.5 (No. 319)
Adjusted Defensive Efficiency: 116.9 (No. 355)
Strength of Schedule Rating: -5.49 (No. 289)
---
Best March Madness Betting Offers