The 2022 NFL regular season has ended, which means, the 2022 fantasy football season is now officially over. Whether your season was over before it even started or you went all the way to the championship, it was a very entertaining season, to say the least. Here, we'll recap the 2022 fantasy football season that was adventurous, with giving some awards out to the WRs, and even look ahead to the 2023 fantasy season.
Let's take a look at the awards at the wide receiver position this year: most valuable player, biggest bust, waiver wire winner, best value pick and best 2023 fantasy football keeper pick.
MVP: awarded to the player that finished with the most fantasy points and brought the most consistent value to his fantasy managers throughout the season.
Biggest Bust: awarded to the player that was touted as a top fantasy football option entering the season but ultimately did not produce enough to support his high ADP.
Waiver Wire Winner: awarded to the player that either had a very late ADP or went undrafted in the majority of fantasy football leagues that emerged on the waiver wire during the season and provided excellent value for fantasy managers.
Best Value Pick: awarded to the player that finished the season much higher than their initial ADP indicated but still was regarded high enough that they were rostered on most fantasy squads. In other words, the biggest steal.
Best 2023 Fantasy Football Keeper: awarded to the player that, based on his ADP and season production, would be the best option for keeper leagues next year. We are assuming you get to keep this player in the round they were drafted.
Fantasy Football Awards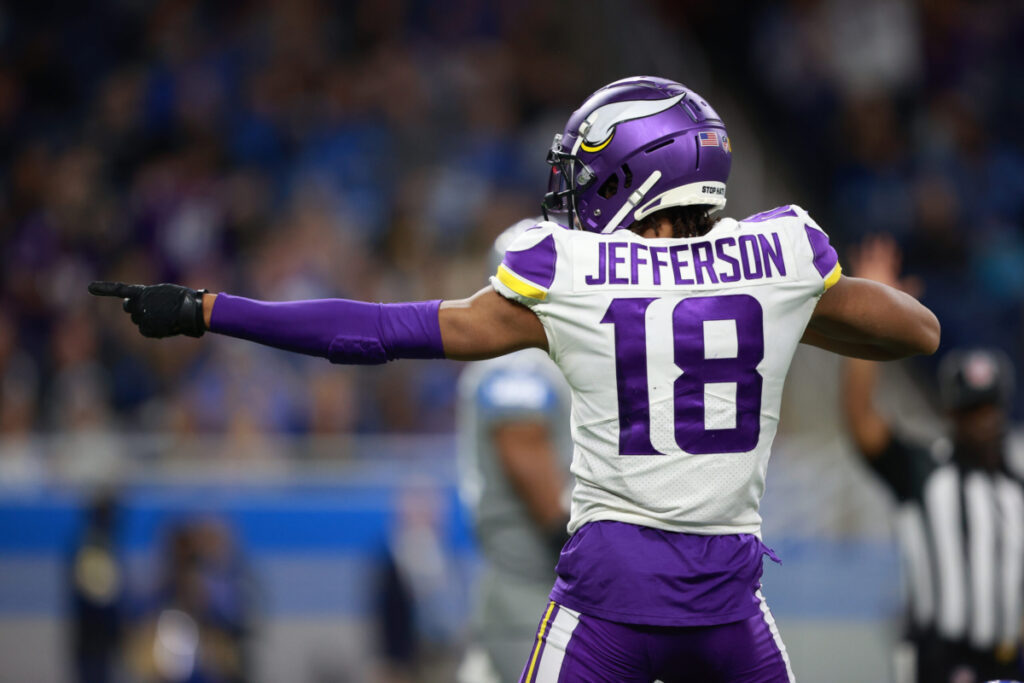 Fantasy Football Awards 2022 | Wide Receivers
Fantasy Football MVP: Justin Jefferson
You have to give Justin Jefferson the MVP fantasy football award for the WR position. He led all WRs in receptions, targets and receiving yards, and of course fantasy points. It wasn't even close. Justin Jefferson had 23.9 more points this season than Tyreek Hill, who finished as WR2. He proved his worth when he was the first WR drafted in fantasy leagues, with a whopping 22.6 points per game in PPR scoring.
Although he disappointed in your fantasy championships, without a doubt, he was the main person getting you to the championship game, as he only had six games this season where he did not have over 95 receiving yards. What is even more shocking, there were nine weeks this season where he finished WR5 or higher for the week. That's more than half of the fantasy football regular season where he guided your team into the fantasy football playoffs.
Biggest Bust: Allen Robinson
Coming into the draft process, many people were salivating over picking Allen Robinson. He was being drafted as WR22 and had an ADP of 53.9. Looking for, in most cases, a solid WR2 or flex production out of him. This was finally his year, after all. Allen Robinson had to deal with sub-par quarterback play all of his career. He joined the Rams in free agency and fans rejoiced as he gets to play with, what people were saying, his best quarterback to play with in his career!
Then, on opening day, he was only targeted twice, and that was only the beginning of the nightmare. Luckily, he was targeted five or more times in the rest of his games, but he finished higher than WR22 in only two games this season. Long story short, Robinson ended up finishing as WR81, after being placed on IR in Week 12. Although he was really only a figment of our imagination by then, as from Weeks 1-11, he was scored as WR52.
---
Get Your Fantasy Football Awards At TrophySmack!
As we hand out our fantasy football awards for the 2022 season, make sure your league has its fantasy football awards for the winners and losers as well, or get next year's now, from TrophySmack!
If you have never heard of TrophySmack, where have you been? After getting a deal on Shark Tank, TrophySmack has been the preferred destination for the most customizable trophies, championship belts, rings, champ chains, metal wall art and more!
Click our link and use the promo code FLURRY at checkout to get a free ring ($59 value) with a trophy purchase!
---
Waiver Wire Winner: Donovan Peoples-Jones
This fantasy football award might be the most controversial, as I could honestly name four other WRs who also deserve it, but it could only come down to one. Donovan Peoples-Jones doesn't seem like the most popular pick, but he was the most consistent one all season.
When he had Jacoby Brissett at QB, Donovan Peoples-Jones silently produced a seven-game streak of scoring double-digit fantasy points. Even at one point putting up a consistent four game-streak of having over 70 receiving yards. Then, it was the same story once Deshaun Watson was at QB, where he didn't finish lower than WR30 and didn't score less than 12 points, for the first three games. You know what they say, consistency is key, and the consistency that Donovan Peoples-Jones had all year was the key to winning this award.
Best Value Pick: Amon-Ra St. Brown
There were multiple very picks to choose from here. How about Jaylen Waddle, whose ADP numbers were WR19 and 46.5 and ended up finishing WR8? Maybe a WR who emerged from the doghouse, like Brandon Aiyuk, and was being drafted WR37 with an ADP of 90.2 to finish as WR17. But, this ultimately came down to one choice, and it had to be Amon-Ra St. Brown.
He proved all of his fantasy doubters wrong. It turns out Jared Goff will give him the ball, and wasn't just an end-of-season fling. Amon-Ra was one of only five wide receivers this year to have 100 or more receptions. He also finished with 1,112 receiving yards, besting his 921 in his rookie season last year. He only missed one game due to injury, and only two games where he did not have double-digit performances. He ended up finishing as WR7, and his value was definitely worth it, as his ADP numbers were WR31 and 72.9.
Best 2023 Fantasy Football Keeper: AJ Brown
There are plenty of options of who to keep, but if you're looking for the one that is the most bang for your buck, it has to be AJ Brown. Assuming this keeper league is a league where you keep the player, but you lose the round you drafted him in.
The AJ Brown fantasy football ADP was 30.5, so that is right about a third-to-fourth-round pick that you save for someone who finished WR5 of the year. He was traded to Philadelphia and signed an extension to stay, and he is very happy to be there. His QB will still be Jalen Hurts, so he doesn't have to worry about losing that chemistry, and he did not miss any games in the regular season.
You get all that and most likely keep your first two-round picks? That is why AJ Brown wins the fantasy football award for the best keeper pick.