Just when you thought the National Football League couldn't get any crazier, Week 9 happened. Seven NFL betting underdogs won outright on Sunday. Along with the wild final scores, several surprising names contributed in big ways on the fantasy football front. There were also a number of stars who let managers down in a big way this week. That's probably to be expected considering the success of underdogs on the field. The NFL is known for its parity and unpredictability. One could argue that there are more questions than answers following this week's insanity!
The following article looks at some of the biggest fantasy football disappointments from Week 9 of the NFL season across each position. This week's notable fantasy busts include Aaron Jones, Amari Cooper, Courtland Sutton and Josh Allen.
Week 9 Fantasy Football Disappointments | RB
Aaron Jones | Green Bay Packers
Stat Line: 12 carries, 53 yards
PPR Fantasy Points: 5.3 (RB45)
With star quarterback Aaron Rodgers sidelined, many were expecting the Packers to rely heavily on their rushing attack for the second straight week. Unfortunately, things didn't quite go as planned with Jordan Love under center. Aaron Jones had 12 carries in Sunday's loss to the Kansas City Chiefs, but he only finished with 5.3 fantasy points. Failure to find the end zone certainly didn't help his cause. However, the real surprise statistically for Jones this week was the fact that he was held without a catch. This marked his worst performance since the Packers' Week 1 blowout loss.
While the fantasy line was not good for Jones this week, the fact that he still averaged 4.4 yards per carry is encouraging. The Chiefs were able to play the run throughout Sunday's game because of the poor QB play. Fellow Green Bay RB A.J. Dillon also averaged over five yards per carry. Assuming Rodgers is back this week to revive the passing attack, look for Jones and the entire Packers offense to rebound.
Zack Moss | Buffalo Bills
Stat Line: 3 carries, 6 yards; 2 receptions, 18 yards
PPR Fantasy Points: 4.4 (RB49)
The Buffalo Bills started out the season appearing to have addressed their nonexistent run game from a year ago. Fast-forward to Sunday's upset loss to the Jacksonville Jaguars and Buffalo was back to doing nothing on the ground. From a fantasy football standpoint, the biggest disappointment was Zack Moss. Entering Week 9, Moss had scored double-digit PPR points in all but one game played. The majority of his 4.4-point disaster this week came as a receiver. Moss totaled just six yards rushing. Furthermore, he and backfield mate Devin Singletary combined for just nine rushing attempts. There are very real issues to fix in Western New York.
Boston Scott | Philadelphia Eagles
Stat Line: 10 carries, 40 yards
PPR Fantasy Points: 4.0 (RB51)
The Eagles backfield has quickly turned into one of the more frustrating areas in fantasy football. First, Philadelphia refused to play to their offensive strengths and run the ball. Then, right after highly-drafted Miles Sanders went on IR, all they did was run. For many fantasy football owners, they watched in horror as Kenneth Gainwell, the back that nearly all "experts" said to pick up, was a non-factor until garbage time in last week's win. After leading the charge, this week's add candidate was Boston Scott. Once again, managers were destined to have their hearts broken.
While Scott did garner 10 carries in Sunday's narrow loss to the Los Angeles Chargers, he failed to contribute in the passing game. He also failed to find the end zone and took a backseat to teammate Jordan Howard in terms of touches. On the practice squad just three weeks ago, Howard has now rushed for over 120 yards and three touchdowns in the last two games. Making matters even worse was that Gainwell took one of his two carries in for a score to vulture away fantasy points that might have otherwise belonged to Scott. JoHo just might be the preferred Eagles RB to own until Sanders returns. Who would've thought?
Week 9 Fantasy Football Disappointments | WR
Amari Cooper | Dallas Cowboys
Stat Line: 2 receptions, 37 yards
PPR Fantasy Points: 5.7 (WR54)
After stunning the NFL world by winning on the road without QB Dak Prescott last week, the Cowboys came crashing back down to Earth on Sunday. It was nothing but fantasy football disappointment from the Dallas offense in Week 9. Wideout Amari Cooper was among those players who turned in a bust-worthy performance. After exploding for over 100 yards receiving and a score with Cooper Rush under center last week, Cooper was held to just 37 yards on two receptions with Prescott back in the lineup. This marked the third time this season that Cooper has failed to reach double-digit PPR fantasy points. He is quietly only the WR19 on the season.
Courtland Sutton | Denver Broncos
Stat Line: 1 reception, 9 yards; 2-point conversion scores
PPR Fantasy Points: 3.9 (WR65)
For the second straight week, Courtland Sutton finds his name in the fantasy football disappointments column. Oddly enough, his Broncos were the team that took it to Amari Cooper and the Cowboys on Sunday. Unfortunately, Sutton was not able to join in on the fun. Fellow wideouts Tim Patrick and Jerry Jeudy combined for 10 receptions. Sutton was also outpaced in the receptions category by running back Melvin Gordon and tight end Albert Okwuegbunam.
One catch for just nine yards was all Sutton could muster in Denver's impressive victory. He also scored a two-point conversion to finish as the WR65 with 3.9 PPR points. This marks Sutton's second straight week finishing WR60 or worse. Much like the Broncos' offense, he is impossible to trust moving forward.
Tyreek Hill | Kansas City Chiefs
Stat Line: 4 receptions, 37 yards; 1 carry, -4 yards
PPR Fantasy Points: 7.3 (WR47)
Although Tyreek Hill did manage to crack the top-50 fantasy football wide receivers, his 7.3 PPR points are nowhere near what owners drafted him to produce. The Chiefs' offense continued to struggle on Sunday. After Hill was the top pass-catcher last week, this time it was Travis Kelce who bounced back with 68 yards and a touchdown. Patrick Mahomes threw for just 166 yards and continues to look flustered in the pocket. Despite the struggles and poor Week 9 showing, Hill is still the WR9 in fantasy on the season. He maintains his superstar status, but managers clearly need to brace for down weeks here and there until Kansas City figures things out.
Week 9 Fantasy Football Disappointments | TE
Dallas Goedert | Philadelphia Eagles
Stat Line: 3 receptions, 43 yards
PPR Fantasy Points: 7.3 (TE20)
In a way, trying to figure out Eagles pass-catchers for fantasy football is just as difficult as the backfield. After catching six of seven targets a week ago, tight end Dallas Goedert only hauled in three of six passes thrown his way on Sunday. While rookie receiver DeVonta Smith enjoyed an excellent day in terms of production, Goedert finished with just 7.3 PPR points. That marks his third-lowest point total of the season. Even so, the former South Dakota State TE remains the preferred Philly pass-catcher to own moving forward from a consistency standpoint.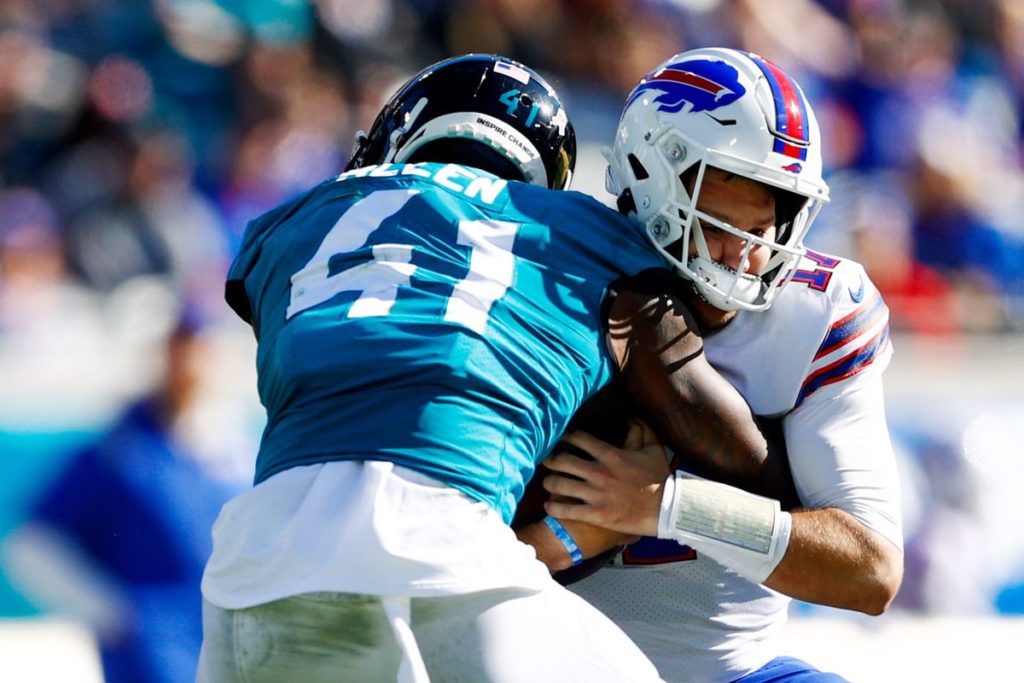 Week 9 Fantasy Football Disappointments | QB
Josh Allen | Buffalo Bills
Stat Line: 31/47 passing, 264 yards, 2 interceptions; 5 carries, 50 yards, 1 fumble lost
PPR Fantasy Points: 9.56 (QB19)
The entire fantasy football world was introduced to the NFL's superior Josh Allen on Sunday. It sure isn't the guy who plays quarterback for the Buffalo Bills, even though that's the player most people think of when they hear the name. Josh Allen was harassed all game long by Jacksonville Jaguars' linebacker…Josh Allen! Jacksonville's Josh Allen sacked, intercepted and recovered a fumble by Buffalo's Josh Allen as the Jags pulled off a massive upset as 15.5-point betting underdogs.
The Bills offense has looked quite nightmarish for the better part of their last two games now. If not for 50 yards rushing, Allen's fantasy line from Sunday would've been even worse. Making things even more concerning is the fact that both games came against two teams considered to be among the worst in the league. That said, do we really know anything about the NFL after this weekend? Maybe Urban Meyer can turn things around for the Jaguars yet. DUUUVAL!!!
Joe Burrow | Cincinnati Bengals
Stat Line: 28/40 passing, 282 yards, 2 interceptions; 2 carries, 1 yard
PPR Fantasy Points: 7.38 (QB23)
Another quarterback who had a horrible go of things in Week 9 was Joe Burrow. Last year's top overall draft pick failed to solve the Cleveland Browns' defense in a lopsided divisional loss on Sunday. Burrow was intercepted twice, including one at the goal line that was returned 99 yards by Denzel Ward for a Browns' touchdown. It came as no surprise that the Bengals' offensive line was unable to hold up against the lethal Cleveland pass-rush. Under duress in the pocket all afternoon, Burrow could never get comfortable. Typically one of the most reliable QBs in fantasy football, this 7.38-point showing was easily Burrow's worst of the season to date.
---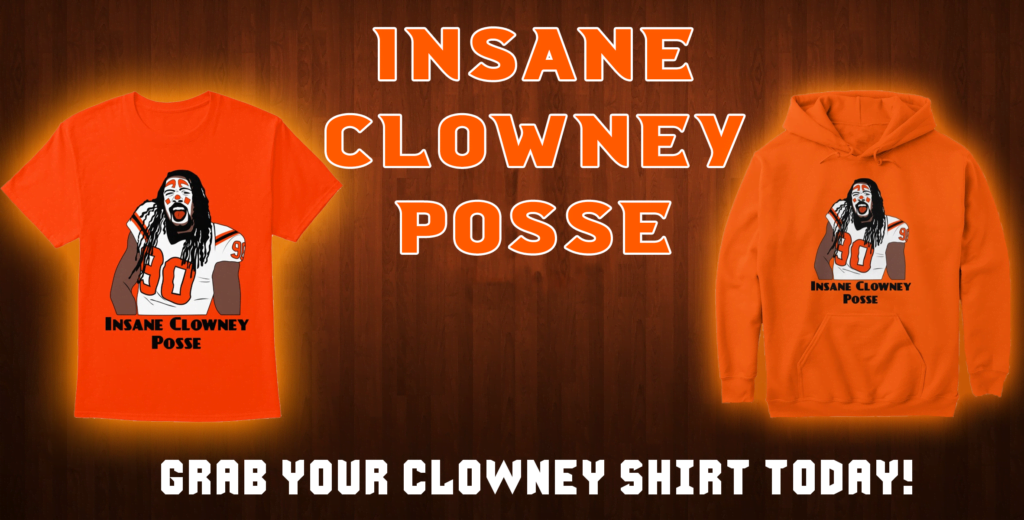 The only thing scarier than the Browns' pass rush are clowns. Get the design that shows off both today!
Available shirts in men, women and kids, along with posters and tumblers! Click here or the image above to see!
---