The first week of the Atlantic 10 basketball season is officially in the books. While football still has the spotlight at this point in the calendar year, those who took in some of the early season college hoops action undoubtedly came away impressed by the numerous exciting games that took place. It may still be a long way off, but we are on our way to witnessing the reincarnation of the great spectacle that is March Madness.
Atlantic 10 Basketball Opening Week Headlines
The Atlantic 10 Conference has already found the spotlight on more than one occasion in this young college basketball season. Several teams represented the league at various tip-off tournaments across the country. A10 programs had numerous strong showings and created several headlines during college basketball's opening week.
Richmond Upsets No. 10 Kentucky
It didn't take long for Richmond to deliver on their status as a preseason Atlantic 10 basketball favorite. The Spiders squared off with Kentucky on Sunday afternoon as part of the Bluegrass Showcase. Despite an ugly first half performance, Richmond trailed by just four at the break. The Spiders played much better in the second half on their way to a 76-64 victory.
Blake Francis and Nathan Cayo each scored 18 points to lead the Richmond offense in the upset win. Grant Golden (13) and Tyler Burton (11) enabled four of the five Richmond starters to finish in double figures scoring for the game. The win is the first in Spiders program history against a top-10 opponent. They had been 0-25 prior to Sunday.
The upset reaffirms Richmond's status as an Atlantic 10 basketball contender this season. After being unranked despite receiving 40 points in the preseason AP poll, the big win was enough to vault the Spiders to No. 19 in the national top 25 rankings this week.
---
Signup for FlurrySports' daily email sports newsletter — The Daily Leadoff!
We sort through the mainstream sports media's BS to give you the biggest stories from the day prior, some sports to look forward to today and other interesting info to start your day off right. 
For past newsletters, click here. 

---
Rhode Island, Fatts Russell Off and Running
No Atlantic 10 basketball team was busier in tip-off week than Rhode Island. The Rams began their 2020 campaign with a pair of mid-week games in the 2K Empire Classic and also took part in the Air Force Reserve Basketball Hall of Fame Tip-Off Classic over the weekend. All games were played at the Mohegan Sun Arena in Connecticut, and the Rams ckearly got more comfortabel as the week went on.
Rhode Island dropped each of their first two games to 18th-ranked Arizona State and a tough Boston College squad. The Rams were still impressive in defeat, losing those contests by just six and five points respectively. URI notched their first win on Saturday when they cruised past South Florida 84-68. They followed it up with an impressive 84-71 win over San Francisco on Sunday. That same Dons team was fresh off an upset of 4th-ranked Virginia on Friday.
Guard Fatts Russell is already making his case to be named the Atlantic 10 basketball player of the year. He led the Rams in scoring in three of their four opening week games. This includes a 21-point effort in the win over San Francisco.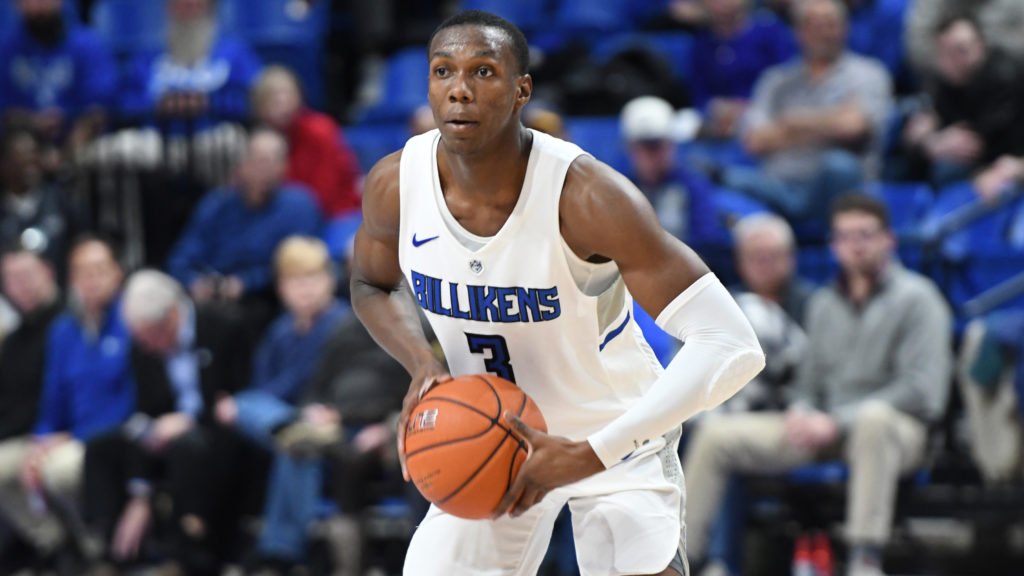 Saint Louis, VCU, Davidson Impress Against Strong Opponents
While Richmond's upset of Kentucky was easily the most noteworthy Atlantic 10 basketball result of the opening week, several other A10 schools showed out against Power 5 competition.
Saint Louis hosted the Billiken Classic and came away with a pair of opening week victories. Their 85-81 win over SEC foe LSU on Saturday saw the Billikens shoot over 41% from 3-point range as a team. Senior guard Javonte Perkins was phenomenal with 32 points and 5 assists. So far, Saint Louis has given us no reason to doubt the legitimacy of being the preseason Atlantic 10 basketball betting favorites.
Two other A10 programs that rose to the occasion against quality opponents were VCU and Davidson. VCU gave 15th-ranked West Virginia all they could handle in a narrow defeat. The Rams did earn wins over both Memphis and Utah State in their other games at the Bad Boy Mowers Crossover Classic. Meanwhile, Davidson nearly pulled off an upset of 17th-ranked Texas on Monday at the Camping World Maui Invitational. The Wildcats got double-digit points from four starters and fell by a single bucket, 78-76.
Updated Atlantic 10 Basketball Standings
| Team | Conference Record | Overall Record |
| --- | --- | --- |
| St. Bonaventure | 4-1 | 6-1 |
| UMass | 4-1 | 5-3 |
| VCU | 3-1 | 10-3 |
| Richmond | 3-1 | 9-3 |
| Dayton | 4-2 | 8-3 |
| Davidson | 4-2 | 8-5 |
| Rhode Island | 4-3 | 7-7 |
| Saint Louis | 0-0 | 7-1 |
| La Salle | 3-4 | 6-8 |
| George Washington | 2-3 | 3-9 |
| George Mason | 2-4 | 6-6 |
| Duquesne | 2-4 | 3-5 |
| Fordham | 1-5 | 1-5 |
| Saint Joseph's | 0-5 | 1-10 |
Upcoming Atlantic 10 Basketball Games to Note
The A10 Conference will have several opportunities to make more headlines in the second week of the 2020 college basketball season. Here are a handful of games to watch for throughout the upcoming week of Atlantic 10 basketball.
Davidson vs Providence
Date: Tuesday, Dec. 1
Time: 7 pm EST
TV Coverage: ESPN2
VCU at Penn State
Date: Wednesday, Dec. 2
Time: 5 pm EST
TV Coverage: FS1
Seton Hall at Rhode Island
Date: Wednesday, Dec. 2
Time: 7 pm EST
TV Coverage: CBSSN
George Mason at Maryland
Date: Friday, Dec. 4
Time: 3 pm EST
TV Coverage: BTN
SMU at Dayton
Date: Saturday, Dec. 5
Time: 2 pm EST
TV Coverage: ESPN+
---
More Articles
The Daily Leadoff | FlurrySports' Daily Email Newsletter
Top-25 College Basketball Rankings