The 2022 NASCAR Camping World Truck Series Playoffs officially commence this weekend. The trucks completed their 16-race regular season schedule last week at Pocono Raceway. From this point forward, the remaining seven races are all considered part of the NASCAR Truck Series Playoffs. Over the next couple of months, ten drivers will be running with the primary goal of winning the series championship.
The following offers readers a chance to meet the entire 10-driver field ahead of the NASCAR Truck Series Playoffs field. Drivers are listed in order of the playoff points standings ahead of the first race in the Round of 10. Regular season stats and additional commentary regarding previous playoff history as well as driver/team performance are also included.
Meet the Field | 2022 NASCAR Truck Series Playoff Drivers
Zane Smith | No. 38, Front Row Motorsports
Wins: 3 (Daytona, COTA, Kansas)
Top 5s: 9
Top 10s: 13
Stage Wins: 7
Laps Led: 347
Despite reaching the Championship 4 in 2020 as a rookie and again in 2021, GMS Racing decided not to bring back Zane Smith for the 2022 season. After a period of time in which no one knew where Smith would land, he was ultimately signed by Front Row Motorsports to drive the vacated No. 38 Ford. Smith won the season-opener at Daytona and never looked back. The class of the series all year long, he clinched the regular-season championship and the 15 bonus playoff points that come with it.
Chandler Smith | No. 18, Kyle Busch Motorsports
Wins: 2 (Las Vegas, Pocono)
Top 5s: 7
Top 10s: 11
Stage Wins: 2
Laps Led: 145
As a NASCAR Truck Series rookie last year, Chandler Smith managed to reach the Round of 8 in the playoffs. The Georgia native comes into the 2022 postseason in a much better position as far as points are concerned. Smith picked up his second win of the season in the regular-season finale at Pocono. As a result, he enters the playoffs just 15 points back of Zane Smith. Chandler Smith has arguably been as good as or better than his KBM teammate and former NASCAR Cup Series driver, John Hunter Nemechek.
Ben Rhodes | No. 99, ThorSport Racing
Wins: 1 (Bristol Dirt)
Top 5s: 5
Top 10s: 9
Stage Wins: 8
Laps Led: 224
The reigning NASCAR Camping World Truck Series Champion is back in the playoffs to defend his title. Ben Rhodes picked up his only win of the 2022 season on the dirt at Bristol. His five top-5 finishes are less than all but the final two qualifying playoff drivers. Momentum isn't exactly on his side either as he has no finish better than tenth in any of the last five races. Despite all of this, Rhodes enters the postseason as the 3-seed thanks to a series-leading eight stage wins.
John Hunter Nemechek | No. 4, Kyle Busch Motorsports
Wins: 1 (Darlington)
Top 5s: 7
Top 10s: 11
Stage Wins: 3
Laps Led: 188
Last year, John Hunter Nemechek entered the NASCAR Truck Series Playoffs as the man to beat. Unfortunately for the No. 4 team, a series-leading five regular season wins failed to breed similar success in the postseason. Nemechek went winless in the seven playoff races. Although he still managed to make the Championship 4, the third-place standings finish was hardly satisfying. It has been tougher sledding for Nemechek in 2022 as he enters the playoffs with only one race win.
Stewart Friesen | No. 52, Halmar Racing
Wins: 1 (Texas)
Top 5s: 6
Top 10s: 9
Stage Wins: 1
Laps Led: 124
Stewart Friesen snapped a 53-race winless drought in the NASCAR Truck Series winless drought at Texas back in May. In addition to putting the two-year victory lane hiatus to bed, Friesen removed all doubt as far as making the playoffs with that win. Now, the question becomes whether or not the Halmar Racing team can take the next step and win a series championship. Friesen was a top-4 finisher in the first three playoff races a year ago only to fade and fall short of the Championship 4.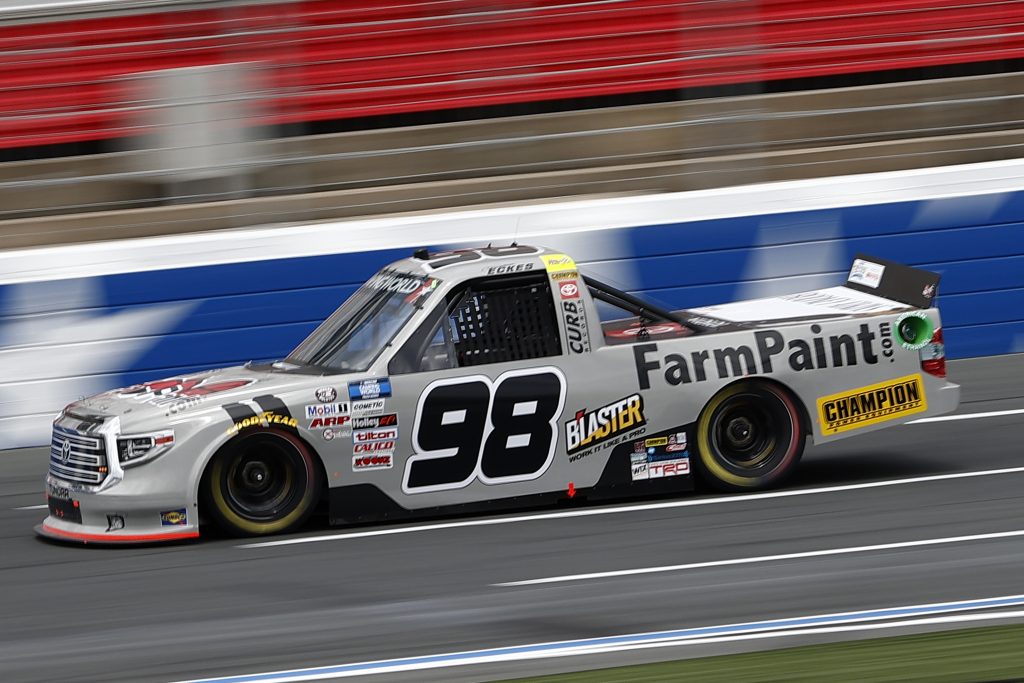 Christian Eckes | No. 98, ThorSport Racing
Wins: 0
Top 5s: 7
Top 10s: 10
Stage Wins: 1
Laps Led: 77
One cannot help but be impressed with what Christian Eckes has accomplished in his first season as a full-time driver. The 21-year-old may not have a win yet this year, but he has certainly come close. Eckes' best stretch of the season came between Kansas and Gateway in which he rattled off results of fifth, second, fourth and second all in succession. Eckes has been a top-10 finisher in all but two races dating back to that spring Kansas event. He also won the Round of 8 race at Las Vegas a year ago.
Ty Majeski | No. 66, ThorSport Racing
Wins: 0
Top 5s: 7
Top 10s: 10
Stage Wins: 1
Laps Led: 35
As a rookie in the NASCAR Camping World Truck Series with Niece Motorsports two years ago, Ty Majeski only had three top-10 finishes in 15 races. Like Eckes, Majeski ran a part-time schedule with ThorSport Racing last season. Upon being promoted to driving the No. 66 Toyota full-time in 2022, he has seen his progression take off. Majeski was one of only six drivers to record double-digit top-10s this season. He was a top-5 finisher in three of the last five races to close the regular season.
Carson Hocevar | No. 42, Niece Motorsports
Wins: 0
Top 5s: 6
Top 10s: 9
Stage Wins: 2
Laps Led: 208
No driver has had worse luck this season than Carson Hocevar. The 19-year-old was well on his way to his first career win at Charlotte until a late race caution forced a restart. Hocevar would then suffer a broken foot in a crash at Sonoma two weeks later. Despite the injury, he returned to drive on the dirt at Knoxville the following week. Hocevar won the first stage there and appeared to have the dominant truck only to have an equipment failure knock him out of the race. Hocevar was quietly a top-5 finisher in each of the final three regular-season races to build momentum going into the playoffs.
Grant Enfinger | No. 23, GMS Racing
Wins: 0
Top 5s: 3
Top 10s: 7
Stage Wins: 0
Laps Led: 30
After running part-time for ThorSport in 2021, veteran Grant Enfinger moved over to pilot the No. 23 Chevrolet for GMS Racing on a full-time basis this season. He secured his spot in the NASCAR Truck Series Playoffs on points in the final race at Pocono. Unfortunately, the back half of the regular season was not as kind to Enfinger as the first. After finishing runner-up at Charlotte, Enfinger has only scored one additional top-10 in the six races since.
Matt Crafton | No. 88, ThorSport Racing
Wins: 0
Top 5s: 1
Top 10s: 8
Stage Wins: 0
Laps Led: 6
Aside from Ben Rhodes winning last year's title, Matt Crafton is the only other driver in the 2022 NASCAR Truck Series Playoffs who is a former champion. Not only that, but Crafton is a three-time series champ winning in 2013, '14 and '19. Of this year's playoff field, the 46-year-old Crafton easily has the worst regular season stats. While he was able to hold off Derek Kraus to claim the final playoff spot on points, the No. 88 team has been far from a well-oiled machine. That being said, it's impossible to discount the experience of Crafton at this point in the season.