They say some people are larger than life. That statement may not hold more true for any athlete than for Vincent Lamar Wilfork. A man who will no doubt be remembered for his appearance just as much his outstanding ability, Wilfork is one of a kind. And that should be his legacy, an athlete unlike any other who just so happens to be a pretty good guy.
A Second Team All-American in high school, Wilfork attended the University of Miami. Wilfork originally hoped to play running back, but then committed himself to gaining weight and playing defensive line for the Hurricanes. He played three seasons of football at Miami while also setting an indoor shot-put record for the school that stood for a decade. Wilfork was named to the All-Big East Conference Team and was drafted by the New England Patriots with 21st overall pick. Wilfork also began to confront the image he would face his entire career, with many questioning his work ethic and weight. Wilfork weighed 340 pounds at the NFL combine, but also put up a 5.08 second 40-yard dash that shocked many. This outstanding athleticism would come to partially define the big man's entire career.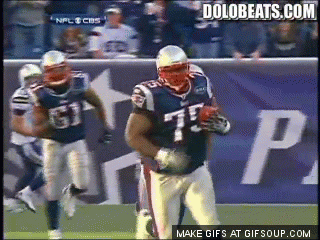 Wilfork would spend the next ten seasons in New England proving his doubters wrong and making everyone else smile. In those years, he would record 516 total tackles, 16 sacks, 4 forced fumbles, and 3 must-watch interceptions that he returned for a total of 48 yards (long 28 yards). Wilfork became one of the league's most beloved players on one of the most hated teams. He was voted by his teammates as captain five times and was also named to five Pro Bowls. Wilfork also won two Super Bowls with the Patriots, once in his first season in 2004, and once in his last season with the team in 2014.
After leaving the Patriots, Wilfork played two more seasons in the NFL with the Houston Texans. In these two seasons, Wilfork recorded 43 more tackles, bringing his career total to 559.
Wilfork announced his retirement this past week as a New England Patriot. He signed a one day contract before retiring with the team that he helped lead for a decade. Wilfork mentioned in his retirement speech that he was proud of the career he had, but was sad that his parents never got to see it. Both of Wilfork's parents passed away in their 40's while he was in college. Wilfork, husband and father to three, commented that he loved his family and worked hard to make them all proud on and off the field. Wilfork has been just as unbelievable off the field as on, starting a charitable foundation that seeks to combat diabetes, the same disease that took his father, and aid disadvantaged youths. He also assisted in rescuing a woman from an overturned SUV after an AFC championship game. Vince Wilfork is hanging up his cleats after a long, successful career, and he should be remembered as the one-of-kind athlete and person that he really is.