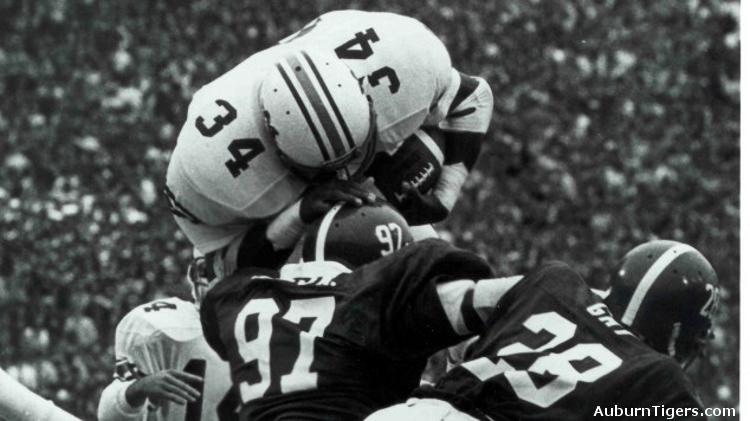 The state of Alabama will take center stage as the 82nd edition of the Iron Bowl will be played.  Alabama travels to Auburn as Jordan Hare Stadium promises to be rocking.  College Game Day will make an appearance as well. Atmosphere will be at an all-time high.
The Tigers and Crimson Tide enter this game with the SEC West on the line.  The winner gets a trip to Atlanta to play the Georgia Bulldogs for all the marbles.  National Title implications are in play as well.
The hatred that each fan base has towards each other is off the charts.  These two teams simply do not like each other. They make no bones about it, which makes for great story lines leading up to the annual game.
The tradition of this game made its mark on this particular writer in the early 80's.  I was in junior high school at the time when this game made a tremendous impact on me.  When there weren't that many opportunities to watch a lot of college football on television, I had the privilege to enjoy my first Iron Bowl in 1982.  Needless to say, I soon became a fan of Bo Jackson and Auburn immediately.  The Bo "over the top" play was something that I will never forget as a college and Auburn football fan.  That particular game and moment resonated with me immediately.
This game has provided the entire country, whether your a fan of either team or not, some of the greatest coaches, players and moments in college football history.  I'm of the belief the greatest coach in the history of college football, Paul "Bear" Bryant, has coached in this series, one of the greatest athletes and players, Bo Jackson, has played in this game, and the arguably one of the the most memorable moments in college football history, the "kick six," also took place in this game.
Needless to say, many things can be said when it comes to Iron Bowl.  How little did I realize, at the time, how big of an impression that specific game had on me.  I'm glad I was able to witness that moment.  And so did many other Auburn fans.
Enjoy the game, cherish the moment and embrace the tradition.  This game could very well make history once again.